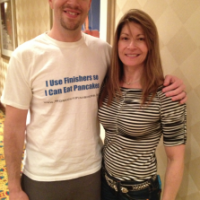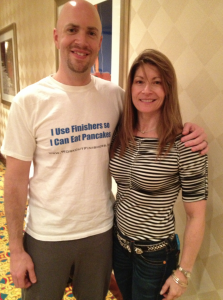 It's been a while since I've shown up on Mikey's blog, so I thought I'd send over a fun workout for you.
I'm Shawna K. You may remember me on Mike's blog with these posts:
Jump Rope Challenge
No Excuses
Challenge Fat Loss Workouts
Lately I'm really enjoying doing jump rope and adding DB complexes in a single workout. I know you're big fans of DB complexes because Mike's finishers are full of them.
The great news about combining jump rope and complexes is that you can address two things at once: strength building and metabolism building/fat burning.
Here's a cool study about jump rope and should make you want to start jumping rope this instant (read the study first ;):
Hiroshi Kawano, Mayuko Mineta, Meiko Asaka, Masashi Miyashita, Shigeharu Numao, Yuko Gando, Takafumi Ando, Shizuo Sakamoto, Mitsuru Higuchi
Effects of different modes of exercise on appetite and appetite-regulating hormones
Appetite, Volume 66, 1 July 2013, Pages 26–33
Japanese researchers Kawono, Mineta et al found that jumping rope has a greater exercise induced appetite suppressive effect compared to non-weight bearing exercise.
Ghrelin was suppressed and PYY was increased during both exercises.
Appetite was suppressed to a greater extent with rope skipping than with cycling.
What does this mean to you?
Jumping rope has a hormonal effect on appetite. There are two hormones: Ghrelin and Leptin that are a 'big deal' where fat loss is concerned. When you can manipulate them with exercise, you're in luck. We want ghrelin suppressed because it makes you want to eat the kitchen sink. We want leptin increased because it helps you feel satiated.
Basically, if your appetite is suppressed you're likely going to be eating less, eat less and you'll likely be less challenged to stick to your nutritional plan.
Add jump rope = nutritional win!
I doubt I need to mention the merits of strength training, but in a nutshell, we all know that strength/resistance training is all about getting your sexy back. You'll build lean muscle tone, sexy muscle and increase resting metabolism. Pass the dumb bells please!
Here's a fun workout to try but I should warn you…at the time that I was filming this video, my one-eyed rescue dog was having a workout of his own….You can choose to do the jump rope/DB complex that I have for you in this video, or his rubber boot workout:
Here's what you'll do:
50-100 jumps 10 high pulls 10 single leg RDL other leg RDL 10 push ups
 Repeat 3-5 times
If you're looking for more cool jump rope workouts and you want to use them to help suppress your appetite, check out my Challenge Jump Rope plan here.
As for the rubber boot workout, I'm working on Sev to get a plan together for you for that 😉
Tags: jump rope and db complexes, jump rope complexes, jump rope workouts