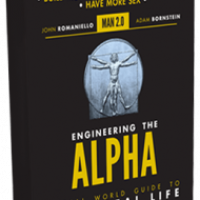 There's a "back story" that a lot of people don't know about me. I used to work in the corporate world and near the end, I was miserable. There was so much negativity around and the morale was lower than it's ever been.Fortunately, I found a way out because I worked with my Dad in his own business. The environment was actually up to us because it was only my Dad and I. Needless to say, it was awesome.
That's when I first started my career as a trainer. I started part-time and my first clients were my parents. While training them, that's when I had my "A-Ha" moment and wanted to pursue training full time.
So for a while… almost 2 years in fact, I had to work extremely hard to get clients, get certified, etc., etc.
At one point, I actually had FIVE jobs at once so I could make my way to being a full time fitness pro.
That's why I'm so thrilled for Roman and his Man 2.0Engineering the Alpha book release.
I know what it's like to work so hard so you can make an impact in this world and see a dream come true. Roman has been dreaming of releasing this book since he was 8 years old!
Now you might be wondering what my 5 jobs were. So if you are…
1 –
 Worked with my Dad full time
2 –
 Worked part time at the gym at the front desk
3 – 
Worked part time as a trainer at 2 gyms
4 –
 Delivered coupon books to local businesses 
5 –
 Writer for the sports section in a local newspaper
"No way" is what you might be thinking. But if you want something bad enough, you do whatever it takes. That means sacrificing time, digging deep and getting your hands dirty.
You know, the same thing applies to your goals. What if you sat down, took the time to understand exactly how long it will take you to reach your ultimate goal and then simply just rolled up your sleeves and go HARD until you reach it?
Think about it…
… sacrifice now, celebrate later.
That's what Roman is doing this week – and I couldn't be any prouder of him. He's been talking about this book to me for a long time and it's great to see his dream come true.
Quit just "messing around" with your goals. It doesn't work.  Sorry to be so harsh, but trust me, I've been there.
It's time to MAN UP.
Use this plan to MAN UP <== Bonuses Link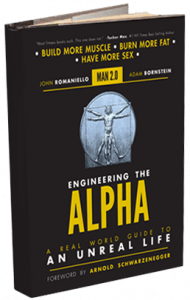 Then you'll get everything you need including:
Roman's NEW 16-week fat burning diet and workout program
4 Phase system including 30 workouts that boosts metabolism (no matter your age)
16-weeks of DONE-for-YOU meal plans to optimize your hormones
Had I not met Roman a couple of years ago, you wouldn't have the density style finishers that has become a reader favorite…
… and some NEW moves that I wouldn't have come up with had it not been for his cutting-edge workouts.
It was HIS programs that influenced this style of training. You'll get density style workouts plus workouts that optimize your hormones so you'll look AND feel your best.
I remember writing a program called "Super Finishers" based on his SuperHero program last year. There's an exercise in it called the "Batman Lunge".
This is when you perform a lunge holding a dumbbell at your side and then at the end of the rep when your front thigh is parallel to the ground, you perform a lateral raise with the same side. So if you lunge with your right leg, you'll perform a lateral raise with your right side.
It's hard work, but it does burn a ton of calories. Do these alternating style and you'll sweat about 8 seconds into it.
But that's the take-home lesson I want you to learn with this message. Look, there's no sugar-coating it. To reach your goals, whether that's becoming a ______ or losing 21 pounds of fat…
… it takes hard work and sacrifice. It doesn't happen with a magic pill or any gadget or any fad diet. And to become a better man, you need to follow a plan and not veer away from it. Stick to it no matter what. FOCUS for just 16 weeks of your life.
It's time to MAN UP by clicking here
This book is going to hit the NY Best Sellers list…
… again, a life long dream of Roman.
But don't just stop by a book store to get it. When you get it from the official Engineering the Alpha site, you'll get up to $300 in bonuses from Roman.
Plus, you'll get bonuses of my own including Super Finishers and the 4-week program, Metabolic City. Just forward your receipt to us at cranktraininghelp@gmail.com and we'll send you BOTH of these awesome programs.
Become a better man + Bonuses + Super Finishers and Metabolic City
My copy is already in the mail, how about you?
Man up,
Mikey, CTT
P.S. And Father's Day is coming right around the corner. So this is the perfect gift for the man in your life, too… plus you'll get him hundreds of dollars of bonuses.