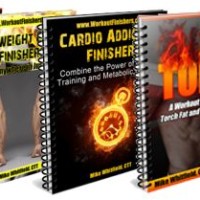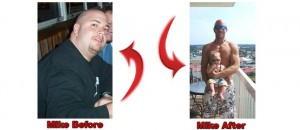 I sure do love this time of year. It's "crisp" in the mornings here in GA. The first thing I do now when I get up is reach for my old "big boy" sweatshirt from my big boy days. I kept one XXXL sweatshirt that I treat as my robe.
Weird? Well, sure. But it works and it keeps me warm.
Fridays I love especially because that is typically when I get to answer your questions. I have them over on my facebook page here:
Let the games begin…
Q: Just got a new Gymboss! One question: when doing a circuit, what is the acceptable transition time? – Eduardo
A: Gym Boss rocks… I like to set up my DBs so I can hop from one station to another. I would say about 10 seconds. That's just enough time to get ready for the next exercise.
Q: Hi Mike, how do you stay motivated for workouts from day to day basis? I find it difficult to keep the motivation up during a longer period of time. – Lauren's
A: I constantly set new goals. Sometimes they are just 4 weeks out and sometimes they are 12 weeks out. I also make my workouts an event. I schedule them on my whiteboard and 15 minutes before my workout, I always choose my energy drink. I look at exercise as a reward rather than a punishment. Think about it… you have the opportunity to exercise.
Q: Mike, I'm heading out of town in a couple of weeks and I don't know if there will be a gym. Any good bodyweight workouts you recommend? – Terry
A: I travel as well. You can use the Bodyweight Torch program. It requires no equipment. You can get that here:
 Bodyweight Torch Metabolic Resistance Training Program
Q: Mike, for outdoor sprints what works better in your opinion: based on time (30s on/off, for instance) or on distance?
A: I like to do distance – when I go to my old high school, I do 20-30 yards sprints… anywhere between 8-15 depending on my mood. But you'll get results from either. – Eduardo
Q: I'm on my honeymoon in about 6 weeks. Any suggestions on losing my love handles, lol? – Katie
A: Yes, use the main metabolic resistance training programs along with the metabolic finishers found here.
And yes… you'll need to follow a solid diet 🙂
Q: What would be the most effective Giant set for fat loss?
A: Although there really is no perfect giant set, when I set them up for clients, I typically include a jump, a pull, a push a single leg exercise (like lunges) and a total body ab exercise (like a spiderman climb).
Q: Mike, I hope you can understand this because of your story.  But I eat great during the day, but at night, I always pig out. I don't eat a lot of junk, but I do overeat. Any suggestions?
A: If you're anything like me, the TV is your enemy. I suggest once you eat dinner, go and do something different like take a walk. If I eat, then immediately watch some TV, I'll eat more. That's just who I am. So what I do now is once I'm done eating, I play with my son. That's a win/win. He enjoys it and it keeps me from endless munching.
Q: Mike, I love your finishers! I have been using them for 2 months now. Do you like them better than intervals or do you prefer finishers? – James
A: I prefer finishers, but that doesn't mean intervals don't work. In fact, I've been doing some intervals on Saturdays. The weather is too nice to not do sprints on a football field and act like a kid.
If you have a tough time deciding, I combined the two in a program called "Cardio Addiction Finishers" found here
Q: Mike, I've noticed you ignore all those silly Farmville requests on Facebook. Why? – Mike Whitfield
A: Well, first of all, I find it intriguing that you asked yourself a question within your own Q and A. That's weird, yet a little funny.  Well played. But to answer your question and be politically incorrect…Farmville is freakin' STUPID.
Great stuff kids. Remember, you can ask me your questions on my facebook page here
Have a great weekend, and as always….
May you never, EVER get bored with your workouts,
Mikey, CTT
Tags: bodyweight exercises, metabolic circuits, metabolic resistance training