About two years ago, I did a video walk-thru for an intense TRX workout called, "Metabolic Drive" for Craig Ballantyne and his TT readers.
All I did were a few reps of each exercise and my abs were so sore the next day… unbelievable (and that was just doing demos).
But it makes sense – you work MORE ab muscles using ANY suspension trainer when doing just about any exercise.
Think about it – do a bicep curl with any suspension system.  Then feel your abs as you go through the movement. Crazy, right? Just be sure to keep your upper body straight – imagine an inverted row but bending your elbows as you come up.
You're going to love this ab superset, too. But be warned, your abs will probably be sore tomorrow.
It starts with your feet in the straps of any suspension system and performing mountain climbers (slow pace and keep those abs braced!).
Now I know it sounds so simple. Mountain climbers, really?. Big deal.  But wait until you try it, especially when paired with a weird suspension Ab move, the kneeling Ab Fallout.
It's a brilliant combo. The first exercise forces stabilization and contraction from the bottom up, while the second demands incredible core strength and then hits you with contraction from the top down.  It's the ultimate ab superset, and practically impossible to replicate without a Suspension trainer.
Add this Ab Superset to the end of your next workout:
A)
 Strap Mountain Climber – 30 seconds
B)
 Strap Ab Fallout (kneeling) – 60 seconds – Rest 30 seconds and repeat two more times.
Sizzle, sizzle. Mmmm, smells like abs getting smoked. Gross.
Now you can do these with any suspension trainer. The Ab Fallout is when you are in the kneeling position and your hands are in the straps. Literally "fall" forward as you extend your arms out until you feel a stretch in your abdominal wall, keeping your body in a straight line.
But don't get me wrong, suspension trainers like the TRX or Jungle Gym straps (you can use either for the superset) are not just core training devices.
In fact, there are literally 191 exercises that you can do to get ripped and even build muscle, practically anytime, anywhere. And celebrity trainer and TRX authority Dan Long shows you how here:
Get all of the Suspension training exercises and workouts here
As part of the Suspension Revolution, Dan is leading cutting edge trainers and clients (including his SuperBowl champion clients and members of the New York Yankees that he has worked with) through all of the best workouts that you can do with these simple straps.
It truly is a revolution in the fitness industry, and Dan is the leader.
Discover the HIGH-energy workouts of the Suspension Revolution here: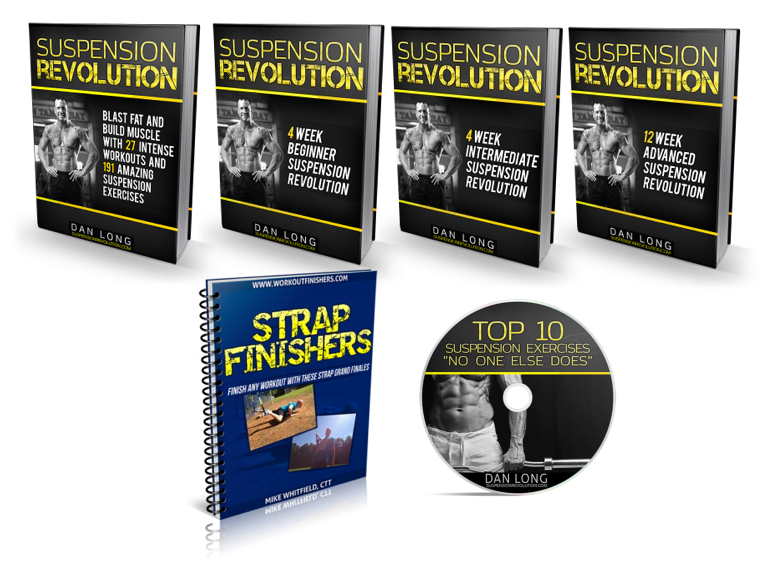 Get in on the ground floor of this revolution and be one of the first "in the know" folks to do these amazing workouts in your area. Whether you train at the gym or at the park or even in your garage, people will be amazed at the strength and shape of your body as you do these moves.
By the way, you have to watch the intro video of Dan. It's awesome. He makes you want to shoulder press the Statue of Liberty with his energy.
Mikey, CTT
PS – By the way, Dan is 40 years old and is SHREDDED. And he stays shredded and keeps his joints in check by using straps.
But the crazy thing is… he's also jacked. His shoulders are like boulders…
… and that rhymes.
PPS Sure, it's not that big of a deal that the above PS rhymes, but here IS a big deal….
The Bodyweight Dirty 30. The BW Dirty 30 are 30-minute metabolic workouts that require ZERO equipment.
You'll get it FREE when you get Dan's Suspension Revolution. Just grab Dan's program right here:
Get Suspension Revolution + Bodyweight Dirty 30 here
Then forward your receipt to us at cranktraininghelp@gmail.com and we'll send you the Bodyweight Dirty 30.
PLUS, you'll get some fat-torching Strap Finishers I made exclusively for Dan's program. Yes, I was so excited about this, I made a bonus JUST for his program. That's included as well.
Longest. PPS. Ever.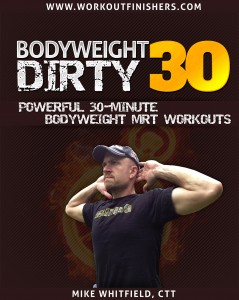 Tags: best bodyweight ab exercises, bodyweight training, bodyweight workout, TRX workouts