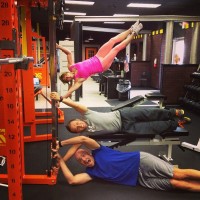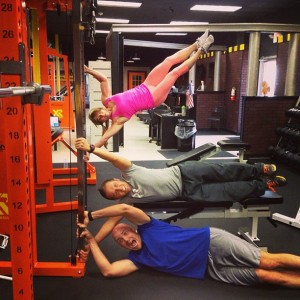 Finally, I'm here in Lapeer, MI and it's actually beautiful and NOT snowing. Craig Ballantyne, Shawna Kaminski, Brian Kalakay and I are on our last day of filming new workouts.
Last night, we went to Mongolian Barbecue, where you get to pick out some meat and get it grilled along with any vegetables you want.
Ha. Vegetables. Whatever. Who got about a pound of meat in their bowl with like… 4 mushrooms?
Mikey <=== I believe it was this guy right here.
Boom goes the NY Strip Steak, Chicken, Sausage and Pork dynamite. Proteinzzz for the musclezzz.
We also had a few laughs and then called it a night. But now it's time to be a little more serious…
… actually A LOT more serious.
As I do more filming with Craig, I discover new techniques and just being transparent, I learn how to make my own workouts and exercises better.
And today, I want to share some of those with you, so you can INSTANTLY upgrade your workouts and make them better.
There's also a small lesson that I learned a long time ago, but until Craig pointed it out, I had forgotten all about it.
That lesson was this – the truth is that just getting your weights and putting your weights away is JUST AS IMPORTANT as the workout technique itself.
Little things like not rounding out your back to pick up and put away weights will make an impact on your lower back. So take care of yourself and always bend the knees with putting weights away or picking them up.
I'm not a spring chicken anymore and I know this will help me as much as it will help you. It takes patience to pay attention to such a small detail, but I want you doing finishers until you are 107. So take care of that back, cool?
Here are more instant upgrades:
Mountain Climbers
The old way was to "shuffle" your feet quickly and let your hips rise in the air between reps while going as fast as possible.
The NEW way – seriously, try doing these SLOW. Keep those hips LOW and take about 1 second to bring your left foot up towards your hand and 1 second to return. Repeat for the other side. You'll feel it in your abs more and work your abs even HARDER.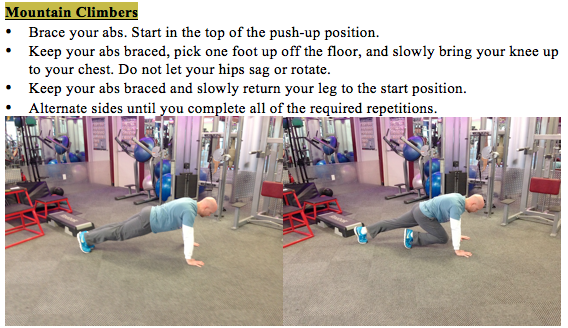 DB Chest Press
The old was was to have your elbows out to the side. However, you'll save your shoulders by having your elbows at about a 45 degree angle.
Bonus – squeeze for 1 second at the top of each rep. This instantly makes this classic move harder.
Prisoner Squats, Prisoner Lunges, etc., etc.
Don't underestimate the power of using the prisoner technique.  Look, we all need improvement in upper back mobility, especially as we age and/or if we do a lot of sitting for hours at a time.
Prisoner style is when you put your hands behind your head (preferably your fingers touching) and keeping those elbows BACK. Really focus on keeping your shoulder blades squeezed together.
So when doing bodyweight workouts, try switching from regular bodyweight squats and lunges to doing them "prisoner style". You'll feel better – that's why.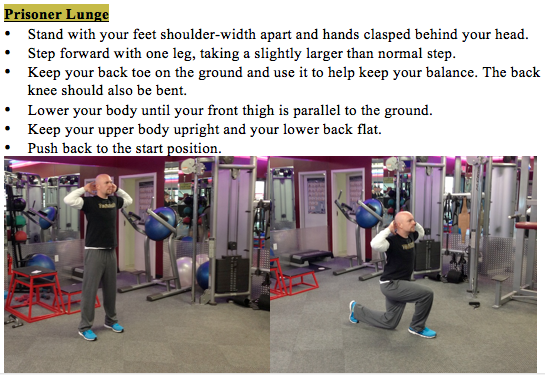 Pushups
The old way was to let those elbows really flare out at will.
The NEW way – keep those elbows tucked in a little closer to your sides. You'll save your shoulders.
Bonus – keep your shoulder blades squeezed together as you go down and you'll work your upper back a little bit.
Don't Underestimate the Warm-up
So you want to upgrade your workouts so that you dominate your sessions? Don't skip the warm-up (as long as it is done right).
Most people skip the warm-up because they are so ready to rock… and I can understand that. I used to be that way.
But since putting just a little more "love" into my warmups, my workouts have been awesome. For example, check out this quick total body warm-up I did before one of the filming sessions yesterday (and I'll be doing it again today)
Prisoner Lunge (alternating) (20 secs) Close-Grip Pushups (20 secs) Prisoner Squat (20 secs)
***Rest 20 secs and repeat 1 more time
C'mon… it's only 2 minutes. And believe me, it will make a HUGE difference.
So, put these tips in place before your next workout and you'll blow your past workouts out of the water.
Alright, time to hit Brian's gym for more filming.
Have a great day – and if it's beautiful, do a workout outside.
Get some vitamin D yo <== Horrible attempt at being hip
Mikey, CTT
P.S. If you want a done-for-you warm-up system that will let you dominate your workouts PLUS 19 Brand NEW Warrior Bodyweight Finishers, put this system into your workout plan.