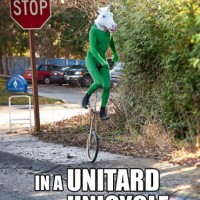 I was literally asking myself, "Am I going to make it?". I still remember actually praying in the middle of what I felt was one the toughest workouts I've ever done.
I only had 36 seconds left in the circuit, but you can see me look defeated in the picture below:
It was the TT Mean 15 Conditioning Circuit
That's a screen shot of the follow-along video of just one of the 51 workouts from the Home Workout Revolution.
It's a density circuit – which means you'll do as many rounds as possible in 15 minutes. Here's the ridiculous circuit:
Low Box Jumps (8) or Total Body Extension (8)
Strap Row or Stick-ups (10)
Switch Lunge (10/side)
Split Shuffle (15/side)
T Pushup (5/side)
Narrow Stance Bodyweight Squat (15)
Burpee (10)
Jumping Jacks (15) 
The Switch Lunge (pure evil) is a simple, yet powerful leg exercise that not only works your legs, but puts your heart rate through the roof. You'll develop a love/hate relationship with these, but don't worry, I'm right there suffering with you every rep of the way.
Then there was what's called "active recovery" with the Split Shuffle. You'll enjoy this "easier" exercise as you recover, but still have your heart rate pounding.
You'll probably hear your heart thumping in your ears, but that's ok. That means you're working hard… mine is thumping, too.
Then it's time to smoke our abs and work our upper body with the T Pushup. You might get delirious like I did… there's a blooper where I literally do jazz hands in the middle of a rep.
Next, we'll hit the Narrow Stance Bodyweight Squat. Sometimes, it's easy to let your chest fall on this as you get fatigued, so be sure to watch me and listen to Brian Kalakay coach us through it.
But this is where we'll really need Brian… after the NS Squat, we have to knock out some Burpees. There's 2-3 variations of these and I'll show you all of them in the video.
Then we end the circuit with Jumping Jacks. But unfortunately, this is a density circuit, so we only rest just enough to catch our breath and then we have to keep it going. Give it all you got for just 15 minutes… you can do this.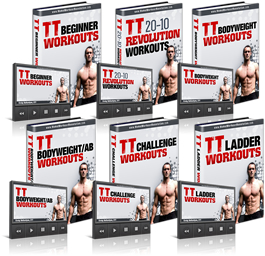 Get the TT Mean 15 and 50 More Workouts here <== No Equipment Needed
You'll get BETTER results with these short, intense metabolic workouts that are SHORTER than your commute to the gym.
You can use these 51 bodyweight workouts…
As stand-alone workouts
As a more effective way to replace cardio (even intervals)… there's scientific research proving that 4-minute workouts are more effective than 30 minutes of cardio (if they are structured in a certain way as found in the Home Workout Revolution)
As an "add-on" to your favorite workouts (all of this is explained inside the manual)
But the best part? Craig Ballantyne, Brian Kalakay and myself are right there with you every step in follow-along videos. Yep, you can download these videos to your Ipod or Ipad, computer, etc.
You'll see me suffer in other workouts, too… like the 8-Minute "8 is Enough" workout. Plus, you'll get:
Ladder Workouts
20-10 Revolution Workouts 
Challenge Workouts
Metabolic Finishers
Metabolic Conditioning
Bootcamp Style Workouts
<==
Try the NEW Bootcamp Addiction
Hey, let's get crazy. I mean crazier than this: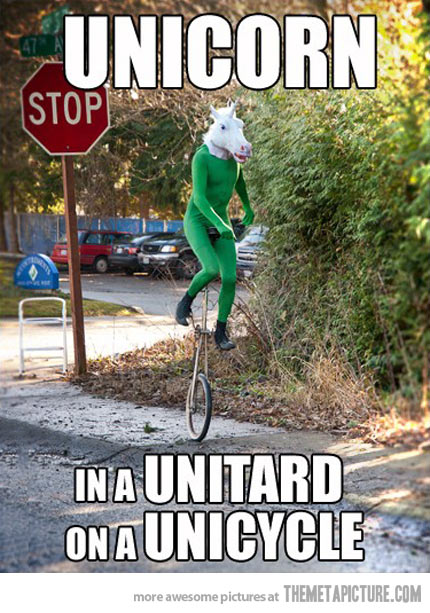 This is my Black Friday offer EARLY. 
When you get the Home Workout Revolution at almost 60% off by this Thursday, 11/14/13, you'll get not one, not even three… not even five… but 7 bonuses from me.
Bonus # 1 – Bodyweight Chaos Finishers – Crazy but fun zero equipment finishers you can plug in with any workout
Bonus # 2 20-10 Bodyweight Finishers (finishers that use a variety of 20/10 approaches)
Bonus # 3 – Bodyweight Dirty 30 – full workouts that use no equipment that are 30 minutes long.
Bonus # 4 – Bodyweight Gauntlets – Using the unconventional "gauntlet" approach, these full workouts will challenge you mentally.
Bonus # 5 – Bodyweight Dirty Dozen – Giant 12-exercise circuit workouts
Bonus # 6 – Strap Finishers – new challenges using straps, jungle gym or a TRX
Bonus # 7 – Diet Finishers – shows you how to get rid of your boring diet, along with killer recipes, how to approach intermittent fasting and much more.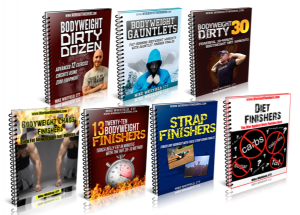 Here's how it works… get the Home Workout Revolution on sale at OVER 50% off right here:
Home Workout Revolution PLUS 7 Bonuses <= Expires this Thursday
I'll get Craig to email me everyone who gets it at the special link through Thursday. Then, you'll get an email with all the bonuses.
And don't worry, you won't have to suffer like I did. You can start with any of the beginner workouts that are included in the Home Workout Revolution.
And keep your eye on your inbox after the sale. We'll email your bonus.
Black Fridays before it's Friday and before it's black rocks,
Mikey, CTT
PS – You'll love the 18-minute 20-10 circuit Craig put me through. My shirt was soaked and I spoke Russian (and I don't even know Russian!)…
… not to mention, all of my crazy Black Friday bonuses (early this year!).
VIP Link => Home Workout Revolution 59% off + Bonuses