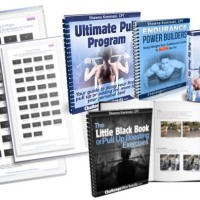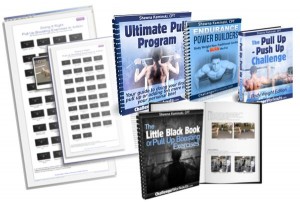 I don't know what I was thinking. There we were, in a random Vegas gym. It was John Romaniello (aka Roman), Rick Kaselj (aka the Croation Sensation), Shawna Kaminski (aka my gal pal), and myself (you already know me).  I thought it would be a good idea to do a countdown finisher of the Goblet Squat and Pull-ups, starting at 10.
Hey, who's an idiot? This guy ==> Mikey.
I've always wanted to do more pull ups myself. I'm embarrassed to say that my 49 year old gal pal, Shawna K can smoke me through the pull ups. In fact, when I showed my client the video, she said I was doing more like, "head-ups".
Roman was pointing and laughing at me, while Rick was at least nice and just laughed (no pointing).
The pull-up is heralded as the ultimate challenge – the ultimate test of one's total body strength and endurance, and the standard by which one's level of fitness is ultimately judged.
Simply put… you can cheat your way though practically any exercise, but not pull-ups. Look, the truth is that you aren't really fit unless you are banging out a few rounds of pull-ups with ease.
But your body is NOT the only thing that changes with your mastery of the pull-up. Your sense of self-worth changes too.
Let me explain…
People are naturally drawn to exceptional things. And the pull-up, as you are well aware, is no easy feat.
So you can just imagine all the attention you'll get while effortlessly banging out one pull-up after another – from the gym staff, to the trainers, to the beginners getting back into shape, and even to those in single digit body fat – your pull-up prowess will not only draw their attention, but earn their respect and admiration as well – especially if you are a woman.
But the good news is Shawna's helping me do more pull ups with her Challenge Workout program.
She has a step-by-step guide to help anyone, even someone that can't do a single pull up, improve their strength.
I like that the program addresses full body strength building, so it's a very comprehensive program.
Here's a cool workout from my gal pal that will help you get closer to an unassisted pull up:
1-Stick ups
10 reps
No rest
2-Scapular retraction
Do as many Reps as possible
Rest for 30 seconds
3a-Assisted pull ups with controlled descent  – 10 reps
No rest
3b- Cable Row – 10 reps
Rest for 30 seconds
Repeat both exercises
4-DB row
10 reps
Rest 30 seconds
repeat
5-Hanging leg raises
10 reps
Rest 30 seconds
repeat
6-DB bicep curls
10 reps
Rest 30 seconds
repeat
7-Incline DB press
10 reps
Rest 30 seconds
Repeat
8a-Push ups – 10 reps
No rest
8b- Plank Hold – 30 second hold
Rest 30 seconds
Repeat both exercise 2 more times (3 Sets Total)
9-DB front raise
10 reps
Rest 30 seconds
repeat
10-DB tricep over head press
10 reps
Rest 30 seconds
repeat
11-Barbell deadlift
10 reps
Rest 30 seconds
repeat
12-Barbell squat
10 reps
Rest 30 seconds
repeat
13a-Spider crawl – 10 reps per leg
No rest
13b-Reverse Hip Lift – 10 reps per leg
30 rest
Repeat Both exercises 2 more time (3 sets total)
Static Stretching
You can get the rest of her program here <= Special offer for Finisher Freaks
Shawna has been able to reach 2000 with her pull up program, but her goal is to reach 10,000. She's made it easier than ever for you to grab her program.
I asked for a favor and she really delivered…
– She's lowered the price to just $19.99 (but the price will double Thursday night)
– She's added the Endurance Power Builder Program as a bonus to help you drop pounds
– She's added two other bonuses not currently available: Super Hero Challenge Workouts and Hardcore Challenge Workouts
– Aaand, she's added the long awaited Ab Challenge program
You can do more pull ups… even if it's just 1.
By the way, I asked Shawna which one of my programs would go great with her challenge workouts and she said, without a doubt, "Bodyweight Chaos Finishers".
So, if you do grab Shawna's program (for under $20 just for YOU) before Friday at midnight, I'll also give you my Bodyweight Chaos Finishers. You can even use these finishers with her Challenge Workouts.
Bodyweight Chaos Finishers + Challenge Workouts = More Pull ups and a Chiseled Body
Here's what you need to do:
1. Grab Shawna's program before Friday here Challenge Workouts + Bodyweight Chaos Finishers <= Special Offer for Finisher Freaks
2. Forward your receipt to us at cranktraininghelp@gmail.com asking for the Bodyweight Chaos Finishers.
3. We'll send your bonus to you.
Boom? Boom. Now smoke someone else in pull ups.
Bam,
Mikey, CTT
Tags: fat loss workouts, How to get stronger, metabolic resistance training