Boost Your Fitness and Rev Up Your Metabolism with the Perfect Fusion of Bodyweight and Resistance Training
Inside this new and flexible 4-week program, you'll discover the ultimate combination of resistance exercises along with dumbbell and even suspension training (with optional moves if you don't have a suspension trainer).
These conditioning workouts are short, but powerful… all with an optional finisher, based on your busy schedule.
It's the perfect workout program you can tweak to fit your busy life. You can:
Use this as your main program if you like short, but intense workouts and want to really focus on conditioning. After all, they are short! (Perfect for busy schedules)
"Plug" any of these conditioning workouts AFTER your main session to speed up fat loss (feel free to skip the optional finisher)
If you want a shorter finisher after your workout – simply pick any of the finishers from this program.
You'll love the shuttle sprint matrix, but especially the "choose your own approach" finisher in Workout B.
You'll end the week with the big Hybrid Monster, enough to boost your metabolism through the weekend.
Plus, you'll discover a new lower body exercise that will fry your core at the same time.
Our 60 Day 100% Money Back Guarantee
If you don't like ANY of the workouts inside this hot NEW program, we'll let you keep the manual PLUS we'll refund every single  penny back to you.
If you don't get the results you're looking for AND have fun with these, I don't want your money…. PERIOD. So give these workouts and finishers a full test drive for 60 days and if you don't like them for any reason, I'll refund your investment with no questions asked.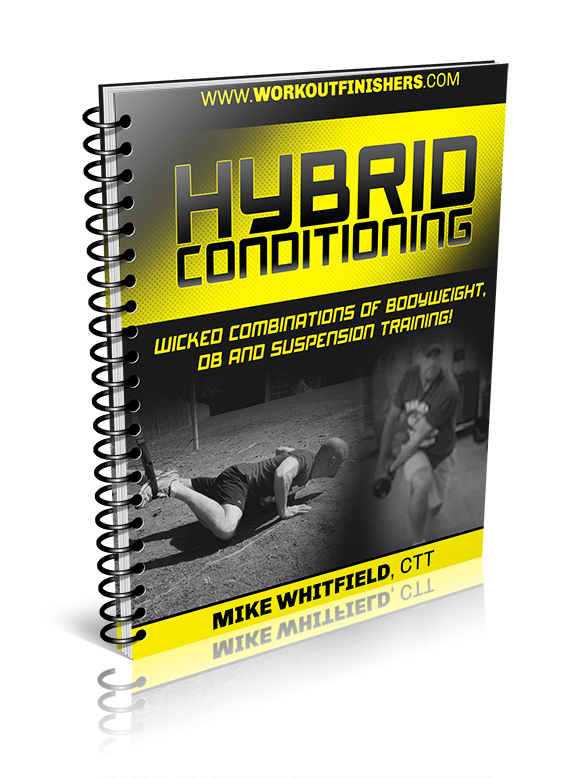 Only $19.95

Get shredded with the ultimate hybrids,
Mike Whitfield, CTT
PS – If you're looking to boost your metabolism and improve your overall fitness fast, this is the program to use.
PPS – If you're not blown away at your fitness level after using this program or you're not happy for ANY reason, I'll give you a FULL refund, no questions asked.
Note: This Metabolic Workout program is downloadable. No physical products will be shipped. After your order, you will get INSTANT ACCESS to download the e-book. The e-book is in PDF format.