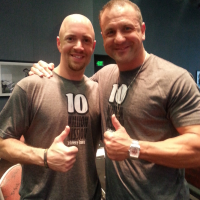 This guy will make you want to deadlift a semi-truck. He's Dan Long and he's got more energy than caffeine itself.
Have you had your Dan Long today?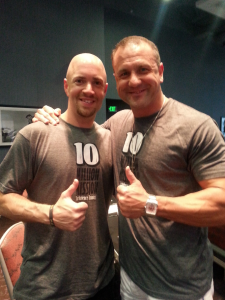 I see Dan a lot throughout the year and he is the most passionate guy I've met. He's also in his 40's and he's ripped and jacked. Look at my biceps compared to his biceps lolzzz.
Anyway, he made a special video for you with some "hybrid" moves you can use with any suspension trainer. These are tough moves, but will help you get faster results because of all the muscles you're hitting at ONE time. Have fun (but be safe 😉
Suspension Training rocks – it gives your joints a break but you still work muscle because of the constant tension. You don't have to get a TRX, either. You can use a Jungle Gym, etc.
You'll hit more core muscles with even just the basic moves like bicep curls and pushups because of the instability.
And here's a solid 30-minute workout using ZERO equipment from my popular program … the Bodyweight Dirty 30.
Lateral Lunge (10/side)
Elevated Pushups (8/side)
Prisoner Reverse Lunge (10/side)
Pushup Plank (30 secs)
Squat Shuffle (8/side)
Decline Pushups (15)
Total Body Extension (15)
Spiderman Pushup Plank (20 secs/side)
Rest 1 minute and repeat 2 more times 
Ha, the Spiderman Pushup Plank… GOOD times.
When you get Dan Long's Suspension Revolution at his biggest discount of the year this week, I'll send you the entire 4-week Bodyweight Dirty 30 program. (Nothing to do on your part, Dan will send me everyone who gets it through the Workout Finishers VIP links in my emails and blog posts like this one). Expect to see it in your inbox this weekend.
You can get immediate access to the Suspension Revolution and NEW Hybrid Bonus here
Not to mention… you'll also get immediate access to my Strap Finishers bonus, too 😉 (It's part of Dan's program)…
Merry Christmas to your joints,
Mikey, CTT