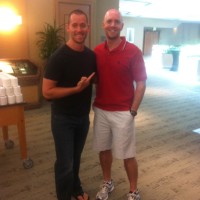 Ahhh, yes. The "Wing It" workout coming right up. You see, later today, I'm training my superstar client followed by my own workout.
It's going to have to be short and sweet because I'm having to plan my trip to Vegas. Craig Ballantyne and I will possibly have a pancake outing, too.
My muscles could use a break, so I'm going to focus on conditioning.  I might bring my TRX (Dan Long would be so proud).
When it comes to Metabolic Conditioning, I like to use short rest periods and higher rep ranges with a hybrid approach.
So, here's a sweet conditioning circuit here:
1A)
1-Arm DB Push Press (12/side)
1B)
Strap Assisted 1-Leg Squat or Bulgarian Split Squat (15/side)
1C)
 Close-Grip 3/4th Rep Pushups (20) 
Rest 30 seconds and repeat 1 more time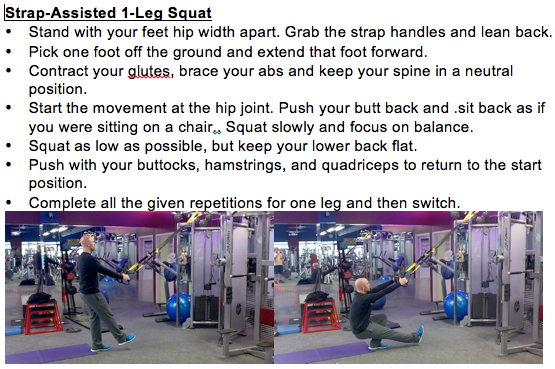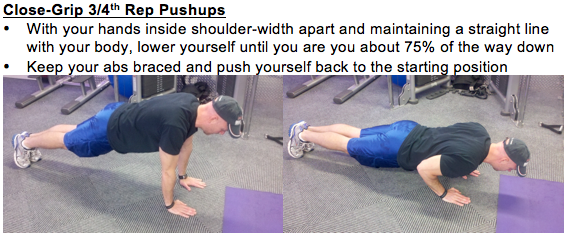 Then you can plug in some drills like Shuttle Sprints, high rep KB or DB Swings, and even some Low Box Jumps. Some Snatches would work here, too, depending on the overall program design.
You can do timed sets or even the 20-10 approach.
The higher rep ranges will be a new stimulus your body will have a hard time adapting to, and hey, we all need a fresh change-up to our workouts, right?
But you won't see me hanging out at the pull-up bar trying to knock out 50 pull-ups in 60 seconds. That's where popular "hardcore" programs fail.
That's why I like this step-by-step progressive approach
It's called "CT-50".
Now, what is CT-50?
Imagine the BEST of cross-training and Crossfit with a systemized and progressive approach. That's it in a nutshell… without any of the fancy equipment.
It also has some P90X "flavor", but the design is much safer and more effective, helping you stay more consistent.
There are 5 stages in the program, and each one is capped off by a "challenge" workout that helps you decide when you're ready to move up to the next stage…
… and the best part, they are all shot in high definition follow-along workout videos that you can watch anywhere – all in 20 minutes.
I'll let Tyler Bramlett explain why it works so well and how powerful cross training can be.
———-
5 reasons YOU NEED Progressive Cross Training…By Tyler Bramlett  Functional Training Expert, USAW Sports Performance Coach
Reason #1 – You're Not Getting The Fat Loss Results You Want 
No matter what workout you are following, if you're not getting the results you want within the first 30-50 days, you need to find another workout routine.
The reality is that most programs fail because they DO NOT contain Progressive Movement Technology((TM)). In order for your body to continue burning fat week after week, and year after year, the exercises and workouts need to progress.
The CT-50 Workout System brilliantly solves this problem by creating the only cross training template that changes as you get more fit. This progressive cross training model means that as your workouts change so do you!
Reason #2 – You Can't Figure Out How To Push Yourself Any Further
One of the main mistakes I see people making is they simply don't know how to push themselves any further. They get married to the idea that they are a beginner and never take the next step to try intermediate or advanced workouts.
If this is you, then you should know that the main reason for this problem is because you don't have a system for tracking your progress and knowing EXACTLY when you need to make your workouts more challenging.
The CT-50 Progressive Cross Training workouts give you a series of 5 different "benchmark" workouts that you can use to determine when it is the right time for you to take your game to the next level.
There's no confusion whatsoever, you measure yourself against the workout, track your score and if you meet a certain number, you move up to the next level.
If you missed the score, simply repeat the 9 other workouts on that level and come back to the benchmark workout in 2-3 weeks to measure yourself again. It really is that easy!
=> Discover the CT-50 "Challenge" workouts
Reason #3 – Your Workouts Are Making You Feel Weaker And Less Confident
Many popular workouts these days can actually make you weaker, destroy your posture, and even worse, stall your fat loss in it's tracks. All of these things are usually frustrating and can make you feel like there's no hope.
Well… The good news is that the science-backed exercises contained in each level of the CT-50 fatloss cross-training system have been designed to prevent you from ever being able to slip backwards, or get weaker and thus eliminate frustration while boosting your confidence!
The secret is that on each level (theres 5 different levels) the exercises get progressively harder and harder. This ensures that as the workouts change, you change with them, building the strong, lean and confident body you know you want!
Reason #4 – You're Sick Of Driving To The Gym And Spending Hours A Week Exercising
The reality is that if you're complaining about time, then you haven't tried a progressive cross training workout. That's because in less than 20 minutes you will feel like you did a full 90 minutes of exercise.
And since you need just 3 workouts per week in order to see good results, that means progressive cross training workouts only take 45-60 minutes per WEEK.
Plus… Since the CT-50 System is based on progressive movement principles, you can literally get the entire workout done in your own home using only a couple simple, compact and inexpensive pieces home exercise equipment.
Heck there's even several workouts that require ZERO equipment and still deliver the same benefits as all of the other progressive cross training workouts. The point is, you don't need a ton of time and you don't need a ton of equipment to get INSANE results!
Reason #5 – You're Insanely Bored With The Workouts You've Been Doing And Need Something New
I've done workout routines that were too planned and made me feel bored to the point that I dreaded even thinking about having to go in and do my next workout.
If this has ever happened to you, you know what I'm talking about. Fortunately, progressive cross-training constantly keeps your body, your mind and your spirit guessing, but is also laid out in a very specific 10 workout, 5 level (that's 50 specific workouts) system that guarantees continued results!
———-
Good stuff from Tyler B.
Like I said, the best way I can explain his system is it has all the benefits of popular systems like CrossFit and P90X, but without the injuries and burnout from the brutal workouts.
Train hard, but safe. That's the "secret".
Get the BEST of CrossFit and P90X here + Hybrid Conditioning
Mikey, what's Hybrid Conditioning? Why did you put that in the pretty blue hyperlink text? It looks cool.
That's because it IS cool imaginary person.
I just finished this NEW Metabolic Conditioning program, which is the perfect "Hybrid" of bodyweight exercises, DB moves, and Suspension training (with exercise substitutions of course)…
… with a BIG focus on conditioning.
When you get Tyler's program from the link above, be sure to forward your receipt to us at cranktraininghelp@gmail.com and we'll send you the FREE bonus, Hybrid Conditioning.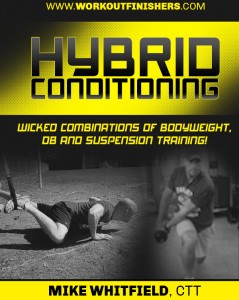 When you head over to this page, you'll discover a weird story about a swarm of bees, a bunch of "fringe" fitness experts and almost 10 years of experiments on over 500 personal clients helped him perfect this breakthrough system.
Let the fall conditioning begin,
Mikey, CTT
Tags: hybrid circuits, hybrid conditioning, hybrid exercises