"How do you lose fat fast?" <=== that is a question I get a lot.  There are 2 times when I get it more than any other time, and that is in January (you know who you are), and just before summer.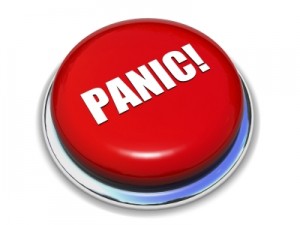 The panic sets in.  You realize you will be going to the beach or hanging out at the pool or lake and you think, "oh dear…. I'm going to be next to a body of water with a lack of clothing.  I'm scared."
Here's the deal.  I know people (including myself) talk about the long term with fat loss.  But it happens… you've been coasting along, losing 1-2 lbs a week and making progress, but you find yourself needing to go in 5th gear.  I've been there and done that (See? I'm human).  I've done it 3-4 times to be exact using a product being launched on May 1st.
That's why there are programs out there to help you do just that.  We are less than a month away from Memorial Day.  Memorial Day, to me, is a landmark in someone's transformation journey.  This is where you need to evaluate your progress based on the goals you set in January.  Maybe you're a little behind (or maybe you didn't even get started). It's time to use workouts that get results with a solid diet.
The truth is that no matter where you are, you can always adjust and get back on track.  I remember stalling in my weight loss journey, and all I had to do was make adjustments.
Here's the deal – those adjustments can be challenging.  But if it were easy, everyone would be doing it.  What can you accomplish between now and Memorial Day?  Can you get results that would normally take up to 3-4 months?
Sure you can.  I've done it.  As a matter of fact, here is what I did 2 years in a row about 4 weeks before my beach trips:
1)  Stay Active Every Day – even if it is your off day, do an activity you enjoy on your off day.  This can be walking, jogging, Yoga, wrestling with your dog, taking a bat to a copy machine that's not working, etc., etc.
2) Incorporate Single Limb Movements – That means switch from the basic squat to a split squat or Bulgarian squat.  You can also switch from the chest press to the 1-arm chest press (by the way, feel your abs when you do a heavy 1-arm incline chest press… you're welcome).
3) Cycle Your Calories – I'm not a huge fan of counting calories or cycling them, but when it comes to burning a lot of fat in a little bit of time, cycling calories does work.  This is when you would consume a lot of calories one day, followed by a day of intermittent fasting or very low calories, than a day of moderate calories.
4) Cycle Your Carb Intake – I'm not a dietician (just being honest).  I have no idea why this works so well, but it certainly does after testing it myself as well as with my clients and campers.  This when you do a cycle of high carbs, low carbs and moderate carbs in a given day.  As a matter of fact, one method is like this:
High Carb Day
Low Carb Day
Moderate Carb Day
It's crazy, but it works.
5) Use a Combination of Metabolic Resistance Training, Interval Training and Metabolic Finishers – If you're new to these terms, this may have read like this to you – Use a combination of blah blah cha cha, interval training and shanky yanky yonkey.  Don't worry – I've got you covered.  In a nutshell, metabolic resistance training is non-competing exercises in superset or circuit fashion with incomplete recovery.  For more on metabolic finishers, click here.  For more cool ways to perform interval training, click here.
Using a combination of all 5 of these is very challenging, but also very rewarding.  You lose a lot of fat, while maintaining muscle.  Many programs out there will help you drop a lot of weight, but you drop muscle in the process.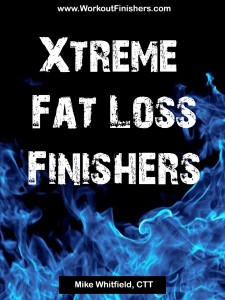 That's why I created Xtreme Fat Loss Finishers – it's time to step it up.  Tomorrow, I'll explain how you can get a hold of this program that has yet to be released.
I'll be honest with you – these finishers are NOT designed for beginners.  They are tough.  Some that I thought were "a little easier" are actually harder after testing them and getting feedback from online and offline clients.  I threw some spins into it like density finishers, which will make you produce a lot of volume in just a very little bit of time.
As a matter of fact, I designed these finishers to work in harmony with Joel's Xtreme Fat Loss Diet releasing May 1st.  That's right – specific finishers on specific days.  It's one of my best programs yet, and I'm excited to get it into your hands.  You'll be cursing my name, but you'll be thankful 25 days later when you're leaner and ready for the beach.
Get ready,
Mikey, CTT
Get Xtreme Fat Loss Finishers FREE when you get the XFLD through this link