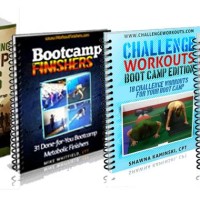 It happens to bootcamp trainers all over the world. Your campers get bored of the same old routines and end up leaving.
And you certainly don't have the time to come up with new workouts and games. You need to grow your business.
The truth is that a new camper will decide to either join or leave your bootcamp after just one workout. If they do decide to stay, you have less than a month to impress them.
If they are not getting REAL results, they won't be back.  Fortunately, there's now a solution that will end workout boredom forever.
Your solution is right here <= End Workout Boredom FOREVER
For the first time EVER, Bootcamp Challenges superstar Shawna Kaminski, Bootcamp Games Expert Brian Kalakay and Metabolic Finsher Wizard (yours truly) have put together a solution to help you not only smash workout boredom, but ultimately become a Superhero to your campers.
You won't find a combination like this ANYWHERE else.
You'll get dozens of referrals on auto-pilot with this ultimate done-for-you system that you plug and play with your bootcamps.
Here's what we have for you all in one place for the first time ever:
31 TT Bootcamp Games 31 Bootcamp Metabolic Finishers 18 Bootcamp Challenge Workouts 6 Extreme Bootcamp Challenge Workouts
Beat workout boredom FOREVER with this ultimate bootcamp system 
You'll beat workout boredom with your campers with these unique challenges, finishers and games and word-of-mouth will spread and you'll get NEW campers.
In fact, Brian tripled his membership in just 4 weeks with just his unique and crazy (yet addicting) games ALONE.
PLUS, your clients will get faster and better results because they will show up at every one of your workouts. It's a win/win.
Everything is done-for-you.  Simply PLUG and PLAY… and watch your business explode while helping MORE people.
Here's how to easily double your members in just 4 weeks:
Go to this ultimate bootcamp workout site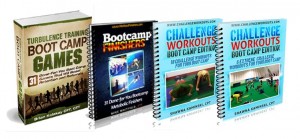 Then, you'll get an amazing 86 ways to boost your bootcamp business and have more fun in your workouts.
Then select a challenge, finisher or game (or you can choose all 3) and hit print. Then you'll easily double, if not triple your productivity so you can spend more time with your family and friends.
ALL OF THESE PROGRAMS are done-for-you.
Here is the solution you've been waiting for to explode your bootcamp business and add dozens of creative and fun workouts.
The Ultimate Bootcamp System <= Half off 
But when you grab it TODAY ONLY, you'll also get "Metabolic Switch", the new Bootcamp Workouts that use metabolic resistance training and intervals for an addicting workout that gets your campers faster results.
This unique Bootcamp Workout manual isn't available anywhere else. And today, you get it FREE, but only during this special launch event TODAY as a fast action bonus.
The Ultimate Bootcamp System PLUS Fast Action Bonus <= Half Off
But after today, the Bootcamp Metabolic Switch bonus expires

Shawna, Brian and myself have teamed up so that your bootcamp workouts never get stale ever again.
Enjoy these addictive games, challenges and finishers,
Mikey, CTT
P.S. And even if you're not a bootcamp coach, you'll still discover 3 of the top bootcamp experts' secrets to burning MORE fat in less time… without fancy equipment.
Tags: bootcamp routines, bootcamp workouts, finishers for bootcamps