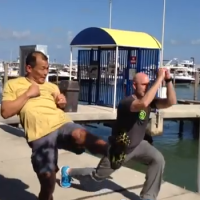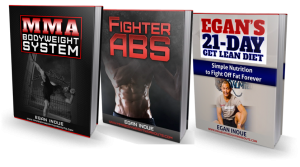 Certainly you remember the "Sweet 16" conditioning circuit I wrote for my personal client. He claimed it to be one of the best workouts he ever did.
Believe me, it's nothing compared to a bodyweight conditioning circuit that uses an MMA approach that I discovered from my friend Egan Inoue. You'll see it below.
You see, I first met Egan in the fall of last year. He runs a bootcamp in Hawaii (jealous?). He uses these MMA moves with timed sets using zero equipment in his bootcamp workouts.
One woman, in her 40's, DREAMED of one day being able to do one single pull-up. But after using these Hawaiian training secrets in his bootcamp (using NO equipment), she can now pump out 7 reps.
Then there's one man who never played a sport in his life and wasn't able to do a single pushup, but once he used these Hawaiian training secrets, he can bust out 10 EASY.
One of this trainer's clients lost 65 pounds in 8 months using these exact no-equipment extreme conditioning workouts.
We're just scratching the surface. The part I was most amazed at was an ENTIRE group of women used these same combination of workouts 3-4 days a week and ran the Honolulu marathon in under 5 hours…
… without ANY long distance training.
Meet Egan Inoue, he's 47, but he's in better shape and MORE ripped than most 20-year olds.
After years of dominating the MMA industry and winning 7 worldwide championships, he brought his training secrets to his training facility in Hawaii.
He's so in demand, that even Scott Caan and Alex O'Lachlan from Hawaii Five-O train with him in order to not only get lean and chiseled, but to stay in amazing shape for their demanding roles.
In this circuit, you'll use short, intense conditioning "rounds" but in such a strategic combination, that you'll sculpt muscle, lose fat and improve your conditioning…
… all at the same time.
WARM UP:
1) JUMPROPE FOR (2) MINUTES
WORKOUT:
Perform 30 seconds of each of the following: 1) CROSSOVER HILL CLIMBERS 2) LUNGE BACK RIGHT KNEE TO RIGHT PUSH KICK* 3) HIGH KNEES WITH JAB CROSS (RAPID PACE) 4) LUNGE BACK LEFT KNEE TO LEFT PUSH KICK* 5) JAB CROSS HOOK SPRAWL 6) SLIP LEFT THEN SLIP RIGHT
Now these moves are probably foreign to you, and that's why they work so well. There also many "combo" moves. Egan took me through the lunge to kick in Miami earlier this year and I was wiped about 15 seconds into it. See the pic below .
It's when you perform a reverse lunge with one leg, and then you come up and perform a kick with the same leg.  That's ONE rep.
Imagine a finisher using this crazy exercise.
I'm kidding! You're not going to imagine it. You'll use this finisher with this one move today. I used this with my client and he was surprised…
The Hawaiian Punch Finisher <== Yeah, I know. That IS awesome
Lunge to Push Kick (30 secs/side)
3/4th Rep Dips OR 3/4th Close-Grip Pushups (30 secs)
Punch/Kick Combo** (30 secs)
Walkouts (30 secs)
Rest 30 seconds and repeat 2 more times
** Kick left, kick right, punch left, punch right
Thanks for the inspiration Egan.
You can get all of his workouts, including his new "Fighter Abs" that use these 15-second intervals that are lethal to belly fat right here:
=> NEW Bodyweight MMA System Secrets
Now you might be thinking this is just another bodyweight program. I thought that, too. But after seeing his clients get amazing results in terms of weight loss I was impressed.
And get this, his clients enter the toughest races in Hawaii and end up DOMINATING them because of Egan's secrets that improve your athleticism without a single day of "race training"
His secrets were inspired from a book he read from Hershel Walker, who is RIPPED at the age of 50… all without lifting a single weight.
Now being a GA boy, you know I'm a big Hershel Walker fan.
Egan took what he learned and knew there was something else to this approach of bodyweight workouts. He knew bodyweight workouts are more than just a chance to lose fat.
He wanted to SKYROCKET your conditioning and discover your inner athlete. Other bodyweight programs miss the boat on this.
This all started with a shocking conversation Egan had with his father at the age of 16.
=> Read the shocking conversation here
Plus, you'll see Egan is offering you an amazing discount on his brand new MMA Bodyweight System.
So you'll get MMA Fighter Ripped and athletic, but without ever having to step into a ring… all without ANY equipment, too.
Boom goes the Hawaiian dynamite,
Mikey, CTT
Tags: bodyweight circuits, bodyweight routines, bodyweight workouts