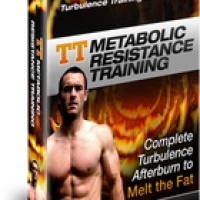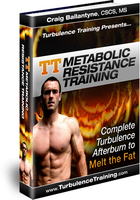 It's the #1 question I get asked all the time… "What is the toughest workout you've ever done?".
Of course, that and the infamous "What is your favorite finisher?"… but that's another conversation.
Truth be told, this workout is no nasty and effective, I've gone through it 3 times already (and my clients have, too).
It's Workout B from TT MRT 1.0
MRT stands for metabolic resistance training (which you already know I'm a fan of).
This is when you:
use moderately heavy resistance training
use supersets or circuits (no straight sets)
are dramatically elevating your heart rate
maximizing calorie burn (typically switching from upper to lower body exercises)
use "insufficient recovery" between exercises (try going from a pullup to a squat)
But what Craig did has inspired many of my future programs…
… he combines metabolic resistance training and metabolic conditioning into a wicked 4 day/week program.
Workout B is a metabolic conditioning circuit that gets me every time.
It goes like this…
Do the following circuit up to 4 times, resting for 1 minute between circuits:
1) Kettlebell Swings – 20 reps
2) Strap or Regular Spiderman Pushup – 10 reps per side
3) Box Jump – 8 reps
4) Strap or Stability Ball Jackknife – 20 reps
5) Stability Ball Leg Curl – 20 reps
Uhhh yeah, and that's just HALF of the circuit. The rest goes like this…
6) Another Unique Pushup – 12 reps per side
7) An Upper Back Exercise – 10 reps
8) A cool squat-push combo movement – 12 reps per side
9) A total body ab exercise – 15 reps per side
10) A special form of conditioning – 15 seconds
It was 10 followed by 9 that got me on my knees every time.
But it works. That program was the "secret sauce" that 2 of my clients used to win money and place in the TT Transformation Contest.
In fact, Amber claimed as it as her favorite as well (freak).
Get the full 4-week program here
Plus, you'll get ANOTHER 4-week program inspired by my Finishers.
I'll warn you first though, these are INTENSE workouts. That's because the goal of TT Metabolic Resistance Training is to elevate your "in-workout and after-workout" calorie burning.
Whereas with monotonous cardio workouts, no matter how long or how fast you run, you'll never get the same "after-burn" effect – and you'll pound down your knees and low back from overuse training.
You ALREADY know that everyone who starts the new year with a bunch of cardio looks the same, even after weeks of doing it. But YOU know better.
You use workouts like these instead
These workouts will kick your butt and leave your muscles burning MEGA-calories for hours – even days – afterward.
Not only will you burn fat faster than cardio, you'll ALSO build lean, sexy muscle – all at the SAME time. That's how these workouts were designed.
PLUS, you'll get a bonus TT Metabolic Finishers program. I remember doing this one in Vegas – Workout C is a fun one.  The finisher in that one is a doozy. But it gave me energy all day while I was in meetings.
Get ready to use a few new exercises and a few training methods you've NEVER used before to elevate in-workout and after-workout calorie burning.
You'll probably get addicted to this workout, just like me. I bring this one out at least once a year because it's so effective.
Viva la MRT,
Mikey, CTT
PS – This is just a quick special…
…to help you kick-off 2013 with maximum fat burning and keep you away from being a New Year hamster.
Don't be a hamster. Be a MRT…..ER.
Get this Metabolic Workout deal for only $7 <= Expires Wednesday
Tags: build muscle and lose fat, fat loss workouts, metabolic resistance training