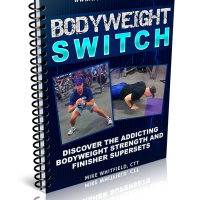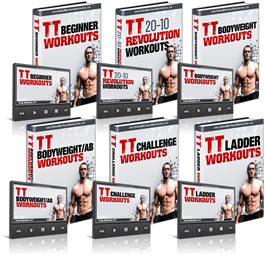 Finally, you asked me a new question. I'm used to the "What's your favorite finisher?". But recently, a reader asked, "What's the hardest superset you've ever done?". But there was a twist.
That was only the first half of the question. Immediately, I jumped to the classic superset that has gotten me every time, which was the Deadlift supersetted with the 1-Arm DB Shoulder Press (it defeats me).
But I made a mistake; I didn't finish reading her question…
…"using just your bodyweight?" is how she ended it.
My eyes lit up. You already know I'm a big fan of bodyweight workouts. That's why I was crazy enough to fly out to Lapeer, Michigan a couple of times to film one metabolic-boosting bodyweight workout after another.
But the hardest supersets? Hmmm, without a doubt it's my strength/finisher supersets. Yes, you read that right. It's when you combine a strength exercise and a finisher or conditioning exercise together in a superset.
You won't increase your bodyweight strength using this approach, but I guarantee you'll bust a plateau and jump start your fat-loss if you need to lose fat fast.
But believe me – these are NOT easy.
For example, the Eccentric Power Lock Pushup is when you take 4-5 seconds to come down, while also keeping your shoulder blades squeezed together during the whole exercise. (You can expect your back to be sore using these by the way).
And of course, the Bench Vault is a finisher/conditioning move.  This is when you set your hands on the end of a bench while standing behind it and you "vault" over from side to side. (Try it – it's fun and your heart rate goes through the roof).
So, this is one way these two exercises would be set up in a crazy strength/finisher superset:
1A) 
Eccentric Powerlock Pushups (8-12)
1B)
 Bench Vault or Lateral Hops if you don't have a bench (20/side)
Rest 1 minute and repeat 2 more times
That's how my 4-week ZERO equipment "Bodyweight Switch" was written. There's no actual "finisher" per se, but you'll be doing 4 progressive supersets just like that with every single workout. By the end of each workout, you'll be spent (trust me).
NOTE – I have NO clue what "per se" means. I personally hate that phrase but it just felt right.
Anyway, you can get this addicting program along with the brand new Home Workout Revolution System here:
51 ZERO Equipment Workouts with Follow-Along Videos
What is the Home Workout Revolution?
Each of the 51 workouts comes in follow-along, online video format.
Each one is also included in a 12-week program. So, yes, you simply hit print, then the play button and be prepared to sweat with workouts that last just 15 minutes or less.
My favorite part – you can use these in addition to your favorite program, too. This is even explained in detail inside the manual.  You'll discover how to use these in the most optimal way as well.
Each workout requires ZERO equipment.
You'll get support from Craig Ballantyne, Brian Kalakay and myself as we are there every rep of the way, giving you coaching cues and support to get through it.
With busy schedules, crowded gyms and you getting burned out on long, boring cardio, this is the future of fitness.
You'll be SHOCKED at what can happen in just 4 minutes.
ZERO equipment INTENSE metabolic workouts <= with follow-along videos
You'll discover ladder workouts, challenges, bootcamp-style workouts, finishers, conditioning circuits and more.
Once you get your Home Workout Revolution from the link above, forward your receipt to Cole at cranktraininghelp@gmail.com. Say something cool, like… "Good lawd Cole. I'm going to get shredded and laugh at Mikey on the screen doing it. Will you please pour some awesome sauce on me much like Def Leppard pours sugar by sending me Bodyweight Switch?"
By the way, this offer isn't available to everyone yet. Because you're awesome, you're getting exclusive access to this program before the rest of the world does.
Also, let me know how it goes. The TT Mean 15 still haunts me to this day. You'll see me almost break in that video.
Then again, there's the Eight Minute "8 is Enough" that had me on my knees in about 4 minutes.
Get 51 BRAND NEW Zero Equipment Workouts Here <== On Sale Just For You!
Then don't forget to forward your receipt to Cole.
May you never, EVER get bored with your workouts,
Mikey, CTT
Tags: bodyweight circuits, bodyweight workouts, home workouts