This is it. The moment you've been waiting for. Inspired by the Olympic Games, I give you (dramatic pause) …. (another dramatic pause) …. (a little bit longer to develop a climax) … (almost there) …. (that's a lot of parenthesis) … (HA! I spelled parenthesis right!) …(dramatic pause) ….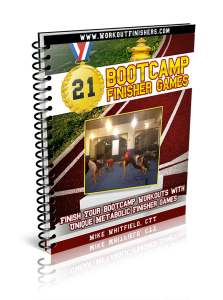 21 Finisher Bootcamp Games!
(Don't click yet – I'll tell you how to get it in a second)
Let's like… try one!
"The Heart Thumper 300"
Split your campers into groups of 3. Each group must complete the following circuit, and
they can be split up any way they wish. Only one person can go at a time. So, for
example, person 1 would complete 10 burpees while the other two encourage him/her.
While person 1 rests, person 2 jumps in and continues the burpees while the other two encourage him/her. Continue in this fashion and promote teamwork. The first group to complete the circuit wins.
1A) Burpees (100)
1B) Bodyweight Chops (50/side)
1C) Squat Thrusts (100)
Easy. Effective. "Fun". Heck, you can even do this without a bootcamp. Just grab 2 workout partners and do this at the end of your workout.
Good times? That's right, good times.
Here's the deal. My friend and fellow energizer bunny trainer, Brian Kalakay is coming out with an amazing way to use games with your bootcamps. For your convenience, he has called it "TT Bootcamp Games" because, you know… it's games for bootcamps.
You clicked didn't you? I'm not done explaining how to get my 21 Bootcamp Finisher Games, inspired by Brian, FREE yet.
First, what if you could double your membership numbers in 4 weeks by doing one simple tweak to your current bootcamp sessions?
Would you want to know what this one secret is?
Well, this one secret has helped my friend Brian Kalakay add an additional 41 people to his boot camp program in just 4 weeks.
Best of all, the way he got his new clients didn't cost him anything.
Here's how he did it:
Discover "Boot Camp Games", which are literally tacked on at the end your boot camp session (just like finishers) and will stir up referrals like a wild fire!
Bootcamp Games:
– Increase Boot Camp Loyalty
– Differentiate you from competitors
– Add variety to your current program
– Generate referrals
– Increase retention
He explains Boot Camp Games here and how you can BLOW UP your boot camp business with them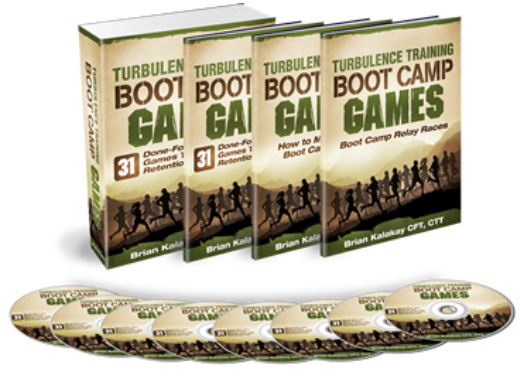 Be sure to look at his boot camp session photo that was taken only 4 weeks after his grand opening – it's crazy to think that by using something as simple as boot camp games, he DOUBLED his membership in that short period of time.
See the picture here:
And after interviewing Brian, I was inspired to create 21 Bootcamp Finisher Games. Imagine combining the power of metabolic finishers AND using bootcamp games.
That's how I roll, that's why.
So, here is what you need to do. Get Brian's TT Bootcamp Games through this link below THIS WEEK:
1. Click here ==> Brian's TT Bootcamp Games
2. Forward your receipt to us at cranktraininghelp@gmail.com
3. We'll send you 21 Bootcamp Finisher Games FREE, including the Partner Pump 200, the Nifty 50 and more crazy bootcamp finisher games.
4. Be the most amazing experience in your town using these Bootcamp Games AND Bootcamp Finisher Games while getting tons of referrals and watch your business BOOM.
P.S. Brian has his Bootcamp games totally systemized and Done-For-You.
Grab his program here and get your FREE bonus.
May you never, EVER get bored with your workouts, (including your bootcamp workouts),
Mikey, CTT
Tags: bootcamp circuits, bootcamp workouts, finishers for bootcamps, metabolic finishers