Burn MEGA-Calories by Combining Ladders, Gauntlets and More Using a Unique "Stack" of Finishers with Every Workout… All in Around 20 Minutes!
"This is going to be… ohhh man. Wow" – my longtime and superstar client of almost 7 years.
The experimentation has concluded and you're in for a treat. Welcome to "Finisher Stacks". Each workout is a stack of 2 – 3 finishers as a full workout. The good news is that these workouts are short, but very powerful.
If you have a busy schedule, this is your go-to program, as each workout will take you around 20 minutes or less.
You'll have to let me know which workout is your favorite. You'll love the chaos with…
The bodypart stack, where you'll perform a lower body finisher, upper body finisher and finally a nasty ab finisher.
The insane gauntlet method including the 5 rounds
The addictive 20 seconds on, 10 seconds of rest workout
Wicked 6-minute grand finale superset… and much more
So, whether you're short on time or you looking for a new finisher challenge, you'll enjoy these stacks… ALMOST as good as a stack of pancakes.
Our 60 Day 100% Money Back Guarantee
If you don't like ANY of the workouts inside this hot NEW program, we'll let you keep the manual PLUS we'll refund every single  penny back to you.
If you don't get the results you're looking for AND have fun with these, I don't want your money…. PERIOD. So give these workouts and finishers a full test drive for 60 days and if you don't like them for any reason, I'll refund your investment with no questions asked.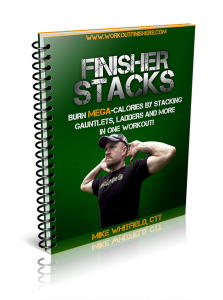 Only $19.95

Discover the power of finisher "stacking",
Mike Whitfield, CTT
PS – You'll love this radical approach and feel like you worked out for hours…. but in only around 20 minutes. I guarantee you'll see a difference in the mirror following this system.
PPS – If you're not satisfied for any reason within 60 FULL days, I'll refund every penny back to you and let you keep the manual.
Note: This Metabolic Workout program is downloadable. No physical products will be shipped. After your order, you will get INSTANT ACCESS to download the e-book. The e-book is in PDF format.