Finish Off Belly Fat For Good Using My Popular Metabolic Resistance Training Program, "Metabolic Countdown", PLUS You'll Get the Metabolic Finishers Program "Finisher Supersets in the City"; Not to Mention, You'll End Your Boring Diet Forever Using Diet Finishers –

All for just $7
Chisel Lean, Sexy Muscle with these Metabolic Workouts and Finishers, Plus End Your Boring Diet Forever While Saving 92% for a Limited Time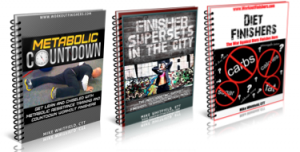 $89.97   Only $7

Click here to get ALL 3 of these programs for just $7
Dear frustrated reader,

When it comes to losing that stubborn fat, you know… that ugly belly fat that just doesn't seem to go away no matter what you do, my metabolic finishers ending up being the big solution you're looking for when jump starting or busting through a fat loss plateau.

I should know – I used them myself (see very cool-looking banner at the top… that's me) to help shed off 105 pounds of ugly fat.

My metabolic finishers and metabolic resistance training programs are designed with ADVANCED fat loss in mind. You'll soon discover that the advanced techniques and set/rep schemes are challenging, but will give you rapid results in less time than long, boring cardio day in and day out.

And with my special Diet Finishers program, you'll never get bored with your restrictive diet ever again, and you'll be able to eat the foods you love while still losing stubborn fat.

Here's what to expect from each program…

Metabolic Countdown (MRT Program)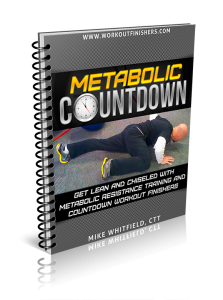 This specialized 4-week metabolic resistance training program is designed with advanced fat loss in mind. You'll discover the ultimate blend of MRT and metabolic finishers to burn fat and chisel lean, sexy muscle in less time, not to mention the new exercise like the "Bird Lunge". You'll discover the perfect hybrid of resistance and bodyweight moves to get leaner and more athletic.

By the way, each metabolic workout ends with a countdown finisher. You'll be blown away at how many calories you'll burn in just the few minutes these workout grand finale fat torchers last.

Finisher Supersets in the City (Metabolic Finishers Program)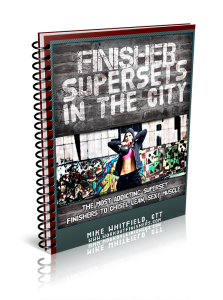 This is one the finisher fans' favorites. These metabolic finishers use a variety of supersets including density supersets, countdowns and more. You can plug any of these finishers with your favorite workout program to replace boring cardio (even intervals) or use them as a quick off day workout to burn more fat FASTER.

Diet Finishers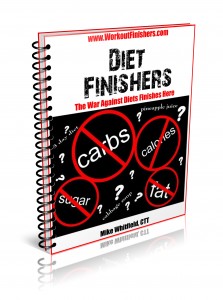 Low carb? Carb cycling? Intermittent fasting? Which diet works? Well, truth be told, they ALL do, but it's about figuring out what diet works for YOU. And just like workouts, you can become quickly bored with dieting day in and day out.

Why not use the metabolic finisher approach with your diet? That's what I do, as well as my successful clients. You don't have to stick to one diet day after day like the media tells you to do. This solution keeps you on track with a variety of nutrition approaches. Plus, you'll discover how to approach each one. You'll discover 13 nutrition approaches and how to start each one… and yes, you can even mix and match… just like metabolic finishers.

Amber Won $1,000 in the TT Contest
Philip Lost 34 Pounds in 12 Weeks
At the Age of 43, John Finally Finds His 6-Pack Abs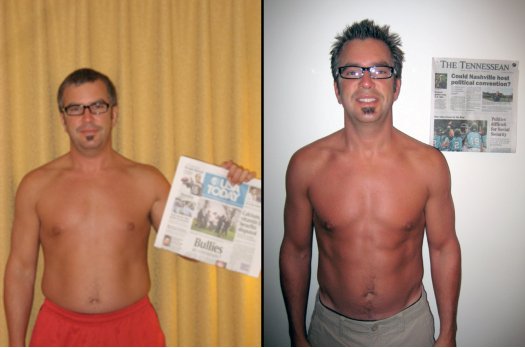 You're Fully Protected with My 100% Risk Free Guarantee
Test drive
ALL 3
of these Metabolic Finisher programs for a full 8 weeks with absolutely NO RISK so you can see for yourself how much fat you can lose without ANY long, boring cardio. You are protected by my 100% Money-Back Guarantee. I guarantee you will be thrilled, amazed and addicted with these fat-burning workouts, or you can simply email me for a prompt and courteous, no hassles, no questions asked 100% refund. In fact, if you're not completely happy for ANY reason at all, then I insist that you ask for a refund. However, after seeing thousands of men and women transform their bodies while becoming addicted to working out again, I'm confident you'll be blown away at how efficient and powerful my metabolic resistance training programs can be. This removes ALL risks, you now have nothing to lose but ugly pounds of fat.
Mike Whitfield, CTT
May you never, EVER get bored with your workouts,
Mike Whitfield, CTT Certified Turbulence Trainer
Author, Workout Finishers
P.S. There is NO RISK at all for you to try these programs. If you are not thrilled with ANY of these programs for any reason in 60 days, let us know and we'll refund every penny. Your satisfaction is 100% guaranteed. My workout programs have already been seen on Men's Health, Turbulence Training and used by thousands of men and women, and I guarantee it will work for you, too.
P.P.S.Start this addicting program today because I'm not sure how long I'm going to offer this unique metabolic resistance training program at such a low price. In fact, people have paid up to $89.97 to get access to these programs!
Chisel Lean, Sexy Muscle with these Metabolic Workouts and Finishers, Plus End Your Boring Diet Forever While Saving 92% for a Limited Time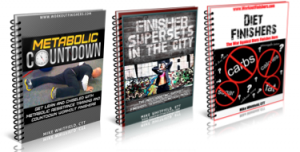 Click here to get ALL 3 of these programs for just $7
Note: This Metabolic Workout program is downloadable. No physical products will be shipped. After your order, you will get INSTANT ACCESS to download the e-book. The e-book is in PDF format.