Plus, you'll get 36 More Extreme Finishers including the NEW Extreme Fat Loss Finishers 2.0, Strap Finishers and the POWERFUL combination of Intervals and Finishers with the NEW Interval Finishers 2.0 
Dear Finisher Friend,
You already know the power of using metabolic workout "finishers" with recent studies showing the power of this hot method to burn an insane amount of fat. But what if you need results even FASTER?
Look, I know the "norm" is steady and consistent. I certainly understand that. But sometimes, we all need a swift kick in the butt. Maybe you're tired of your love handles or you're in a rut. You need a fresh start.
Or worst yet – your workouts are boring you. You find yourself dragging to the gym and have lost all motivation. And let's be honest here, you've gotten to be a little comfortable with your favorite foods recently and you need a way offset the calorie surplus.
These workouts and finishers are NOT easy, but they will incinerate your belly fat, even if your diet isn't perfect.
If You're Serious, These Workouts and Finishers WILL Take Your Mentality, Body and Conditioning to a Whole New Level
When you combine the power of metabolic resistance training, metabolic conditioning, metabolic finishers, PLUS a variety of challenges, you burn an insane amount of fat. Research has proven that to us.
You already know how I feel about cardio for fat loss. It's clearly not the best way to shed fat (particularly STUBBORN fat). This is especially true when you have a variety of density circuits and supersets, metabolic circuits, gauntlets, challenges and more at your disposal using ALL major muscle groups.
You already know that the more muscle you use, the more calories you burn… even well after your workout.
And you know the power of using challenges. When you aim to hit more reps or more rounds with each workout, you obviously burn more calories. It's a fact that you can't argue with. Your body has no choice but to burn more calories to recover from such a demand.
But I didn't stop there. You'll find all of that inside the NEW Bodyweight program Challenge Madness.
What started as an experiment ended up being a reader favorite…
 What Happens When You Combine a Metabolic Finisher with Intervals?
You'll find out inside the NEW and improved Interval Finishers 2.0. You'll discover the powerful combination AND ADRENALINE of using intervals and finishers for the ultimate workout grand finale or off day workout to speed up your metabolism and smoke stubborn fat.
But then the obsession with extreme methods continued…and it ended up being my most insane offer and extreme package you'll ever get to get insane results…
Challenge Madness
This NEW 4-week full bodyweight program has it all. You'll get shredded using a variety of MRT, challenges, finishers and conditioning. Each week, you'll get better and burn more calories… in just 3 days a week.
It all starts with the Challenge Madness supersets in Workout A followed by a brutal ladder finisher. Then in Workout B, you'll progress to Challenge Madness circuits, including a fat-killing "trio" finisher.
You'll end the week with the Challenge Madness 300, which is 300 reps of fat-burning moves followed by the epic "High 5's" finisher.
Extreme Fat Loss Finishers 2.0
With Extreme Fat Loss Finishers being so popular, I went to the lab again and came up with 12 new and improved extreme finishers you can plug with any workout to burn hundreds of calories in minutes.
The best part? These don't require ANY equipment.
Strap Finishers
Whether it's a TRX or a Jungle Gym, you smoke your core with any move using this special fat-loss weapon. And inside these 12 finishers, you'll challenge your core and get ripped with a variety of density circuits, supersets, gauntlets and more including:
The Jumping Spider
7th Heaven
Strap and Shuttle
Interval Finishers 2.0
There's a new addiction in the Finishers world, and it's the powerful combo of using a workout finisher along with intervals for EXTREME calorie-burning. Brace yourself though… you'll be wiped after any of these fat-burning combos including:
Sweet 16 Density Intervals – Where you'll complete a short, but nasty interval session followed by a 4-minute density finisher
The Monster Interval Circuit – A brutal metabolic circuit… but with an interval twist
Interval Mash-up – Your heart will pound as you smoke fat and go through intervals, a finisher and yes, another dose of intervals.
Yes, this is extreme and chaotic. But sometimes, this is EXACTLY the kick in the butt you need, just like these people…
Nancy Lost 32 Pounds and Had to Buy a New Wardrobe

"A total of 32 pounds and 24.25 inches torched! I had to buy a new wardrobe! I've lost an additional 13 pounds applying the techniques I learned from you."
– Nancy
Philip Won $1,000 in the TT Transformation Contest While Losing 34 Pounds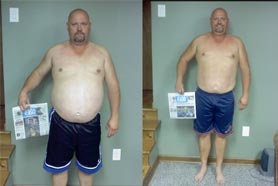 "I thought I knew how to work out, so I did the bike, elliptical and treadmill with no results. Then Mike changed my vision of working out"
– Philip
Robin Lost 50 Pounds and 15% Body Fat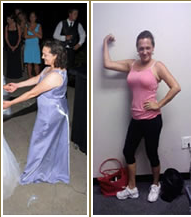 "I have lost over 50 pounds and 15% body fat. But I have gained self confidence, but more importantly knowing that we can all do it."
– Robin
At the Age of 43, John Finally Found His Six-Pack Abs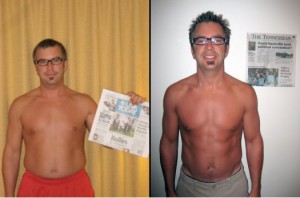 "For the first time in my life, I finally have six-pack abs. In the past, I'd just sit around, this time I would mix in Workout Finishers. The Finishers were great in that I could get a good heart rate going in just a few minutes and keep the metabolic fire burning on off days."
– John
Leslie Found a New Sense of Self-Confidence While Losing 22 Pounds of Fat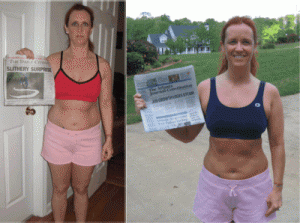 "Transforming my body was my goal, but I found I also underwent a mental transformation.That was a big reason I got second place in the TT Transformation Contest. These days I love going to the gym. Finally, I am strong AND confident!"
– Leslie
100% Money Back Guarantee
If you're not 100% satisfied for any reason and you don't find these workouts and finishers absolutely ADDICTING within 60 days, I want you to KEEP the workouts and finishers. PLUS, I'll give you a 100% refund.
That's how confident I am in these workouts and finishers. You can test drive all of the workouts and finishers for a full 60 days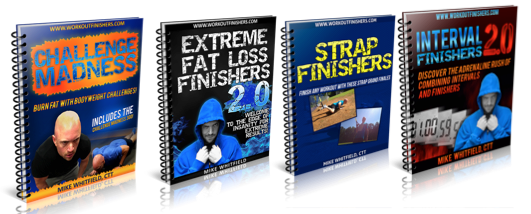 $119.96 

$19.95

CLICK HERE to get ALL 4 Finisher Workouts and Save Over 90%
Have fun kicking your own butt,
Mike Whitfield, CTT
P.S. If you want all 4 of these extreme workout and finisher programs while saving over 90%, then get started now. There's a difference in just being excited about starting and actually taking action. You can start these workouts and finishers TODAY.
P.P.S. You have a 100% money-back guarantee. If you don't love the results AND the workouts and finishers within 60 days, you can keep ALL of them and I'll still refund every single penny back to you. Simply email support[at]workoutfinishers.com for a prompt refund.
$119.96 

$19.95

CLICK HERE to get ALL 4 Finisher Workouts and Save Over 90%
NOTE: These programs are downloadable manuals (photos and exercise descriptions included). No physical products will be shipped. After you order, you will get INSTANT ACCESS to download the manuals onto your computer. They are in adobe acrobat PDF, which can be viewed on Mac or PC.