I've got a very simple training log for you to download. I created this simple log for 3 of my clients in the past and they found it much easier to log their finishers since the set and rep schemes can be so crazy.
You can download this simple Finishers log here
You already know that my workout finishers are kind of crazy. And, people are on different programs, which I find intriguing. For example, I was just asked on my facebook page yesterday about what program I am following.
This week, I started a program from my coach, Craig Ballantyne. I made a few tweaks to his Adventure Race program since I'm running a 10K on Thanksgiving.
So, for the next 4 weeks, I won't be doing many finishers at all, since I'll be performing interval training to get ready for my 10K.
But no matter what program you might be on, finishers are a lot different than the main program, and that's why I created this log for my clients.
After all, when you're performing density circuits or a circuit just one time through trying to beat your previous time from last week, it's always a good idea to track your progress.
Track your progress with this simple log <== FREE Download
Now with that being said, let's talk 38. That's right. I'm putting it out there. I turned 38 this week and honestly?… I feel MUCH better now than I did 10 years ago.
That's because 10 years ago, I was 300 pounds.
You can see my before and after photos here
And this weekend, I'm celebrating two ways. For one, I'm heading to my Mom and Dad's for my birthday lunch. I'm cheating.. and do not judge.
But I'm going to celebrate with you, too. Since I'm celebrating my birthday this weekend, you get the benefit. I'm offering my entire Workout Finishers system for $20.
Over 60 Metabolic Finishers <== 50% Off Birthday Celebration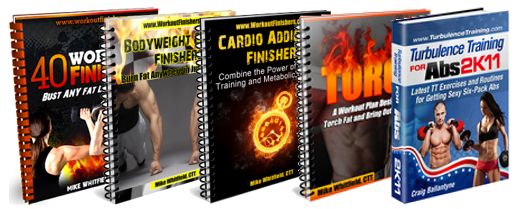 But here's the deal. I really want you to succeed and watch your progress. So, use the simple log sheet from above and watch your conditioning go through the roof. Losing stubborn fat will just be a by-product when you focus on that. Cool?
For example, let's do a finisher from the Bodyweight Chaos Finishers Manual. After your next workout, do this bodyweight finisher:
"The Climbing Ladder"
Do the following circuit, resting only when needed. In the first circuit, you will perform 6 reps of each exercise. In the next circuit, you will perform 5 reps. Continue in this fashion until you complete 1 rep of each exercise.
1A) Spiderman Climb (6/side, 5/side… 1/side)
1B) Jump Squats (6, 5, … 1)
1C) X-Body Mountain Climbers (6/side, 5/side, … 1/side)
Now, using the log above, hit this same finisher next week and see if you can improve your time… even if it's just 10 seconds.
Heck, even if it's just 3 seconds better, that means you're getting more efficient and your muscular endurance has improved. Plus, by simple math… you're burning MORE calories in less time, which is what Workout Finishers are all about.
Now, if you enjoy intervals, that's cool, too. You can combine the power of intervals and metabolic finishers by using the Cardio Addiction Finishers, one of the bonuses with the birthday celebration package.
We'll do one of those tomorrow.
So celebrate my birthday with me and grab over 60 metabolic finishers PLUS 2 Metabolic Resistance Training programs, including "Torch", a client favorite for HALF off.
60 Finishers and 2 Metabolic Resistance Training Programs <== 50% Off Birthday Sale
And then don't forget to track your progress using the simple log from above. Every day, simply get better. That's what it's all about.
The mission continues….
 May you never, EVER get bored with your workouts,
Mikey, CTT