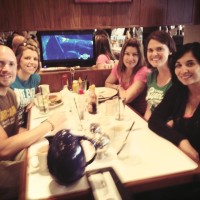 Guest post from Shawna Kaminski, CTT
Creator of Jump Rope Challenge Workouts 
'Pancakes don't burn themselves off you know'….This is what I told Mike the last time we were together in San Diego. We were parked in front of a stack of pancakes at the time.
That weekend we were at the TT Summit. I was flying home on the aforementioned pancake-day while Mike and his wife Sabrina were headed sight seeing. I knew that they'd have a chance to move and I'd likely be in a carb-induced coma on the plane.
What's a gal to do? I certainly was NOT passing up the opportunity to witness Mike in gastric heaven as he devoured his stack. (It's a thing of beauty to behold someone enjoy something so much.)
Excuse me for not introducing myself sooner. I'm Mike's Canadian friend, Shawna K. Mike and I have a love/hate thing going from across the country. He makes me hurt with his finishers, I make him hurt with my pull up and Challenge Fat Loss workouts. Overall, he's like the goofy younger brother I never wanted 😉 I've been on his blog plenty, you can find me here and here.  Dang, I'd miss this guy if I didn't have him to text and torment from afar and whenever we get to see each other.
Back to our story….
So, after our pancake breakfast I was getting ready to travel back to Canada. Mike and Sabrina had their 'tourist on' and were getting ready to go to the zoo for the day. I had to come up with a plan fast so that I didn't feel like a sleepy couch potato on the plane.
Luckily for me, I had my secret weapon with me…
When I travel, I have my passport, a credit card and my jump rope. Really, what else do you need? (Okay, so that's a lie, I pack an entire suitcase of clothes, but these are secondary….)
I let myself enjoy a pancake, relaxed as we chatted for about a half an hour and then took my leave to my room to grab my secret weapon. I headed to the pool deck, found some shade and solved my problem.
I did a 15-minute workout that helped me burn off that pancake and more.
I use my jump rope for such an occasion: when I'm time strapped and want to get in a quick workout that includes strength and high intensity cardio. I get a heavy sweat on in no time, I feel alert and energized and I can get on with my day. I can pretty much do a jump rope workout anywhere and so can you.
Here's the quickie pancake burning workout that I did:
Start with 30 seconds of freestyle skipping, then do:
10 box jumps
10 decline push ups
10 prisoner squats
Repeat 30 seconds of freestyle skipping, then do:
9 box jumps
9 decline push ups
9 prisoner squats
Continue pattern until:
30 seconds of freestyle skipping, then do:
1 box jump
1 decline push up
1 prisoner squat
I worked my upper body, lower body, core and man, did I sweat. Good thing for my seatmate that I had time for a quick shower before hitting the airport and jumping the plane.
The point I'm trying to make is this: you can have your pancake and eat it too (occasionally) when you have a secret weapon like a jump rope and a plan.
Now I don't eat pancakes all day long and rely on my jump rope to solve my eating woes. From time to time I can burn off a little extra calories wherever I am. I don't need any fancy equipment except my jump rope and my bodyweight.
So I you ever find pancakes falling in your mouth, you can use your secret weapon.
And trust me, if you ever get the chance to eat pancakes with Mikey, you don't want to turn it down.
You'll just need to make sure you've grabbed my Challenge Jump Rope plan first. It's got you covered with 31 Challenge Jump Rope workouts along with a 4-week bodyweight workout plan as an added bonus.
All for only $9. <= Expires SOON
That will leave you plenty of dough to spend at the iHop.
Check it out here ==>  31 Challenge Jump Rope Workouts
*********
Mikey note – what's going on here? (See below)