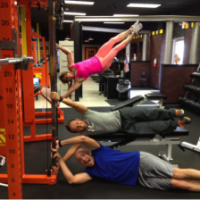 Guest Post from Shawna Kaminski,
Creator, Challenge Fat Loss Workouts
Mike loves PANCAKES. I capitalized 'pancakes' because this is just how much he loves them.
On a recent video shoot, on the last video of the three day shoot, Mike kept walking in front of Brian Kalakay and me while we were filming, showing a picture of pancakes to us. He was offering the MOST support that he could at that point. I mean, who wouldn't work their butt off for the last workout for a stack of pancakes, right?
That's how Mikey thinks…and it worked.
We worked hard, we finished and we feasted.
Good times indeed.
We had a ton of fun filming video workouts that weekend. Both Mike and I have made multiple trips to Lapeer, Michigan to film with Brain and Craig Ballantyne.
Video workouts are the way to go. It makes it SO affordable for you to get the best of the best trainers to come right into your living room, every day. We show you the best form to emulate, we provide modifications and training tips that you just can't anywhere else (unless you're training one on one with us).
And, it gives us a good reason to get together. We live on opposite sides of the country: Alberta (Canada), Georgia and Michigan. That's a long commute for pancakes…(I know Mike would make the trip 😉
I'm actually pretty proud of myself when it comes to those videos we do. I tease Mike that he calls himself 'old', and Brian, well, he calls me his 'fitness Mom'. You see, I'm 11 years older than Mike and over double Brian's age, yet I can keep up with both of them. Clearly my training methods are working.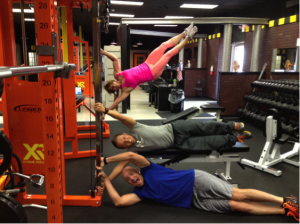 We do a lot of talking when we aren't out of breath from burpees and other fun moves. (Or between bites of pancakes on the last day.) We got to talking about fat loss trends and what works best. They were curious how a 50 year old woman can do all the toughest exercises like pull ups, chin ups and heavy squats like there's no tomorrow. I got to talking about my M2A method that I incorporated into my new program called 'Challenge Fat Loss'.
The guys were intrigued, so I told them a little more.
M2A stands for 'muscle metabolism acceleration'.
Let me describe how M2A positively affects your hormones. This is a type of training that combines strength training and high intensity intervals in specific combinations that result in incomplete recovery. This taxes the anaerobic energy system. Lactic acid is produced as a result which then increases growth hormone. GH (growth hormone) is the 'happy fat loss hormone' (as opposed to cortisol, otherwise known as the 'sinister belly fat storing hormone'). Basically, this type of training increases GH at a time in the majority of people's lives that GH is on a downward curve. It's good news to be able to nautrally increase GH levels to burn more fat.
I promised to give Mike and his readers a special video workout that's similar to what you'll find in my new Challenge Fat Loss program.
This is a challenging workout that includes:
one legged burpee ab roller or plank reach hanging oblique leg lifts sit out or mountain climber shoe touch
Do each exercise for 40 seconds with a 7 second transition to switch.
This is a great way to burn fat and focus on abdominal strength.
Good times! Now you can go eat some pancakes!
Check out Challenge Fat Loss for more of this type of workout and let me challenge you to get to that next level of fitness. I can help you reach your fat loss goals no matter what your fitness level. The beauty of video follow along workouts is that I modify and intensify each exercise so that you'll find the exact level for you.
P.S. from Mikey – When you grab Shawna's program from the links in this post, forward your receipt to us at support@workoutfinishers.com with the subject "Mikey's Challenge Madness" and we'll send you my brand new bodyweight challenge program, "Challenge Madness".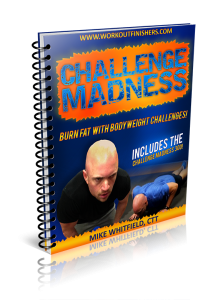 Get Shawna's Challenge Fat Loss + Challenge Madness Here <== Good times right here
About Shawna
Shawna Kaminski is a retired schoolteacher of 20 years who's found her passion in the fitness industry. She's parlayed her ability to teach and her love of training into programs that you can directly benefit from. Shawna just turned 50, is a mother of two teenagers and understands how busy life can be. Her workouts are short and intense and often can be done anywhere. She's always up for a challenge and shares her fitness challenges with you. Currently she runs her own fitness boot camps and coaches clients in person and online with her amazing result getting programs.