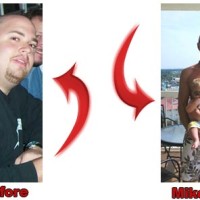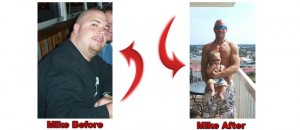 I'm here in Denver, CO and it's a beautiful city.  Seeing the snow-covered mountains in the distance reminds me of the scene in Rocky IV when Rocky trains really hard in the snow with the awesome Training Montage playing.
Yeah, it's on my Ipod. So what.
In fact, I just knocked out a hotel room workout that was so intense, I had to turn the AC down to 65. Good times.
I ended it with a finisher directly from my 3-minute bodyweight finishers manual
Do the following circuit as many times as possible in 3 minutes. Rest only when needed:
1A) Lateral Jumps (5/side)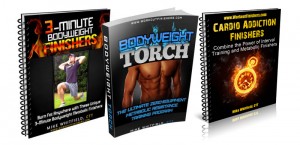 1B) Triple Stop Pushup (5)
1C) Burpees (5)
By the second minute, I was almost angry. Geez.
Anyway…
On the plane, I wrote an article that I'll be sharing with Craig and his Early to Rise business.
It was a little tough for me to do, but I talked about an embarrassing story during my journey as I lost 105 pounds.
But as tough as is for me to admit this story, I'm convinced that it will help you.
Back when I worked in the corporate world, I took a lunch break and headed to the mall. I had dropped quite a bit of weight, as it was four months into my journey.
My belt was no longer holding my pants up, so it was time to go another size down. But I was hesitant.  You see, I started with 46 inch pants and the last time I remember being the 30's was just after high school.  My hopes were that I could slide into a pair of 40's because that meant I was on the verge of being in the 30's. That was a big deal to me.  I was afraid of being disappointed if I tried the 40's on. But reluctantly, I did it anyway.  As I slid them on, the goosebumps appeared.  Immediately, I started to smile. It was happening.  I was able to button them… and easily.
At that moment, I actually called my friend Tom, who was my workout partner. "DUDE!! Guess what?!", I said. He replied with, "What?… and why are you echoing?"
"I'm wearing 40's!!", I said. He then chuckled and congratulated me.
It was celebrating moments like these that allowed me to keep going… keep pushing.
Was being in 40's my final goal? No, but it was one step closer.
And that's the point…
You MUST celebrate EVERY victory. Because with every victory, large or small, you're getting there.
So, perhaps you're not losing those last 10 pounds quite yet. But did you knock out all your workouts this week?
That's a victory. It's time to celebrate.
Aiming to lose 20 pounds, but have lost 3?
Don't be down. That's 3 pounds closer to your goal.
It's time to celebrate.
"Strength is Happiness. Strength is itself victory.  In weakness and cowardice there is no happiness. When you wage a struggle, you might win or you might lose.  But regardless of the short-term outcome, the very fact of your continuing to struggle is proof of your victory as a human being."
– Daisaku Ikeda
To celebrating EVERY success,
Mikey, CTT
P.S. And of course, may you never, EVER get bored with your workouts.
Tags: bodyweight finishers, fat loss workouts, workout finishers