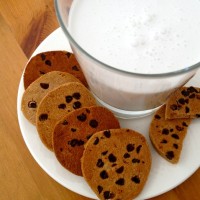 So clearly, Rick Kaselj is in the zone….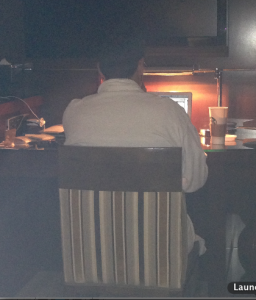 Yeah, it's 5:30 in the morning here in Vegas, and this is how Rick rolls. His quote last night… "Mikey and I know how to party. We were up until double digits… 10 o'clock! Whew!"
This was after two fantastic steak enchiladas after a long day of learning. Later this morning, I'm going to work out with Shawna Kaminski and Rick, followed by some more brainstorming. Dan Long is just sitting there saying, "That's sick bro!!" over and over, keeping the energy high.
Ha. Hilarious.
But now I have to get something off my chest… more like a confession.
You already know about my sugar depletion last month, right (including no pancakes with the sizzzurp)?
Well, the night before my depletion, I sneaked into a grocery store and I got my favorite cookie of all time. Remember those "No Bake" cookies that are made with peanut butter, oats, sugar, more sugar, even more sugar and then sugar?
Yeah, I got a box of 12 of them…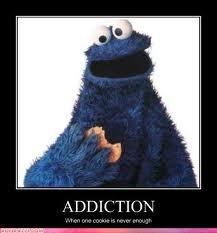 … and I ate the whole thing. 
I felt miserable all day, even though it was right after playing basketball that morning. I'm telling you; when you deplete your diet of refined sugars, you'll be shocked at…
How much your cravings go down
How much MORE alert you become
How your appetite goes down
But I like the cookie? <= Great line from Over the Hedge
No worries, I have a rocking cookie recipe that you'll love as well as your kids. It's from my friend Diana Keuilian (remember that awesome chocolate chip pancake recipe I shared with you on FB?… it was from her).
These are paleo-friendly (yes, these cookies are actually friends with Paleo), plus they are dairy-free…
Caveman Cookie Recipe
Ingredients:
    1 1/2 cup blanched almond flour     1/2 cup coconut flour     2 Tablespoons arrowroot starch     1/4 teaspoon salt     1/2 cup pure maple syrup, grade B     1 omega-3, organic egg     1/2 teaspoon vanilla extract     1/4 cup coconut oil, melted     1/2 cup mini, dairy and soy free chocolate chips
In a medium bowl combine the almond flour, coconut flour, arrowroot and salt.
In another medium bowl combine the syrup, egg and vanilla. Add the wet ingredients to the dry ones and combine.
Slowly add the coconut oil and mix well. Add the chocolate chips.
Form the dough into a 2-inch in diameter log.  Tightly cover with plastic wrap and freeze for 2 hours.
Preheat the oven to 350 degrees F. Lightly grease a baking sheet.
Carefully slice the dough log into very thin rounds. The thinner your rounds, the crispier your cookie. Place the rounds on your prepared sheet, and bake for 12-14 minutes, until golden brown.
Remove from oven and allow to cool completely. For extra crispy cookies, store in an air-tight container in the freezer.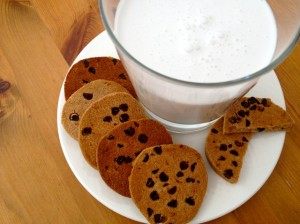 Makes 40 cookies
Nutrition Facts: One cookie = 70 calories, 4g fat, 18mg sodium, 6g carbohydrates, 1g fiber and 2g of protein
What a cool sneaky way to eat cookies on a fat loss plan and not feel deprived.
My No-Bake Cookies nutrition facts? The label said, "Don't do it".
Diana even has a blondie recipe that rocks my world…
… but that's for another day.
In the meantime, enjoy those cookies as a treat tonight when you watch your Friday night movie with the family.
Here's an 8-week menu plan for your family dinners <= Plus 101 more recipes
These recipes are family-friendly, too. My picky 2-1/2 year old son Champ can't get enough of Diana's Blondies and he loves her "Fried Chicken", too.
Alright, off to a workout to get my brain ready for another learning day.
Have an awesome weekend,
Mikey, CTT
Tags: family friendly recipes, healthy family eating, healthy recipes