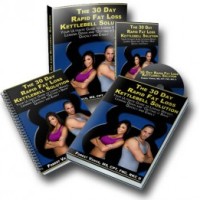 LOLz… I'm grunting like an old man today as expected. I'm glad to be back home after a big weekend of filming high intensity workouts and finishers with Craig Ballantyne and Brian Kalakay.
I'm hoping Craig will share some of the "bloopers" that we filmed including a pretty darn close impersonation of Craig B himself as well as a spot-on impersonation of Forrest Gump.
Hilarious… imagine me talking with a Forrest Gump voice… "No matter where I was in Brian's gym… I … WAS… SWING-ING!" and then doing KB swings.
CB doesn't know about this… he'll find out once he goes through the footage.  I'll say this – I don't want to do another lunge, jump or pushup for a month.
And now, I want to tell you about another Forest that I've gotten to know for several months now. In fact we had a great conversation in Denver about a month ago.
I even have a cool bodyweight and KB workout (plus a finisher of course) for you to try. It's perfect to do on Thanksgiving just before your big feast.
Mmmmm…. Aunt B's Sweet Potato Casserole.
Enough. Focus.
It's obvious that I can't focus, so I'm going to let my buddy Forest take over…
Kettlebell and Body Weight Finisher Workout Forest Vance
Author of the
30-Day Rapid Fat Loss KB Solution
I picked up a copy of Mike's original Workout Finishers program on the recommendation of another fitness expert I closely follow a few months back.
The minute I tried one in a personal workout, I was hooked!  I'm a kettlebell freak – I use 'em in almost every workout I do myself and design for others – and the finisher concept (particularly the body weight – based finisher) goes PERFECTLY with the methods I've been using in my programming for years …
See, kettlebells are an amazing tool for building strength endurance and shooting your conditioning levels through the roof.  But body weight training is great for developing maximal body awareness and building strength through all joint angles.  Put the two together, and you've got an amazing workout!!!
Here's an example of a workout we did the other day at my kettlebell boot camp in Sacramento, CA.  As you can see, Mike's finisher compliments what we're already doing, takes the workout to "the next level" … and ultimately keeps my campers coming back for more:
KB swing – 15 KB see saw press – 6 (each side)
 Do three sets of each exercise.  Take about 30 seconds of rest between each set.
Pull up – max reps minus one  KB step up (kettlebell in goblet position) – 12 each leg
 Get as many rounds of these two moves as you can in five minutes.  Shoot for four sets of each.
Battle rope alternating double waves – :30 seconds Close grip push ups – :30 seconds
Do three sets of each exercise.  Take about 30 seconds of rest between each set.
**Enter finisher from Mike!**
"Prisoner Sweat" <== Editor's note – my finisher names are awesome…carry on…Do the following circuit 3 times, resting for 20 seconds between circuits:
1A) Prisoner Squat (10) 1B) Mountain Climbers (10/side) 1C) Alternating Prisoner Lateral Lunge (5/side)
In conclusion, kettlebells and body weight workout finishers are like a match made in heaven.  Kettlebells are a fantastic tool for building strength endurance and conditioning, while body weight finishers are great for building body awareness, strength through all ranges of motion and getting you mentally TOUGH!  Give the above sample kettlebell workout a go and let us know how you fare.
Forest Vance, MS, CPT, FNC, RKC II
30-Day Rapid Fat Loss KB Solution 
About Forest Vance
Forest Vance holds a Masterís degree in Human Movement and personal training certifications through the American College of Sports Medicine and the National Academy of Sports Medicine.
He is also a level II Russian Kettlebell Challenge Certified Instructor, Certified Corrective Exercise Specialist, Certified Performance Enhancement Specialist, and Certified Fitness Nutrition Coach.
Over the last 8 years, Forest has experience as a personal trainer, group fitness/boot camp instructor, fitness manager, and health club general manager.  He currently works as the owner and head trainer at his Sacramento functional training gym.
He also maintains a network of fitness-related websites, makes regular guest appearances on many others, has been featured in national newspaper, radio, television, and other media, and is the creator/author of numerous books, DVDs, and digitally delivered workout programs/systems.
*********************************************************************
Cool stuff from Forest. I like how he thinks outside the box. In fact, I think we hit it off because we share a similar story.
Like me, Forest was once miserable and big. And now he uses these unique workouts that take less than 30 minutes.
Not only that, but he's got done-for-you meal plans to shed as much fat as possible in 30 days.
Get your 30-day blueprint here

Mikey, CTT
P.S. I have a cool workout video from Forest tomorrow. It's another fast workout you can knock out on Turkey Day just before eating the big meal.
Tags: bodyweight exercises, bodyweight workouts, kettlebell workouts