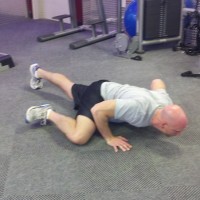 Because it's as cool as the other side of the pillow… THAT'S WHY.
"Me no have time to work out. Me busy" <== CRAPPY EXCUSE.
Below is a walk-thru video of "The Big 10" workout directly from the Home Workout Revolution.
You won't need any equipment and you can do this literally anywhere including:
Grandma's kitchen
Grandma's living room
Grandpa's basement workshop
Your favorite restaurant (just because)
Your living room
Hotel room
In a movie theater (just because)
Your backyard
IHop (just because)
But this isn't just any average bootcamp workout. You'll be using opposing muscle groups plus the perfect blend of upper, lower and core exercises. Do this:
Here's the text so you can print it out and go knock it out:
Do the following circuit 3 times, resting for 1 minute between circuits:
Prisoner Squat (15)
Elevated Pushup (8/side)
Prisoner Diagonal Lunge (10/side)
Jumping Jacks (30)
Jump Squat (6) or Total Body Extension (6)
Spiderman Climb (10/side)
Side-to-Side Jumps (8/side)
Spiderman Pushups (6/side) or Regular Pushups (12)
Total Body Extension (10)
X-Body Mountain Climber (10/side)
Now the Home Workout Revolution is MUCH better as the workouts are not just "walk-thrus", but FULL FOLLOW-ALONG videos. You'll also get a nutrition plan, a 12-week program and more. Not to mention the NEW 6-minute "Six-Packer" Ab Workouts you can use to get a rock hard core without sit-ups and crunches. Plus, you'll see my butt get kicked.
==> Get all 51 Follow-Along workouts here <==  
Boom goes the bodyweight dynamite,
Mikey, CTT