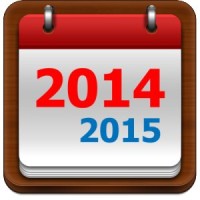 Between bonus workouts, coaching programs and our Inner Circle, there were a lot of snazzy workouts that came out in 2014.
Yes, I said "snazzy".
So, let's take a peek at the 2014 Inner Circle programs and grade them. Yep, I'm about to criticize myself.
Now here's the good news… the best methods will be combined in the first Group Coaching Program of 2015. Plus, I'll be offering customized alternatives based on your lifestyle, equipment and fitness level.
Learn more about the Coaching Program Here
Now onward to the grades…
Workout: Bare Minimums
Grade: A+
It's hard for me to give such a high grade as I learn more, but the feedback on this was incredible and people loved the super simple layout. They all consisted of 3 exercises or less and used a combination of density training and ladders.
Since it got an A+, here was one of the workouts from that one…
Do the following superset as many times as possible in 20 minutes resting only when needed. Choose a weight in which you can lift for 12 reps for both exercises. Once the 20 minutes are up, rest 1 minute and move into the Finisher.
1A) Snatch-Grip Deadlift or DB Squat (8 reps)
1B) 1-Arm DB Incline Chest Press (8 reps per side)
Finisher
2) Total Body Extensions (30 seconds), rest 30 seconds Do the above 6 times
Workout: Meathead Conditioning
Grade: B
This was fun. It's a hybrid of old school meathead training with a splash of metabolic conditioning. Great times, but it's hard to top "Meathead Freaks" of 2013 😉
Workout: Bodyweight Adrenaline
Grade: B
With density training, strength and conditioning supersets plus some tough, TOUGH circuits, this was a big hit.
Workout: Shredding Season
Grade: C
Workout A alone was wicked as you supersetted KB/DB Swings with a variety of strength moves. That way, you do resistance exercises at an elevated heart rate.
I've since updated this program because the feedback was there was too many new moves using a variety of equipment (TRX, KB). Although I gave alternatives, some folks didn't like going from one type of equipment to another.
Workout: Density Havoc
Grade: B+
The feedback on this surprised me. People loved the density approach (where you do as much as you can in a given time). It also helped that each workout was just 20 minutes.
I would have given it an A, but most people like 30-minute workouts vs 20 minutes.
Workout: MELT-abolic 6
Grade: A
Another surprising one. People want something to do 6 days a week. So, I designed a program that can be customized to 3 days or 6 days(allowing you to recover using a blend of strength and conditioning).
I'll definitely be doing a 2.0 version in 2015 😉
Workout: Meathead Jedis
Grade: B
The cover alone is worthy of an A:
The feedback was great on this… but the con is that these are not my typical 30-minute workouts. They take around 40 minutes. But you get Meathead style workouts with awesome grand finales.
Workout: Metabolic Charged 20's
Grade: B-
Metabolic workouts that are only 20 minutes. The only fallback is making sure they were only 20 minutes, I had to use either timed sets or density training. I'm just not a big fan of timed sets. I'd rather have specific reps… but that's just me.
Workout: Evil Combos
Grade: A
Every workout inside this beauty uses "outside the box" supersets like hitting the same muscle groups or doing a strength move followed by a finisher move. It really is pure evil. Here was the first superset alone:
1A) DB Jump Squat (6)
1B) Goblet Reverse Lunge (10/side) 3X
Ridiculous. Evil.
Workout: Finishers German Volume Training
Grade: A
The feedback on this (both the workouts and the results) were off  the charts… the only thing that kept me from giving it an A+ was they are more than 30 minutes (averaging around 40 minutes).
This program used the classic German Volume Training approach of 10 sets of 10, but with a twist. I added very short finishers at the end of each workout. It's also an upper/lower split, which is a nice change-up.
Workout: Bodyweight Bursts
Grade: D+
What I thought would be a big hit was a big fail lolzzz. I came out with this for busy people. It's a 2-day/week program using 15-minute workouts. They are awesome workouts, but people ended up using them as "off day" routines and not really following it as a full program.
People wanted more. Lesson learned 🙂
The good news is… the 2014 workout of the year was…
(Drum Roll Here)…
… <= more drama
… <= very climatic (and clever)
… <= too much?
Metabolic Chaos 2.0
Grade: A++
This one is a beauty. It has everything…
Complexes…
Finishers…
Metabolic Training…
Bodyweight Challenges…
Tabata influence…
Gauntlets…
And it's a 4-day/week program (the 4th day is optional).
Here's Day 2 from that masterpiece…
Do the following circuit 6 times, resting for 1 minute between circuits.
Weight selection – Choose a weight in which you can lift for 4-6 MORE reps than prescribed for your WEAKEST exercise.
Use this weight for all exercises and try not to put the weight down until after the circuit is completed. When in doubt – go LIGHTER than you think you should!
1A) Barbell or DB Front Squat (6)
1B) Barbell or DB Military Press (6)
1C) Barbell or DB Alternating Reverse Lunge (6 reps per side)
1D) Barbell Bent-Over Row or DB 2-Arm Row (6)
1E) Barbell or DB Romanian Deadlift (6)
Gauntlet Ab Finisher (after a conditioning workout? Yeah baby… let's go ALL OUT)
Do the following circuit TWICE, resting only when needed.
2A) Total Body Extension (20)
2B) Plank with Weight Transfer (10 reps per side)
2C) Total Body Extension (20)
2D) Renegade Row (10 reps per side)
Now, the good news is that Crank Start, my first program of 2015, is going to be even better.
It will be part of the Coaching Program that starts January 5th, but we are filling up the spots now so you can prepare.
You'll also get a detailed meal plan and access to all of my programs needed to get back in shape (for example, one of our coaching clients used the MELT-abolic 6 because of her lifestyle…she did better with a more frequent approach).
We can personalize a plan for you, too.
Get the details on your coaching program here
By the way, we'll be having a weekly "roll call" where we take a look at your progress and compliance each week. It's the ultimate accountability tool and it's why our coaching program is such a big success.
The application to join is on this page
To having your best year ever in 2015,
Mikey Whitfield, Master CTT