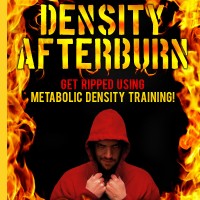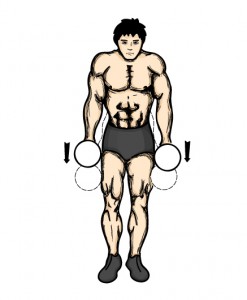 Yesterday, I was on my third workout of a new program. I started out with a Split Squat and Military Press superset while this one guy was doing about 1.6 billion shoulder exercises.
Just as I was wrapping mine up, I saw a friend from high school who I used to (and still do) call "little sis". We chatted about 5 or 10 minutes. Once she said, "I'm part of the PTA", I realized that I, indeed, am getting old. But that's another story…
Even after a conversation with her plus my ENTIRE workout, that same guy was still on "shoulders".
Now I don't mean to be rude, but I've seen this guy several times… and he looks the exact same.
You already know how full body workouts burn so many calories and are great for fat loss… and when done right, they are brutal (but hey, they are FUN!… again… when done right).
But how can we make full body workouts even better?
Density
Density means you'll do more work in less time… and depending on the style, you'll either do…
– more reps 
– more circuits 
– more rounds of a single superset
This rocks because it challenges you, but it also burns fat because of the recovery needed. So when you do a density workout tomorrow, you'll still be burning fat  sometime in August of 2105…. Nah, not really.
But still.. it's like… awesome.
That's why today's workout is quite different.
So if you enjoy intense workouts, you'll LOVE this one. It's from my NEW program "Density Afterburn", where all the workouts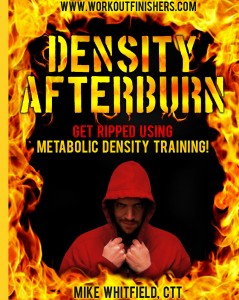 use a variety of density methods.
1A)
 DB Chest-Supported Row (10 reps)
1B)
 Alternating DB Chest Press (8 reps per side)
1C) 
Bulgarian Split Squat (1-1/2 rep style) (8 reps per side)
1D)
 Cable Chops or DB Chops (10 reps per side)
Do the above circuit as many times as possible in 15 minutes, resting only when needed. When the 15 minutes are up, rest 1 minute and move into the next superset.
Ha… a-ha-ha…. A-ha-ha-ha! A-ha… OK Enough. That's just the first half of the program.
I'll leave the specifics for the serious people who are ready to get started with this TOMORROW.
It goes like this…
2A) 
Classic Upper Body Exercise 
2B)
 Ab Exercise (no crunches!)
2C)
 A Hamstring Exercise that might leave you a little sore tomorrow
These moves are all timed sets, too!
Then you'll go back to the AMAP approach with 6 minutes of two meathead arm exercises but with a unique twist on the rep scheme.
Finally, you'll end the workout with a grand finale finisher of bodyweight moves for 3 minutes (the rep scheme will have you going up and down A LOT).
Get the full workout program here PLUS 9 FREE bonuses
And just wait until you do the Bodyweight Frenzy Density workout in Workout C!
I won't lie and say these workouts are easy. They are INTENSE, but a lot of fun. Take a look at what Mark had to say about Workout A from one of the BONUS workouts…
"I just finished workout A from Metabolic Shock……..awesome workout and finisher built into one session, love it!"
– Mark
So get ready to start Density Afterburn or Metabolic Shock tomorrow… and then if you're feeling crazy, you can even play with one of the NEW 5-Minute Density Finishers that I have surprisingly called…
"5-Minute Density Finishers". Yeah, something better would would have been cool here. Oh well.
Get ready to use some NEW methods as you take your body through these metabolic fat-torching workouts (but have a lot of fun at the same time).
Bring it on tomorrow,
Mikey, CTT
P.S. There's less than 24 weeks left in 2013. But don't worry, you'll finish this year with a bang using this system…
Take advantage of this intense deal here for less than $10
P.P.S. And yes, I even added done-for-you meal plans thanks to Lori Kennedy….
Get everything you need here and start tomorrow