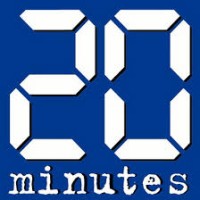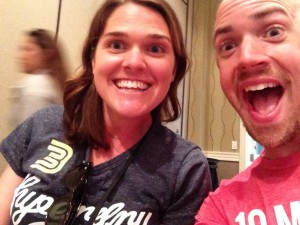 Guest Post from Kate Vidulich, BSc, ACSM, Master CTT
Traditional fat loss training programs are like a full-time job. Long workouts, sometimes twice daily, paired with a rabbit-food diet.
"Oh goodie!" – said no one, ever.
Seriously, it's enough to send you round the bend.
The number one reason men and women give for missing a workout is…
Lack of time.
Now this doesn't surprise me one bit. You see, in addition to helping thousands of women and men lose weight and get healthy online, I also run a very successful fitness boot camp and train one-on-one with some of New York City's wealthiest.
And it doesn't matter who I'm training, it's always the same thing…
"I want to lose about 10 to 15 pounds and get fit, but I don't have the time to be working out 30 to 45 minutes, 5 days a week."
That's totally fair.
The good news is that you don't have to. You'll get lean and fit without working out every day, doing boring cardio or thousands of knee-destroying jumping exercises.
Sexy results!
To kickstart your day, you can test drive a Bodyweight Cardio workout.
It will only take 20 minutes – and you will NOT need a single piece of equipment – not a pair of dumbbells, not a pull-up bar, not even a stability ball. Boom!
Here we go… This workout is for intermediate/advanced folks. Of course, a quick dynamic warm up comes first. Check out this quick coaching video with the correct form:
Bodyweight Cardio 500 Workout: MRT Total Body D
Dynamic Warm Up
Do each exercise in order for 30 seconds, with a 5 seconds transition. Repeat for 2 rounds total.
A) Squat with T-squeeze
B) Glute bridge march
C) Duck unders
Reset your timing device for 18 rounds, 40 seconds work and 10 seconds transition. Do each exercise in order for 40 seconds, with a 10 seconds transition.
Workout Set #1: 3 rounds
1A: Single leg walkouts (right leg)
1B: Single leg walkouts (left leg)
Workout Set #2: 3 rounds
2A: Plank Tricep Extensions
2B: Sprinter Starts
Workout Set #3: 3 rounds
3A: Bodyweight Reverse Flyes (hold for 3seconds at top)
3B: Y Squats
But wait… there's more.
Accelerator: 2 minute Superset Madness
Do as many rounds as possible in two minutes, resting only as necessary. If your form gets sloppy, you must take a break.
A: Plank jacks x 10
B: Jumping jacks x 10
Phew… I'm burning more calories just looking at this 😉
Did you love this workout?
Of course you did!
You can use this bodyweight formula to build a better body and get faster, sexy results. And you will NOT need to train 7 days a week… or six… or even five for that matter.
This NEW revolutionary 20 minute cardio breakthrough that requires ZERO equipment can help you burn up to 500 calories at EVERY workout.
Get Progressive ZERO Equipment Workouts that take 20 minutes or less
Now you can say bye-bye to the treadmill forever!
Rock on,
Kate Vidulich, BSc, ACSM, Master CTT
Exercise Physiologist
Creator of Bodyweight Cardio 500
*********************************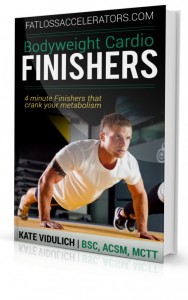 By the way, get this awesomeness… Kate is sweetening the deal for all Finisher VIPs. When you get her new program at the link above, she is going to email you a bonus program, 4-Minute Finishers.
They are fat-burning finishers, but with an Australian flavor. Mmmm… delicious.
Step 1 – Get her NEW Bodyweight Cardio 500 program right here
Step 2 – Be on the lookout as she will be emailing your bonus program to you. She's putting the finishing touches on it this week.
Step 3 – Say "What the? Are you serious??" out loud. Why? Because I'm also giving you a bonus, too. It's called "Density Havoc", and it's a 4-week program with 20-minute workouts using the potent density approach… all with ZERO-equipment options. I'll have Kate send that as well 😉
However, this is ONLY good this week (offer ends Friday).
This is a no-brainer yo'.