Anabolic Finishers
Since you're skeptical (and I would be, too) – take a look at this study. The study was completed at Purdue University and published in 2007. The researchers assigned men and women to a 3-day per week workout schedule, where subjects would compete a resistance training circuit.
The workout program wasn't the best, but the results showed these men and women were able to gain an average of 4 pounds of muscle and lose 4 pounds of ugly belly fat in just 12 weeks.
As a result, their body weight didn't change, because they gained the same amount of muscle as they lost in fat.
Now that you agree that you can put on muscle while shedding fat at the same time, I've discovered a way to do it even faster, all while improving your conditioning, stamina and endurance.
They are metabolic finishers with a NEW anabolic approach. In fact, the finishers inside this manual will help you pack on LEAN muscle without the fat… and even lose fat while gaining muscle.
You'll discover:
6 Upper Body Finishers like the "Nifty 50"
6 Lower Body Finishers like the "Goblet Gauntlet"
4 Total Body Finishers like the Anabolic Renegade
Using your programs, one of feats I have worked up to and I am immensely proud of is my ability to now complete 250 double hand kettlebell swings with a 16kg kettlebell without stopping at all during them!! What a sense of achievement when you have completed it and are gasping for breath! – Brian M
I have energy and I once again feel proud of the way I look. Men at my gym even remark how hard I'm working and they tell me they get tired just watching me! I am strong and confident! – Leslie
Now's your chance to get 16 NEW Anabolic Finishers to Pack on Muscle without the Ugly Fat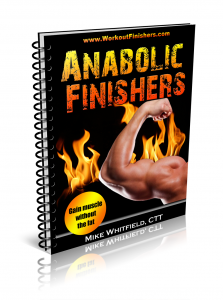 $29.99   Only 

$9

Click here to order this Metabolic Finishers Program for Only $9
You're Fully Protected with My 100% Risk Free Guarantee
Test drive this Metabolic Finisher program for a full 8 weeks with absolutely NO RISK so you can see for yourself how much fat you can lose without ANY long, boring cardio. You are protected by my 100% Money-Back Guarantee. I guarantee you will be thrilled, amazed and addicted with these fat-burning workouts, or you can simply email me for a prompt and courteous, no hassles, no questions asked 100% refund.
In fact, if you're not completely happy for ANY reason at all, then I insist that you ask for a refund. However, after seeing thousands of men and women transform their bodies while becoming addicted to working out again, I'm confident you'll be blown away at how efficient and powerful my metabolic resistance training programs can be.
This removes ALL risks, you now have nothing to lose but ugly pounds of fat.
Mike Whitfield, CTT
May you never, EVER get bored with your workouts,
Mike Whitfield, CTT
Certified Turbulence Trainer
Author, Workout Finishers
P.S. There is NO RISK at all for you to try this Metabolic Finisher program. If you are not thrilled with Anabolic Finishers in 60 days, let us know and we'll refund every penny. Your satisfaction is 100% guaranteed. My workout programs have already been seen on Men's Health, Turbulence Training and used by thousands of men and women, and I guarantee it will work for you, too.
P.P.S. Start this addicting program today because I'm not sure how long I'm going to offer this unique metabolic resistance training program at such a low price. In fact, people have paid up to $39 to get access to this program!
Now's your chance to get 16 NEW Anabolic Finishers to Pack on Muscle without the Ugly Fat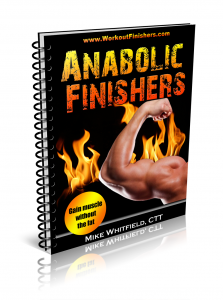 $29.99   

Only $9

Click here to order this Metabolic Finishers Program for Only $9
Note: This Metabolic Workout program is downloadable. No physical products will be shipped. After your order, you will get INSTANT ACCESS to download the e-book. The e-book is in PDF format.