I'm was at the Fit Gym in San Diego yesterday morning and I had a great metabolic workout. I did a countdown of DB Swings, Alternating DB Chest Press and the DB Piston Row.
I can't explain that gym. It has the "IT" factor. The music, the atmosphere, the people, the staff… yeah, good stuff. I tell you – it's a big change from the southeast. So, to sum up this paragraph, San Diego is dead sexy.
Enough of that – I got a great response from the survey and it's time to dig in for some questions. But first, let's go over the ab finisher that I suckered my friends Scott and Brian into that I designed for a client.
Do the following superset, resting only when needed. In the first superset, you will perform 6 reps of each exercise. In the next superset, you will perform 5 reps. Continue in this fashion until you complete 1 rep of each exercise.
Bonus – time yourself. The next time you perform this finisher, try to beat your previous time.
1A) Burpees (6, 5, etc., etc. down to 1)
1B) Spiderman Climb (6/side, 5/side, etc., etc. down to 1/side)
Boom goes the afterburning core work dynamite. And since I'm feeling crazy, let's plug a random photo of the day below, too.
Weird. Anyway, let's do some of your questions:
Q: I need help with nutrition.
A: This popped up several times. The truth is that there is no perfect solution. You need to find a program that fits your unique lifestyle. If you love fruit and try to go low-carb, that plan will fail you. Click here for my so-called diet and that will help.
Q: Do I have to count calories?
A: Honestly, that depends. Improve your quality of nutrition first for 2 weeks. No change? Then it's time to cut calories by 200/day and see what that does.
Q: What kind of cardio is best?
A: No. Ha… I'm hilarious. Interval training is your best option. However, I have tested a method of using intervals and finishers into one epic way to end the workout and my clients love it.
You will find these in the bonus manual, "Cardio Addiction Finishers" that comes with 40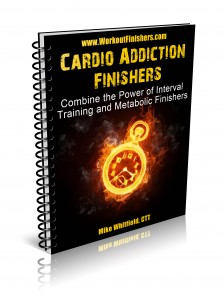 Workout Finishers.
And if you're already a customer, you'll get it soon. Good times.
Q: How do I combine cardio and strength workouts?
A: Ohhh baby. You caught me. I've been experimenting with strength and finisher supersets and it's good times. You can get an entire workout by clicking here. Let me know on the blog what you think.
Q: How do keep on track with wanting to eat healthy?
A: The politically incorrect answer – you're either going to do it or you're not. I challenge you to blog about it or at least get an accountability partner.
That should do it for today. Now it's time to rock a boot camp session with my friend and coach, Craig Ballantyne. I'll be taking the groups through a bootcamp finisher. It should be a great time.
Ha. "Great time". Finishers rock my socks.
May you never, EVER get bored with your workouts,
Mikey, CTT