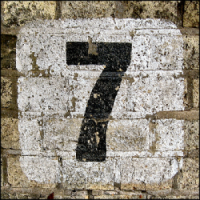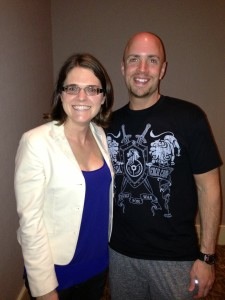 Guest Post from Kate Vidulich, CTT
It's that time of year again… Beach holiday season.
I hear you saying… "Uh, it's too late now" or "I'm too old for that"
No, actually, you can still make a change, starting now. You just have to play it smart.
What's the best way to accelerate your fat loss in your workouts?
Intensity. You need to build and maintain lean muscle, to speed up your metabolism.
Here's a quick step-by-step guide to accelerate your fat loss results:
Step 1: Build a Solid Foundation
It's always best to start with bodyweight exercises. If you can't move your own bodyweight through a full range of motion in big movement patterns, you have no business adding weights to it.
Think strong and athletic, not thin or skinny. <= Editor's Note… Mikey likey!
I've had cardio junkies come to me with overuse injures, thinking they were strong and ready for heavy lifting. No chance.
It goes without saying you need to have a workout program – and stick with it.
Step 2: Do Total Body Movements
Using multiple, big muscle groups at the same time will increase the number of calories you burn – both during and after the workout while you're eating pancakes.
Make sure you continue to add progression, either by:
– Adding more resistance
– Progressing the exercise (make it more challenging)
– Shortening your rest breaks
Step 3: Boost YOUR Workout Intensity
Your version of high intensity exercise is different to your mothers. Unless your mom rocks at CrossFit.
You see, it's a relative measure. But to accelerate your results, you need to lift YOUR intensity. You need to ask yourself these questions.
Could you have gone a little harder that last set?
Squeezed out one more rep?
Lifted 5 pounds heavier?
Of course you can do more. You're only cheating yourself.
How do you know if your intensity is right? If you feel:
– lungs burn
– muscles scream
– sweat dripping in your eye
Jackpot. That's the pain of intensity. It's kind of addictive… (insert evil laugh)
Note: dizziness and throwing up is a sign you overdid it. And that's not cool…
Step 4: Order of Exercises
The flow of your workout is very important to maximize fat and calorie burning. Throwing together any mix of shoddy exercises you found in a magazine or copying someone at the gym spells disaster…
A solid warm up doesn't involve 5 minutes on the dreadmill or burpees.
Sure, a burpee is a great conditioning exercise. But if your warm up is with this, you'll totally destroy yourself and won't be able to bring the right intensity for the main sets in your workout.
Instead, start with a dynamic warm up and foam rolling, followed by core work, strength sets, conditioning (burpees or hybrid metabolic complexes) and cool down.
Step 5: Shorten Your Conditioning Sessions
You know long, cardio workouts are way outdated for getting fast, fat loss results. But what about intervals for conditioning? How long do they need to be?
20 minutes tops.
"But if I do more intervals, won't I burn more calories and get better results?"
No. You see, with each interval, the intensity is slightly lessened. So sprint 3 is better quality than sprint 8 – even with a rest break.
Aren't you bored with intervals?
Try this hybrid metabolic complex instead. It could be one of the weirdest exercises you've ever done.
Warning: it's tough and challenging.
"The People's Choice"
3 rounds with 90 seconds of rest between rounds:
Sprinting Walkouts (6/side)
Side-Stepping Pushups (8)
Super Prisoner Squats (10 x 10s x 10)
Total Body Extension Burpees (12)
Step 6: Challenge Yourself or Compete With You Buddies
I love a good competition. It gives you a reason to push harder and keeps the adrenaline pumping. Find a training partner (preferably a cute one), who will make you play up a level.
If don't have athletic friends, (or they're a bunch of wimps), you can play this game. Use a timed circuit, and every round try to squeeze out one more rep.
Step 7: Bring It and Go All In
This is the secret ingredient to accelerate your results. Your attitude. It doesn't matter how old you are, or what happened in the past.
Don't hold back. Every workout counts. Caffeinated beverages can help you get in the zone. Listen, you need to do whatever it takes.
What are you waiting for?
It's time to get moving and accelerate fat loss.
Shorten your off-day conditioning sessions and always bring intensity. Not only will you free up time for fun stuff (like eating pancakes), but you'll have a blast and eliminate workout boredom forever.
Get the Entire 31 Fat Loss Accelerators System here
Rock on!
Kate Vidulich, BSc, ACSM-HFS, CTT
Author of the Fat Loss Accelerators System
**************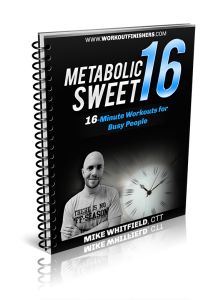 Wicked, yet cool stuff from Kate. By the way, when you get Kate's Fat Loss Accelerators from the special discount link on this post, you'll also get my brand new "Metabolic Sweet 16" program packed full of 16-minute metabolic workouts.
You can even "build your own" workout…
1) Warm-up (you can use the warm-up in the Metabolic Sweet 16)
2) Use any of Kate's Fat Loss Accelerators 
3) Start with Workout A of the Metabolic Sweet 16.
Just grab Kate's 31 Fat Loss Accelerators here and then forward your receipt to us at cranktraininghelp@gmail.com. We'll send you the bonus program.
Boom goes the metabolic dynamite,
Mikey, CTT