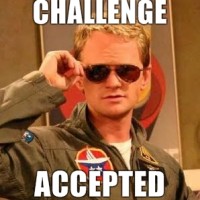 Guest post from Shawna Kaminski,
Creator, Challenge Fat Loss
People tell me all the time that they just can't tighten up their belly. Both men and women give me the excuse that 'oh, I turned 40 and my metabolism tanked…'
If you're training 'hard' and you still you have that last bit of flub hanging around, I have a solution.
I'm Shawna K and I just turned 51. My metabolism has yet to tank. I even surprised myself with the abs that showed up in this picture here.
Mike can attest to the fact that I look like this year round, I did nothing to prepare for that photo shoot other than comb my hair (which by the way is a stretch for me, I'm usually in pig tails 😉
Your metabolism doesn't HAVE to tank when you hit that magical number 40, or even 50…I'm here to say that age isn't actually a valid excuse when it comes to belly fat.
You just have to be doing the right thing…in your workouts and at the table because there's a difference between 'training hard' and 'training SMART'.
You don't have to workout 6 hours a day, or starve yourself. In fact you can do effective workouts in 30 minutes or less and find your abs before summer.
Most people trade their muscle for fat as they age. They get more sedentary and their workouts lose intensity. Has this happened to you?
If you keep doing the 'same old – same old workout' your body will maintain at your current fitness level at best. More likely, your fitness level will slide and your percentage of body fat will increase. It really has little to do with your chronological age.
I've discovered a formula that I call M2A or 'muscle metabolism acceleration'. It works to keep my clients and me (that are a variety of ages) lean and strong.
M2A works by manipulating the 'good' fat burning hormones, like GH (growth hormone) and suppressing the 'bad' fat storing hormones like cortisol (cortisol can be a result of long workouts). In addition, M2A promotes lean muscle tissue. As you probably know, muscle is metabolically active so that you'll burn more calories even at rest. M2A workouts are short and intense and create afterburn. You'll burn calories long after your workout is over with M2A workouts.
My workouts are 'challenging' but a challenge is required if you want to change your physique. And the good news is that the challenge is 'scalable'. You need to challenge yourself at YOUR level. All you need to do to get a body transformation is to do 'a little more' than the day before.
Here's a bodyweight Challenge Fat Loss workout that is perfect for beginner through advanced people.
Set your timing device for:
Advanced
–  40 seconds work/10 seconds rest
Intermediate
– 30 seconds work/10 seconds rest
Beginner
– 20 seconds work/10 seconds rest
 Do these exercises:
Cross body mountain climber
Prisoner reverse lunge
Double jump burpee
Over head 1.5 squat
Get up
Sit out or mountain climber
Plank alternate leg lift
Rest as needed between sets.  Do up to 5 rounds
You can find 16 follow along videos HERE in my Challenge Fat Loss program.
And here is a BONUS workout video for you, too!
Start training 'SMART' for faster results in less time.
Shawna Kaminski
Here are photos of the exercises from the first workout:
#2 – Prisoner Reverse Lunge
#3 Double Jump Burpee
#4 – Overhead Squat
#5 – Get Up
#6 – Sit Out
#7 – Plank Alternate Leg Lift
——————————————–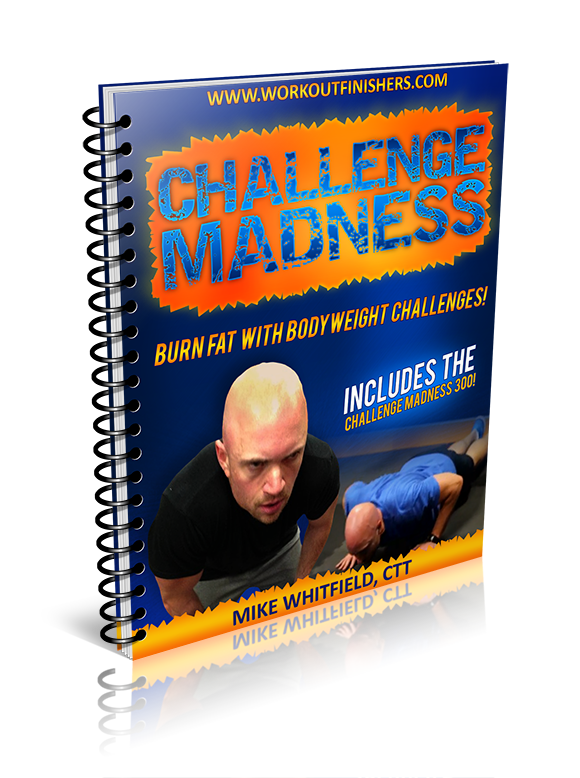 Good stuff from my pal Shawna. Here's some more madness, too. When you get Shawna's Challenge Fat Loss from the link above, we'll send you my own bonus, Challenge Madness, which is a 4-week bodyweight program based on using challenges. No need to forward your receipt, we'll send the bonus your way.
Challenge yourself leaner,
Mikey, Master CTT
Get the bonus here:
Challenge Fat Loss + Challenge Madness VIP Link