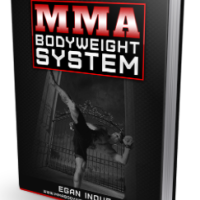 It happened every year at my gym in GA. In fact, I was just talking to the manager this week and he said he is seeing it already.
People are freaking out. Springtime is in the air and everyone panics as they realize it's about to be swim season and they indeed need to lose the "winter coat" fat.
They invade the gyms and try to avoid going out to eat. And when they go out for Mexican with friends, they end up eating napkins and drinking water.
Ha!…. a-ha-ha. A-ha-ha-ha.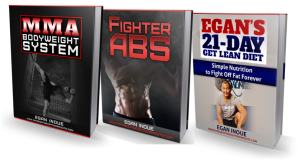 Egan Inoue, the author of the brand new MMA Bodyweight System that is releasing this week, tried at least 4 diets as he dominated the MMA industry and had to get into a certain weight class.
The truth is that all 4 of these diets failed him and they will probably fail you, too.
That's why he was inspired to share his exact 21-day program that he has used with fighters that had to get in their weight class FAST.
I'll be clear with you. You see, there really isn't anything "special" about this plan.
"So, why are you telling me this?" is what you're thinking.
Because that's the problem behind other so-called diets… There's always a "special combo" of carbs, fats and proteins that are hard to follow.
And when Egan trains his athletes, they have to drop 5-20 pounds in a matter of just a few weeks in order to fight. Otherwise, they can't even step into the ring.
But you already know that when you drop that much weight, you become small and weak. You certainly don't have to worry about that in the ring (unless you do fight?), but it sure does affect the way you do other simple things… like going up and down the stairs…
… and playing intense games of Twister.
So instead of these crazy combos of nutrients and calorie-counting, Egan tells you step-by-step for the next 21 days on how to lose fat, NOT be hungry and still dominate your workouts.
And he's giving it free as an exclusive bonus with his MMA Bodyweight System.
Get your 21-day nutrition plan and Zero Equipment workouts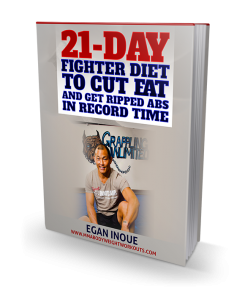 His athletes have used this combination of his 21-day diet and MMA workouts with a 100% success rate… pretty impressive. In other words, no fighter was over his mandatory weigh-in weight.
Now imagine what these MMA workouts can do for you. Using these short, but powerful workouts and the secret strategies that Egan lays out for you using his brand new 21-Day Get Lean system together?
Daaaaang. Pancake worthy? I believe so.
You'll discover your inner athlete, no matter what age you are. Remember – Egan is 47 and RIPPED.
He'll put you through intense no-equipment workouts that will get you in fighter shape, but the good news is that you won't get punched or kicked.
I tried a workout with him in Miami earlier this year and it took some coordination. That's actually what I like about it. It will challenge your core, too. I was shocked at how sore my abs were after doing just a couple of rounds.
We did 30 seconds of each move below for just two rounds:
4 FAST PUNCHES (JAB CROSS JAB CROSS) TO SPRAWL 4 FAST PUNCHES (JAB CROSS JAB CROSS) TO SPRAWL TO TUCK JUMP LUNGE BACK RIGHT KNEE TO RIGHT KNEE HIGH KNEES WITH JAB CROSS (RAPID PACE) LUNGE BACK LEFT KNEE TO LEFT KNEE LUNGE BACK PULSING RIGHT KNEE PUNCHES LUNGE BACK PULSING LEFT KNEE 2-4 INCHES OF THE GROUND WHILE THROWING FAST JAB CROSS** ** This move is brutal. This is when you're at the bottom of a split squat stance and doing "pulsing" squats… so you're doing 1/4th reps. At the SAME time, you're punching directly in front of your chest at a fast pace. (I had to go slow at first. I'm old, that's why). 
Then again, Egan is older than me and quite frankly, he's more ripped than most 20-year olds.
MMA Bodyweight Secrets PLUS Nutrition Plan <== Discount this week
Punch fat in the face with these intense zero equipment workouts,
Mikey, CTT
Tags: bodyweight circuits, bodyweight routines, bodyweight workouts