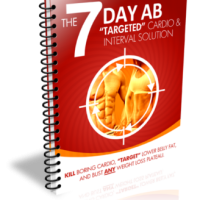 It's not very often you come across a legitimate, science based method that can "target" lower belly and abdomen fat in ONLY 7 short days.
But that's exactly what my good friend Shaun Hadsall has designed.
And right now he's GIVING AWAY his most powerful rapid fat-loss exercise techniques in his 7 Day "Ab" Targeted Cardio & Interval Solution…and it's 100% *free* for anyone who grabs his brand new 4 Cycle Solution Fat-Loss carb cycling system this week at HALF off.
PLUS, you'll get my Metabolic Countdown MRT program (I'll show you a finisher from this program below).
Yes, you heard it right. In only SEVEN short days you can lose significant amounts of lower belly-fat with Shaun's powerfu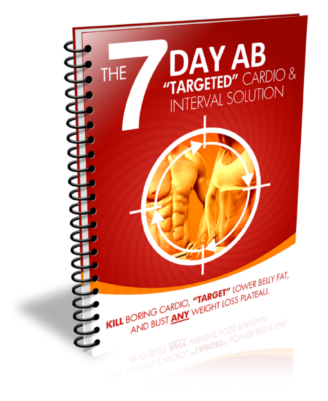 l techniques. And it focuses primarily on what's been termed "stubborn fat".
(PLUS Metabolic Countdown) HALF off 4 Cycle Fat-Loss + 7 day sequence to "target" lower belly (*free*) 
This guide contains some BRAND new extremely powerful techniques that you're going to LOVE. This unique approach literally forces your body to release certain hormones that "break apart" and release stubborn pockets of fat (and even cellulite) into the blood stream to burned off.
So you'll visually see your belly get flatter in only 7 days, but in addition to that, Shaun shows you how you can combine this sequence with his 7 Day Carb Depletion Diet (Cycle 1 of the 4 Cycle Solution) to DOUBLE your fat-loss results.
Want to be 10 to 16 pounds lighter in only one short week? Want to discover how to strategically add back in ALL your favorite carbs (and even cheat foods like my beef nachos) on your second week to KEEP the pounds off and accelerate your fat loss even more?
Well look no further.  When you combine this 7 day bonus guide together with Cycle 1 of the 4 Cycle Solution you create a synergistic effect that makes getting rid of that lower hard-to-get-rid-of abdomen fat or the dreaded "pooch" belly simple. All in only ONE short week.
==> "Target" lower belly fat in ONLY 7 short days + HALF off 4 Cycle Fat-Loss
PLUS Metabolic Countdown MRT program
The coolest aspect to Shaun's approach is that all of this is done in a smart and scientific way so you NEVER have to worry about rebound weight gain or your genetics holding you back.
Now to be honest, the 4 Cycle Fat-Loss system is already a killer deal with this week's half-off special price. But when you combine it with the 7 Day Ab "Targeted" Cardio & Interval Solution, this deal instantly becomes an absolute no-brainer.
By the way… imagine using his nutrition program with Metabolic Countdown.Your belly fat doesn't even stand a chance.
4 Cycle Solution is going to give you the TRUTH about how you can eat more of your favorite carbs to accelerate your fat-loss – all while you take control of your metabolism once and for all. I guarantee this approach is the exact OPPOSITE of everything you've heard about eating carbs for fat-loss.
It's all based on a brand new technique called "Macro-Patterning(TM)" that's already getting a ton of national attention, and for good reason…it WORKS.
==> 4 Cycle Fat Loss + Bonus + Metabolic Countdown 
Remember, burning "stubborn" fat is NOT about genetic superiority or luck of the draw. You, me, everyone has astounding fat burning potential just waiting to be tapped.
It's about learning how to use the right strategy.
And it doesn't matter what type of genetics you have. All you have to do is apply the step by step method Shaun lays out inside this guide and it will only take a few short days to burn off stubborn belly fat and have your jeans fitting looser by THIS weekend.
If this sounds like an awesome deal…that's because it IS.
But I'm raising the Susan (I chose Susan because everyone else uses "Annie").
I'm also going to give you my Metabolic Countdown MRT program, with every finisher ending with a countdown like this…
Countdown Finisher after Workout A of Metabolic Countdown
Do the following circuit, resting ONLY when needed. In the first circuit, you will perform 8 reps. In the next circuit, you will perform 7 reps. Continue in this fashion until you complete 1 rep of each exercise.
Prisoner Jump Squat (8, 7…1)
Inverted Row or Strap Row (8, 7…1)
Squat Thrusts (8, 7…1)
Mmmm, you smell that? That's your belly fat burning… or it's bacon.  It doesn't matter because…
Metabolic Countdown Metabolic Resistance Training Program PLUS
4-Cycle Fat-Loss PLUS
7 Day Ab Targeted Bonus
My calculator shows "STUBBORN FAT SMOKED".
Here's what to do:
1. Grab Shaun's program here (and you'll get his Ab Targeted Bonus FREE)
2. Forward your receipt to one of the coolest chicks in all the land named Cole at cranktraininghelp@gmail.com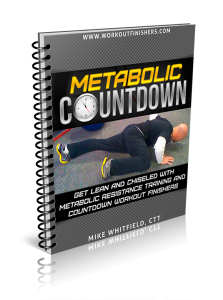 3. She'll send you the Metabolic Countdown MRT program with every workout ending with a countdown finisher.
4. Celebrate with pancakes this weekend
Boom goes the "stubborn fat no more" dynamite,
Mikey, CTT
Tags: bodyweight metabolic finishers, carb cycling diets, fat loss diets