5 Ways to Lose Fat and Gain Muscle at the Same Time
"Can you build muscle and lose fat at the same time?" was the question of the day on the recent survey.
Yes, you can.
Finish strong,
Mikey, CTT
Ha. I'm hilarious.
Check out these studies that my friend Craig Ballantyne posted on the Men's Health blog:
Study #1 – Men Gained 9.5lbs of Muscle While Losing 16.3lbs of Fat
Overweight men put on a 14-week program of resistance training and endurance training while only training 3 days per week achieved incredible results.
Of course, the more fat and less muscle you have, the greater your ability to gain muscle and lose fat at the same time.
No one denies that, but no one can deny these scientific studies, either.
Study #2 – Women CAN do it too!
In this study, young women were assigned to one of two groups:
a) Resistance training plus a carbohydrate drink
b) Resistance training plus one liter of milk per day
The results:
The carbohydrate group gained 2.4 pounds of lean mass and lost 0.67 pounds of fat, while the milk group gained 4.2 pounds of lean mass and lost 3.5 pounds of fat.
The researchers concluded, "Heavy, whole-body resistance exercise with the consumption of milk versus carbohydrate in the early post-exercise period resulted in greater muscle mass accretion, strength gains, fat mass loss, and a possible reduction in bone turnover in women after 12 wks."
By the end, the subjects gained an average of four pounds of lean mass and lost over four pounds of fat. This study show's it is possible to gain muscle and lose at the same time – at any age.
References: Med Sci Sports Exerc. Body Composition and Strength Changes in Women with Milk and Resistance Exercise. Josse AR, Tang JE, Tarnopolsky MA, Phillips SM.
Am J Clin Nutr. 2007 85(4):1005-13. Resistance training and dietary protein: effects on glucose tolerance and contents of skeletal muscle insulin signaling proteins in older persons. Iglay HB, Thyfault JP, Apolzan JW, Campbell WW.
You didn't really read all of the reference stuff did you? Good, me neither. That stuff is boring, but it's good to know there's a reputable source.
 5 Ways to Gain Muscle and Lose Fat at the Same Time
1. Stop doing intervals and use anabolic finishers instead. This will allow you to keep the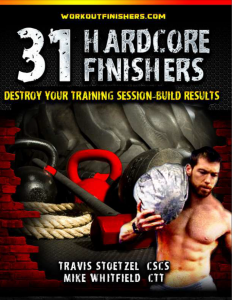 fat at bay while putting on lean muscle (and even burn fat and build muscle simultaneously). Keep your finishers to no more than 3 times a week.
2. Add 200 calories to your post-workout meal (thanks CB for this one).  Bonus tip – make it liquid calories so your muscles can gobble up the excess calories quicker. You don't need a fancy protein powder either – go for low-fat chocolate milk. Hip-hip hooray for inexpensive muscle-building calories.
3. If you don't see a difference in your muscle-gaining efforts after 2-3 weeks, simply add another 200 calories to your daily intake.
4. Keep your cardio to very little – however, a brisk walk 2-3 times a week can help with recovery. But remember – a brisk walk with lower intensity. Save the hard effort for your meathead workouts.
5. Use high intensity resistance training no more than 4 times a week. That's right. You don't have to work out 7 days a week to gain muscle and lose fat at the same time.
So, as you can see, it's not THAT complicated to lose fat and gain muscle simultaneously. The theme of the day – hit your muscles HARD, but using strategic recovery periods, like found in meathead style workouts using TT principles.
You don't have to live in the gym.
And you don't have to invest a ton of money, either. I asked Craig for a favor and he over-delivered.
==> Grab 3 muscle-building, fat-torching workout programs for $7
Get jacked and ripped in less time,
Mikey, CTT
P.S. Use THESE workouts and lift only 3-4 times a week to gain muscle and lose fat at the same time, while following the 5 tips above. This is your blueprint.