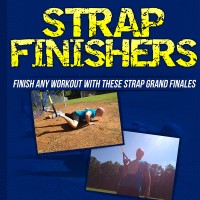 I remember texting my client one morning, "I'm bringing my TRX because I'm putting together a Finishers Manual for a program coming out from my friend Dan Long".
Normally, after our session, I'll have my client take photos for any exercises that I need for an upcoming program.
I told him we'll be hanging out a while because there were a lot of exercises I haven't done before.
What I didn't know was that I was going to be really sore the next two days just from photos.
It's embarrassing, but apparently, I was working muscles I haven't worked in a long time (if ever).
And that's what you'll experience with one of the finishers directly from "Strap Finishers", just ONE of the bonuses found in Dan's Suspension Revolution program.
Before we hit that finisher, let's catch up.
First of all, my friend Dan Long (who I finally got to meet in Tampa a few weeks ago) put out the BEST done-for-you Suspension training program I've ever seen.
You can check out the 27 workouts and 191 exercises here
After my email yesterday, you already found out how the new Suspension Revolution works your dormant muscles that haven't been worked in a long time or if EVER.
This is what chisels a lean physique because it takes more calories to recover.
You can literally TRIPLE your results using this brand new approach that he uses with his clients, including athletes and celebrities.
But there's one thing I left out of my email from yesterday, and that's ANOTHER amazing bonus that's included in the TRX Body Revolution sale (that ends tomorrow).
You'll discover some ab-shredding suspension exercises that NO ONE else does … on video!
I've seen the videos, and Dan is crazy. My abs hurt just watching them.
I wanted to be sure you knew what you're getting your hands on, so here is what you get with his brand new Suspension Revolution System.
4-Week TRX Beginner Revolution – Even if you're a fitness veteran, you'll want to start with the beginner program to wake up your muscles that have been dormant for so long.
4-Week TRX Intermediate Revolution – Once your muscles are ready to take on this phase, you'll progress to new and progressive exercises bringing on a constant and new stimulus, which means you'll see ripped, chiseled muscle and you'll burn even that stubborn fat you thought was going to be there forever.
12-Week TRX Advanced Revolution – This is when your body will go into full throttle fat loss… aka "Kill Mode". With advanced and never-seen-before techniques and exercises, fat loss records will be broken and you'll sculpt muscle you didn't even know you had.
Note – perhaps this is why I was so sore (and I was just using BASIC suspension exercises)
Bonus Videos – The Top 10 TRX Exercises That No One Else Does – Self explanatory, right? You'll be sore using these unheard of exercises, but you'll also shrink your waistline.
And Dan will be there every step of the way with follow-along videos for those weird exercises… oh, and I didn't mention…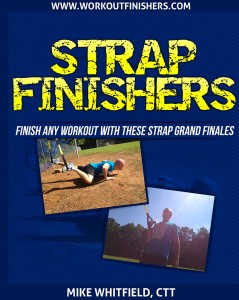 12 Strap Finishers – I was so blown away from Dan's program, I told him I'd be happy to create a bonus for his program. Use these afterburners with your new Suspension workouts or on your off days to burn even more fat (they just take minutes).
191 NEW exercises and 27 workouts <== Work more muscle here
I would get the system just to watch Dan on video. You'll never need coffee ever again.
PLUS, you'll work more muscle and burn more calories.
And of course, you'll get access to the NEW Strap Finishers…
… like this one:
"The 4-Way Strap Density Circuit"
Do the following circuit as many times as possible in 5 minutes, resting only when needed. Warning – your abs will get hit hard on this one.
1A)
 Prisoner Lunge Jumps (4/side) 
1B)
 Strap Jackknife Pushups (4) 
1C)
 Burpees (4)
1D)
 Strap Ab Pike (4)
Good times… and don't forget – I'm also throwing in the Bodyweight Dirty 30 program as yet another bonus.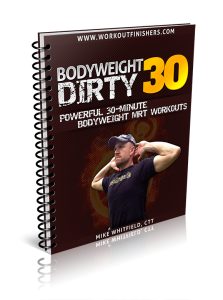 You'll get 30-minute Bodyweight workouts (with even more finishers of course). It's the perfect 1-2 punch to give your joints a break and burn more fat.
Grab it here:
Suspension Revolution + Bodyweight Dirty 30 <== Expires Soon
Then forward your receipt to us at cranktraininghelp@gmail.com and we'll send you the Bodyweight Dirty 30.
Mikey, CTT
P.S. Tomorrow, we'll do an ab circuit with a weird exercise…