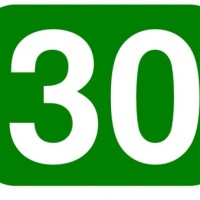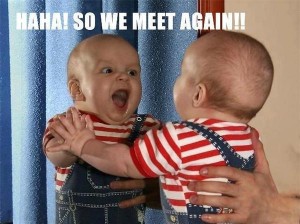 Geez… Burpee challenges. Pushup challenges. Jumping Jack Challenges.
Challenges are everywhere. Don't get me wrong, I think challenges are a great way to get you out of your rut. But here's a NEW challenge that has nothing to do with fitness…
… well, maybe.
This past weekend, I was at the All Pro Dad Event in Atlanta.Jeff Foxworthy, Tony Dungy, Mark Richt and other great mentors and coaches gave us Dads some great tools to be better fathers.
Troy Vincent, a former pro bowl NFL player, said something that gave me chills down my back and I'm going to reveal that shortly. Plus, I'll show you how you can make this into a 30-day challenge, even without kids.
Here's the challenge he gave us Dads…
Take your son with you to the bathroom mirror. The both of you should look at yourselves in the mirror.
Your son is who you used to be…
… however, the man you are right now is more than likely who your son will become. 
Later in life, will your son be proud or disappointed?
I don't know about you, but this actually scared me into action.
For me, I need to work on my patience (I don't do well with long traffic lights or when baby Deakan is whining). I also have a bad habit of snacking heavily just before dinner… right in front of the boys, too. Lately, it's been mountains of cashews (oops).
So, every day for the next 30 days, I'm going to take one of my boys (Champ or Deakan) to the bathroom mirror with me and ask myself this tough question every night…
"Will he be proud or disappointed?"
I challenge you to do the same. It doesn't have to be your child. It can be your spouse, friend or even a family member. It's a simple, 20-second process.
1) Go to the bathroom mirror every night for the next 30 days.
2) Ask this tough question – "Would they be proud or disappointed?"
Burpees are great. Pushups are great. Jumping Jacks are great.
But the mirror won't show how many reps of those you did.  A long, hard look at yourself in the mirror reflects your actions, even OUTSIDE of fitness.
So… are you up for the challenge? I'm starting mine tonight just before the boys go to bed.
Reflect proudly,
Mikey Whitfield, Master CTT