I'll cut to the chase because I'm needing to knock out my workout followed by a charity walk.
First, the photo below is #truth. I was on stage with Shawna Kaminski and Rick Kaselj and yes, I was thinking this …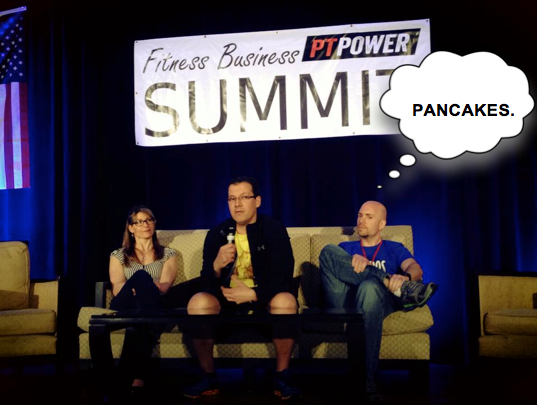 Don't judge me. I was heading out for pancakes the next morning (and they were legendary!)
Alright, now to the real stuff…
Look… I realize that not everyone needs to be doing burpees or lunge jumps… or jump squats … or explosive pushups and more.
That's why I'm giving you these 3 "variables" you can adjust to make any finisher (or workout) your very own based on your unique fitness level.
First thing (and it's important)… take this quote to heart… PLEASE:
If you continuously compete with others you become
BITTER.
If you continuously compete with yourself, you become
BETTER.
#Truth again…
Here you go:
Variable # 1 – Exercise Substitution 
For more advanced exercises, don't be afraid to change those out for exercises you can do correctly.
Here are some great examples:
Jump Squats –> sub for Bodyweight Squats or Total Body Extensions 
Burpee –> sub for Bodyweight Squats or Total Body Extensions (or take out the pushup and/or the jump)
Lunges –> If an advanced lunge like the Crossover Lunge is too much, than you can sub that out for the standard Lunge or Reverse Lunge 
Pushups –> There are a variety of pushups in most of my programs. Why?… because they work. However, not everybody can do the specific pushup I outline in the manual.
Spiderman Pushups can be replaced with

Elevated Pushups

.
Regular Pushups can be replaced with

Kneeling Pushups
And hey, don't forget you can increase the difficulty as well. Perhaps you're a freak of nature and you find Spiderman Pushups dull. So, you can do Decline Spiderman Pushups, etc.
Don't forget to leverage my facebook page, too. I always offer exercise substitutions there. I'm here to help… you mind as well use me! Here is the link to my Facebook page.
So, as you can see, that's just one of the ways you can adjust a finisher or workout to fit your unique fitness level. You can even mix and match.
Let's say you're to do T Pushups for 30 seconds, but you can only last for 20 seconds. Than, you can do regular pushups for the last 10 seconds.
The same goes to increase a finisher's difficulty. Perhaps a program calls for Total Body Extensions. You can certainly increase the difficulty by using Jump Squats.
Boom.
Variable # 2 – Rest Periods 
People often misunderstand the impact of a rest period. 20 seconds of work is vastly different than 30 seconds of work… trust me.
So to decrease the difficulty of a program, you can increase the rest period. So if a finisher calls for 30 seconds, don't be afraid to make it 45 seconds to one minute and even longer depending on your fitness level.
The only thing to keep in mind is that if you're doing a finisher – leave it all on the table 😉
The same goes for increasing the difficulty. You can always reduce the rest periods as well.
Variable # 3 – Volume 
Volume simply means how much work is put in. So if you feel you need to cut back on the volume, that's fine. For example, let's say a program calls for 4 rounds or circuits. Then you could cut back to 2 rounds to reduce the intensity.
Another example is a density finisher that is for 5 minutes. Then you can reduce that down to perhaps 3 minutes. No one knows your body more than you do.
When in doubt, go CONSERVATIVE. 
This is especially true when doing a finisher for the first time.
So that is how you can take literally any program and "tweak" it to make it your own and fit your individual needs and fitness level.
So, as a quick recap, you can manipulate any or a combination of the following variables to adjust any finisher:
Variable 1 – Exercise 
Variable 2 – Rest Period 
Variable 3 – Volume 
And while you're at it, check out this article on the "Master List for Bodyweight Exercise Substitutions".
You'll get the step-by-step video on how to use the Total Body Extension as well as photos for bodyweight exercise subs.
No equipment? No excuses.
Get the master list of bodyweight exercises here
Have a great weekend!
Mikey, Master CTT