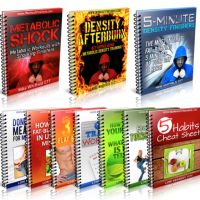 Yesterday's workout was in my backyard. Here in Georgia, it was 70, sunny, and just a few clouds in the sky.
It was the perfect environment for a Kettlebell workout of Cleans and 1-Arm Presses while soaking up some Vitamin D.
Here comes the nerd in me… when I take my rest, that's when some of the ideas for you come in. Sometimes, it's a new finisher idea and sometimes it's looking back on your questions on my Facebook Page.
Lately, there has been a lot of "What's a good metabolic conditioning circuit?" and "What's a good strength program using metabolic resistance training?"
Honestly, I think it could lead to info over-load. But since you've been asking so many times, let's take a look at one of my best fat-burning programs ever, "Metabolic Shock".
This is the Workout from Day 5.
This workout includes 3 ways to burn belly fat.
I know… that IS the subject line. #YourMindisBlown
What will you get?
1) Metabolic Resistance Training
2) Metabolic Conditioning
3) Metabolic Finisher
First up, is your warm-up. Prepare your body for war.
Warm-up
Jumping Jacks (15) Alternating Prisoner Lunge (8/side)  T Pushups (5/side) Leg Swings (15/side)
 Rest 30 seconds and repeat ONE more time.
Then comes the Metabolic Resistance Training Circuit. This is when you perform resistance training using non-competing supersets and/or circuits with compound movements.
The ideal rep range is between 8 – 12 reps, depending on the exercises. It must be set up in a progressive manner (in other words, you won't do Deadlifts after bicep curls hot shot.
Why does MRT work? 
You get more done in less time. That should be enough, but since you're a science nerd, using MRT increases your growth hormone, which is a vital hormone in burning fat.
Your body takes longer to recover from MRT, and your torches more calories while at rest using the power of MRT.
MRT > Stupid Fat Loss Pills
1A)
Offset Lunge (8/side)
1B)
DB Chest Supported Row or DB Rear Lateral Raise (12)
1C)
1-Leg Stability Ball Plank or 1-Leg Plank (20 secs/side) 
Rest 1 minute and repeat 2 more times
Metabolic Shock Conditioning Circuit
Here, we're going to use Metabolic Conditioning. This is when you use a variety conditioning moves in a higher rep range.
It's like cardio for your metabolism and it will translate into…
=> Better performance in your main lifts
=> Better performance in functional activity
=> Improved work capacity (running, walking, going up and down stairs, etc.)
=> It will make you a Jedi, especially when combined with finishers (that's coming up)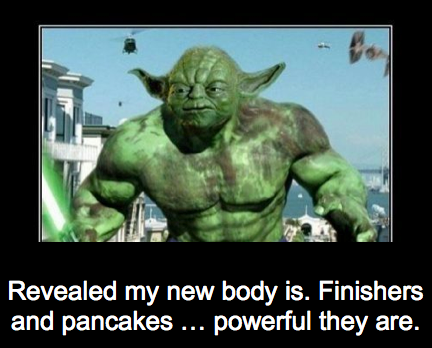 2A)
KB or DB Swings (20)
2B)
Mountain Climbers (10/side)
2C)
Box or Bench Jumps or Jump Squats (8)
2D)
Stability Ball Jackknife (15) or Mountain Climbers (8/side)
2E)
Skater Hops (15/side)
2F)
KB or DB Swings (20)
Rest 1 minute and repeat 2 more times
The conditioning should be AFTER your main lifts (most of the time, depending on the structure of the entire program).
And of course, a grand finale… the finisher. You already know the power of those. This one is brutal. You can replace the Jump Squat with Total Body Extensions and the Squat Thrust with Pushups or Mountain Climbers…
Metabolic Shock Finisher
Do the following superset, resting only when needed. In the first superset, you'll perform 8 reps of each exercise. In the next superset, you'll perform 7 reps of each. Continue in this fashion until you complete 1 rep of each exercise.
3A)
Jump Squat (8…1) 
3B)
Squat Thrust (8…1)
 So, when you combine Metabolic Resistance Training (MRT), Metabolic Conditioning (MCT) and a Metabolic Finisher (AWESOME), you've got a killer 1-2-3 punch that can shed faster while improving your fitness.
Get all of the Metabolic Shock workouts here <= $9 for a limited time
Plus, you'll get 90 MORE days of fat-burning workouts, 5-minute density finishers and much more.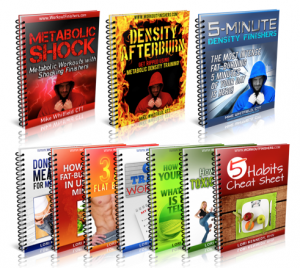 Get metabolic,
Mikey, Master CTT