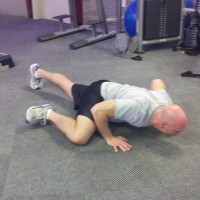 There's been some really late nights and early mornings in the Whitfield household, especially this week. Both my wife and my son have "the funk" and I'm hoping they bounce back before Christmas.
And I've been in the lab for some cool stuff coming out in 2013 for you, on top of getting this ready just for you…
 Choose your own finishers here
Yes, you read that right. As of about 10:25pm last night, just about every Workout Finisher program I've ever designed is now available for you to burn more fat in less time.
This comes just in time to stay lean (or get leaner) over the holidays and get a head start into 2013.
Your question… "Mikey, is there a way to get that Finisher program on its own?" has been answered, and YES you can.
May you never, EVER get bored with your workouts here
You'll discover my latest Finisher creations, including "Interval Finishers" and easily a fan favorite, "Super Finishers" and more.
With Interval Finishers, you'll combine the fat-burning power of intervals and metabolic finishers, like this classic Interval Finisher…
"Runnin' to the 7-Up" Finisher
5-minute warm-up (5/10 intensity)
Treadmill or Running preferred – 40 seconds (9/10), followed by 20 seconds of recovery (3/10) – Do this until you complete one mile.  Then rest one minute. Then…
Do the following circuit as many times as possible in 7 minutes, resting ONLY when needed:
Stability Ball or Medicine Ball Pushup (7)
Box or Bench Jumps (7)
Renegade Crawl (7/side)
Skater Hops (7/side)
Crank that baby out on an off day to keep the holiday cookie fat at bay (for me, it's Christmas pancakes, which are just like regular pancakes, except they just sound cooooooooler)
And surprisingly, "Finisher Supersets in the City" has been a huge hit. Long time Finisher Freak Frank said, "I enjoy superset finishers because there is less to remember and they seem more intense to me, lol!".
So, let's rock a superset finisher.
The "Metabolic Duet" Finisher
Do the following superset, resting only when needed. In the first superset, you'll perform 6 reps of each exercise. In the next superset, you'll perform 5 reps of each exercise. Continue in this fashion until you complete 1 rep of each exercise.
Prisoner Switch Lunge (6/side… down to 1/side)
Superman Pushup (6/side… down to 1/side)
That's what you'll love about the Supersets in the City manual. All the finishers have supersets and include density supersets, countdowns and more.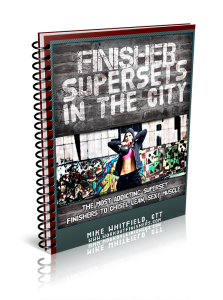 Then there are the classics like the "Jump Rope Ab Finishers", "Total Body Ab Finishers" and one of my classic favorites, "Metabolic Circuit Core Finishers". You'll find a special offer with all 3 of those.
They are at the bottom of this page
The Metabolic Circuit Core Finishers are longer, and of course, they hit your abs HARD. There are the hidden gem ab exercises like high rep DB Rows as well as new and whacky (but lethal to belly fat) exercises like the Burpee/Spiderman Pushup Combo.
Here's one directly from the manual…
"Prisoners and Spiders and Rows Oh My" 
Do the following metabolic circuit one time, resting only when needed. Time yourself. The next time you perform this circuit, try to beat your previous time
1A) Prisoner Jump Squats (20)
1B) Side Plank w/ Lateral Raise (15/side)
1C) DB Row (30/side)
1D) Hanging Leg/Knee Raise (10)
1E) Decline Spiderman Push-ups (8/side)
1F) Burpees (20)
You can replace one of your longer, boring workouts with this one to smoke off fat in less time.
Don't worry, all the photos and descriptions are in the manuals, too… including the new ones like the Hulk Jump and the Batman Lunge found in the "Super Finishers" manual.
So, it's YOUR chance to live your own adventure… your own Finisher Adventure. You do remember those, right? The "Choose Your Own Adventure" books? Whatever.
 Never get bored with your workouts here <== YAYZ!
Merry Christmas (early),
Mikey, CTT
Tags: metabolic finishers, workout finisher, workout finishers