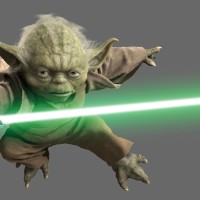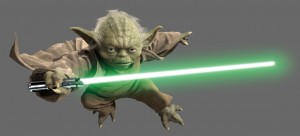 "Don't do it. You look so stupid when you do that.", said my wife as we walked into the grocery store last night.
"But I have to. C'mon, it's hilarious", I replied. Then, as she stayed back. I did it… and as always, it was exhilarating.
I walked down the frozen food aisle and raised both hands as if I was a Jedi (because I AM) and the freezer lights came on…. JUST for me.
That's just one of my Jedi tricks. Revealed my opinion is.
My other Jedi tricks are going to help you shed unwanted fat. There's 3 bodyweight exercises that are "odd", but they are brutally effective. They are…
… dramatic pause…. another dramatic pause…. one more dramatic pause… JEDI bodyweight moves.
Then, we'll combine them with the perfect weekend finisher.
Jedi Bodyweight Exercise # 1 – The Burpee/Spiderman Pushup Combo
This is when you perform a burpee, but after you kick your feet out, you perform a Spiderman Pushup (1 per side), then bring your feet back in and jump up.
Jedi Bodyweight Exercise # 2 – The Kong
I discovered this amazing fat-torcher from my friend Adam Steer.
Squat down onto all fours.  Rise up on the balls of your feet.  Pull your body forward with your arms while hopping forward, like a gorilla.
Jedi Bodyweight Exercise # 3 – Triple Stop Pushup
This is when you perform a pushup, but you pause for one second halfway down, and then pause again at the bottom, then you come back up.
All of these photos are in the Bodyweight Finishers Manuals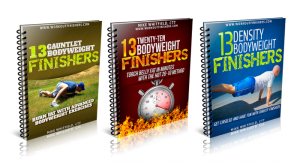 Now, let's put a finisher together using these Jedi tricks.
The 7th Heaven Bodyweight Finisher
Do the following circuit twice, resting only when needed:
Burpee/Spiderman Pushup Combo (7) Lunge Jumps (7/side) Triple Stop Pushup (7) Skater Hops (7/side) Kong (7 hops)
That's how you shed fat with ZERO equipment. You'll be a Jedi to ugly weight gain this holiday season by pimping out one of these just before the big holiday party.
Ha-ha… I said, "pimping".
Pimp out 39 more zero equipment finishers here
Don't worry, all the Jedi Tricks have photos and descriptions, too.
Boom goes the Jedi dynamite. I'm going to go to the grocery store now and feel awesome.
Later,
Mikey, CTT
Tags: bodyweight circuits, bodyweight finishers, bodyweight workouts