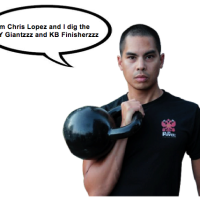 I'm on a simple upper body plan so I can give my legs a break. That way, they are "fresh" for basketball 3 days a week.
HOWEVER… I know how powerful a KB can be to my program, so I'm adding Swings or Snatches to my workouts as finishers.
Just one single KB Finisher and I know I'm….
Improving my core strength
Improving my endurance
Speeding up my metabolism
Burning off my excess holiday calories 🙂
I fell in love with Snatches after getting schooled by Chris Lopez. You'll love this tutorial from my buddy Chris…
I
Here's a simple finisher you can do after this workout, too:
KB Swings (20 secs), rest 10 secs <= Do this 6 times
That makes for a killer circuit….
But when it comes to the BEST Kettlebell Finishers, you need this guy…. I mean… really. Look at him. I bet he's doing a finisher in his head right now.
So that's why I asked him if he could do a couple of KB Circuit Finishers with me when we were in Lapeer, MI earlier this year. So if you want to burn the most calories possible in the shortest amount of time…
Boom. Do any of these:
The Gut Check Kettlebell Finisher:
1-Arm Swing (left side) 15 reps
Mountain Climbers 10 reps per side
1-Arm Swing (right side) 15 reps
Opposite Hip Touch 10 reps per side
1-Arm Swings (left) 15 reps
Side Plank (left side) 20 secs
1-Arm Swings (right) 15 reps
Side Plank (right) 20 secs
2-Arm Swings 20 reps
or if you want to travel to a finisher beach, try this doozy:
Manhattan Beach KB Finisher:
Left Snatch (20s), rest 10s
Right Snatch (20s), rest 10s
Goblet Squat (20s), rest 10s
Halo (20s), rest 10s
Left Clean and Press (20s), rest 10s
Right Clean and Press (20s), rest 10s
KB Swings (20s), rest 10s (do this for 1 minute)
You think that's good stuff…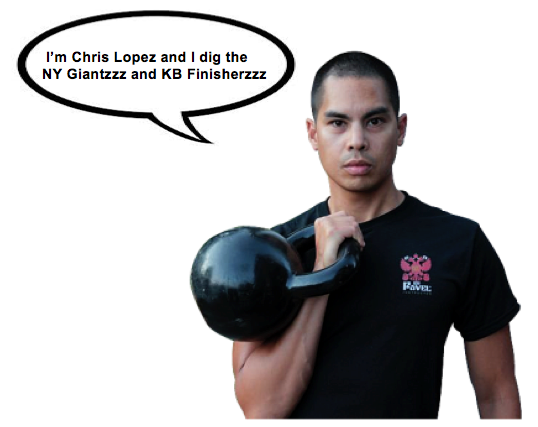 Get dozens of KB Finishers here PLUS 8 weeks of Bodyweight Workouts <= Less than a gourmet pizza
Step 1 – Do any of the bonus bodyweight workouts
Step 2 – Do any of the KB Finishers
Step 3 – Laugh and say out loud, "Watch this"
Step 4 – Eat your favorite food without the guilt.
You can do that with these bodyweight workouts and KB finishers
Happy Thanksgiving!
Mikey, CTT
Tags: kettlebell finishers