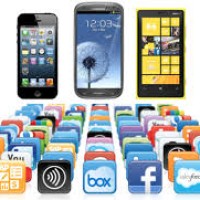 It's funny. Recently, we've been getting emails asking about productivity and mindset stuff.
Honestly – this makes me smile. Look, I can talk fitness all day long. Yet, sometimes this can be really "noisy", right?
So today, let's shift gears a little bit.
Look, technology is a double-edged sword. 
On one side, we have unlimited resources at our fingertips to make our lives more efficient and productive.
Yet, on the other side, we find ourselves swallowed up by our phones, tablets and computers when we're supposedly spending "quality time" with our friends or family.
That's why I recommend you taking an entire day off from technology (no phone, computer, tablet, etc.) once a month just  to keep your addiction at bay.
Today, let's talk about the good side.
There are 3 apps that have made my life so much easier, especially when I travel.
Now whether you travel or not, these apps can help you stay productive and a little more organized.
App #1 – Dropbox   

It's well worth the $199 a year, but there is also a FREE version. Dropbox allows you to sync files between your computer, phone and other devices.
In other words, you can be working upstairs on your computer on a file. Then let's say you want to continue working on it with your laptop. You don't need a flash drive. Just use the Dropbox app and you'll pick up right where you left off.
App #2 – Wunderlist
I've been just about abusing this app on my phone. Wunderlist allows you to make multiple lists and even share them with your friends/family.
I share my Grocery list with my wife. That way, if I need something, I can plug it into the list and it will show up in her app on her phone.
But it doesn't stop there. I have a problem… my brain never stops. I'm constantly thinking of new ideas, even when I'm getting in my workout or going for a walk.
I don't ever want to forget them, so I plug my ideas into my app right then and there.
This includes new finishers and workout ideas to experiment with 😉
App #3 – Evernote
Consider this a little more elaborate than Wunderlist. It syncs across all your computers, phones, etc.
The big plus is that this app lets you save files as well as photos.
I use this when I see an article idea for my fitness business. I'll be reading a Men's Health or Women's Health Magazine and think "that's a great article idea" and take a photo of the article so I can talk about it in future newsletters.
Yeah, I'm weird like that.
Hey, you could even track your workouts with these apps (I keep my workouts in a Dropbox folder so I can open them up with my phone at the gym).
Boom goes the apps used right dynamite,
Mikey Whitfield, Master CTT
PS – Hey, did you know we're over 5,000 strong on our Workout Finishers Facebook page?
When I first opened it up, there was only 1 and it was me. So this is like… a big deal or something.