20-10 Bodyweight Finishers
This might be the most interesting – and shocking – workout study ever.
Canadian researchers at Queen's University tested a Bodyweight Finisher style workout against long cardio.
(Reference: Appl Physiol Nutr Metab. 2012 Sep 20.)
22 college-aged women did 4 workouts per week for 4 weeks in one of three groups.
Group A did 30 minutes of treadmill running at 85% max heart rate
Group B did 8 rounds of 20 seconds of a single exercise (burpees, jumping jacks, mountain climbers, or squat thrusts) with 10 seconds of rest between rounds.
Group C did nothing (they were the non-training control group).
Results:
Both training groups increased their aerobic fitness levels by the SAME amount (about 7-8%). That's right, the short bodyweight finisher workouts (of 4 minutes) worked just as well as 30 minutes of cardio.
Shocking.
BUT…only Group B, the Bodyweight Finishers style training, also increased muscular endurance in common exercises like chest presses, leg extensions, sit-ups, and push-ups.
And finally, the Bodyweight Finishers style training used by Group B also resulted in greater overall workout enjoyment.

The Canadian Scientists concluded that "extremely low volume bodyweight interval-style training" will boost cardiovascular fitness just as well as cardio while giving you BETTER improvements in muscle endurance. All in just 4 minutes.
And now you can get access to these workouts, just like these people…
Philip Lost 34 Pounds in 12 Weeks and Won the TT Transformation Contest
Robin Lost 50 Pounds and 15% Bodyfat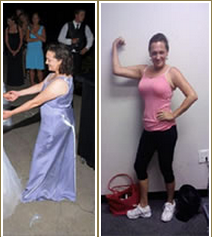 Now's your chance to get shocking results using the effective 20-10 Method using ZERO Equipment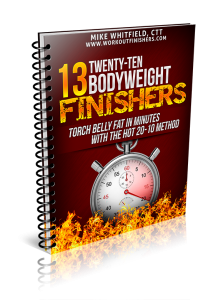 $29.99   Only 

$9

Click here to order this Metabolic Finishers Program for Only $9
You're Fully Protected with My 100% Risk Free Guarantee
Test drive this Metabolic Finisher program for a full 8 weeks with absolutely NO RISK so you can see for yourself how much fat you can lose without ANY long, boring cardio. You are protected by my 100% Money-Back Guarantee. I guarantee you will be thrilled, amazed and addicted with these fat-burning workouts, or you can simply email me for a prompt and courteous, no hassles, no questions asked 100% refund.
In fact, if you're not completely happy for ANY reason at all, then I insist that you ask for a refund. However, after seeing thousands of men and women transform their bodies while becoming addicted to working out again, I'm confident you'll be blown away at how efficient and powerful my metabolic resistance training programs can be.
This removes ALL risks, you now have nothing to lose but ugly pounds of fat.
Mike Whitfield, CTT
May you never, EVER get bored with your workouts,
Mike Whitfield, CTT
Certified Turbulence Trainer
Author, Workout Finishers
P.S. There is NO RISK at all for you to try this Metabolic Finisher program. If you are not thrilled with 20-10 Bodyweight Finishers in 60 days, let us know and we'll refund every penny. Your satisfaction is 100% guaranteed. My workout programs have already been seen on Men's Health, Turbulence Training and used by thousands of men and women, and I guarantee it will work for you, too.
P.P.S. Start this addicting program today because I'm not sure how long I'm going to offer this unique metabolic resistance training program at such a low price. In fact, people have paid up to $39 to get access to this program!
Now's your chance to get shocking results using the effective 20-10 Method using ZERO Equipment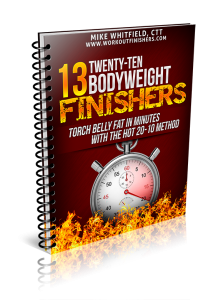 $29.99   

Only $9

Click here to order this Metabolic Finishers Program for Only $9

Note: This Metabolic Workout program is downloadable. No physical products will be shipped. After your order, you will get INSTANT ACCESS to download the e-book. The e-book is in PDF format.