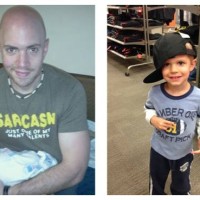 Warning – proud Daddy moment coming right up…
My son Champ, who just turned 4, has been struggling with sensory issues and upper body/core strength.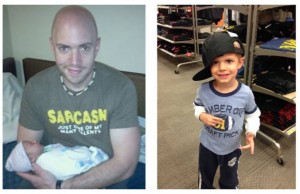 The good news is that he has improved dramatically over the last 6-8 months thanks to some great physical therapy.
Last night, we practiced the "Wheel Barrow". This is when he's in the pushup position and I hold his legs. He then uses his arms to "crawl" to a certain point.
I told him if he crawled from the kitchen to our bedroom, I'd give him 3 "Bed Slams", in which I actually throw him onto the bed (he thinks it's hilarious).
He made it! He dominated it like a boss, too. A little practice consistently can go a long way. Sound familiar? 😉
Anyway, you can thank Champ for today's message to you. He got me craving to send you some fun ab cardio sequences.
You can do any ONE of these on your day off to stay active or at the end of your workout. Either way, you'll burn more calories so you can have some wiggle room for your weekend pancakes.
Ab/Cardio Sequence 1
Do the following ONE time, resting only as needed. Do the Total Body Extensions in as few sets as possible, followed by the Bodysaw in as few sets as possible.
*Total Body Extensions (100), then…Bodysaw (also known as the rocking plank) (100)
It's hard to explain the Total Body Extension if you haven't seen it before in my newsletter. I did a YouTube video of it here:
See the Total Body Extension on Video here << YouTube Video
By the way, if you watch the video, my apologies. We had filmed a few finishers before doing the Total Body Extension demo. I'm pretty darn sweaty!
Anyway, you'll love this fun ladder…
Ab/Cardio Sequence 2
Do the following, resting only as needed. In circuit 1, you'll do 8 reps of each exercise. In the next circuit, you'll do 7 reps of each. Continue in this fashion until you complete 1 rep of each exercise.
Spiderman Climb or Mountain Climbers (slow!) (8/side…1/side)
Lunge Jumps or Alternating Reverse Lunge (8/side…1/side)
Renegade Row (8/side…1/side)
Alternating DB or Bodyweight Chops (8/side…1/side)
Alright, time to jet. The caffeine is kicking in and it's time to go play some basketball with my buddies!
Later tater,
Mikey Whitfield, Master CTT