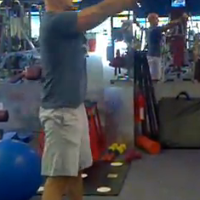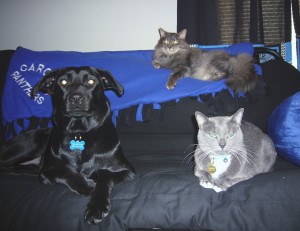 Yesterday, I had to take two of my furry kids to the groomer.  Charlotte (my black lab) was due for a bath and Panther (one of my two cats) was getting shaved for the summer.
And since we're on that topic…
… yes, I'm a Carolina Panthers fan and their names are:
Girl cat => Carolina
Boy cat => Panther
Black Lab Dog => Charlotte
Hilarious… yet AWESOME.
But that wasn't nearly as awesome as a tough superset I had done yesterday in my workout. I started a new 5 X 5 system last week. It went like this…
3A)
 BB Romanian Deadlift (5 sets of 5 reps) Take 5 seconds to lower the weight
3B)
 Goblet Split Squat (4 sets of 20 reps) – Alternate sides with each round
So in superset one, you'll work the left side, etc.
My hamstrings are a little tight today thanks to that nasty superset. But I'll still be able to do my tough Deadlift workout later in San Diego this week thanks to Growth Hormone released with this type of training.
Growth Hormone (GH) is great for fat burning, but there's even more to it.
GH allows you to recover faster, allowing you to put your best effort in every workout. Not only that, but it also allows you to sleep better, too.
GH is much like natural Canadian Maple Syrup on pancakes <== Excellent Reference
Science shows that you'll release GH with short, intense workouts that work all major muscle groups with incomplete recovery BUT you'll also recover more quickly.
But there's a NEW GH workout in town and it's freaky fun.
Actually, it's freaky funky. <=== Best. Reference. Ever. (better than above)
His name is Funk Roberts and he's got energy like Dan Long. His workouts show that energy, too and they are tough… but SHORT.
These workouts are perfect for a busy summer and to get ripped
Here's a workout from his system in week 1 (and don't worry, you'll get photos and descriptions inside his manual).
Each exercise should be done for 30 seconds Rest 15 seconds between exercises Rest 90 seconds between circuits
Do this circuit TWICE
KB or DB Swings Pushups Burpees Abs In and Outs 2-Arm DB Rows Lunge (5 per side and then switch) Swiss Ball Plank Goblet Squat Jumping Jacks Side Plank Reach Undress
Get all 10 weeks of Spartan Training workouts here
You'll train like a true Spartan with these metabolic workouts,
Have fun and train hard (and get Funky!) <== Dude, I'm on a roll!
Mikey, CTT
Tags: bodyweight exercises, bodyweight workout, growth hormone