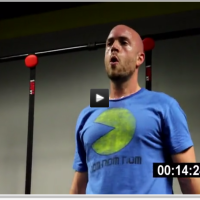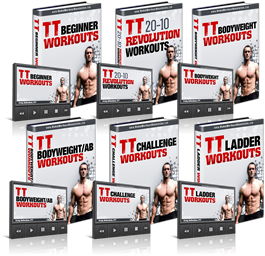 I put on my sweatshirt and was ready for my morning walk to Tom Horton's. They have this thing that I fell in love with in the early part of 2012.
It's called coffee.
But as soon as I walked through the doors of the hotel, I realized it was snowing.
"Awesome. Michigan." <== That's what I said in my head.
Then I thought, "I really dig caffeine, especially when it's 5 in the morning and I'm going to film about a billion finishers today."
So, I headed out. I even had the mantra from the Progressive commercials with Flo … "and we're walkin'… and we're walkin'".
Then about 30 seconds into my walk, I said, "This is stupid.  I'll get coffee downstairs when they open for breakfast."
I'm going to need the caffeine. Today is day two of filming finishers here in Lapeer, Michigan.
I was just here in November filming the Home Workout Revolution with Craig Ballantyne and Brian Kalakay.
It was a lot of hard work, but it's been worth it. Check out some of the feedback:
Simon Black – a friend of Craig Ballantyne…
"Well done. This is the best product of your that I've seen.  Great video, well-shot, great exercises, great energy.
Ironically, I just arrived to Ecuador after a 5+ hour flight, and didn't have time for the gym this morning. So I just popped into your HWR site and did: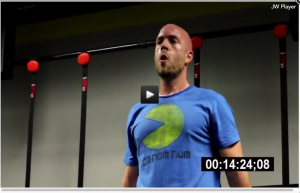 1) Punisher Iso X
2) First half of 5 Rounds of 5
3) First half of Bodyweight Super Sets
No joke… I was smoked. Great stuff.
My favorite quotes from you in the workout videos:
"don't be ridin' high"
"zen-like"
"get low… get low… get loooooooowwww…"
"I know it looks silly, but you're probably at home, so it doesn't matter anyhow…"
"Pump the music up to maybe… 11 out of 10."
*****
Ha, I remember Craig saying the music line.
Here's another HWR member's feedback:
"Being a busy working mom I don't have a lot of time to work out or go to the gym. I tried P90X, Taebo and many other workouts but can never stick with it because of the length of the program.  Additionally, in most cases I had to exercise almost everyday and I thought where is my life.
"I was never as excited as I am now.  The reason being the follow along videos. When I started the workouts my muscles were sore but I loved it. I am into my 2nd week of performing the exercises and I already have some definition in my thighs and abs. I lost 4 lbs last week too. I look forward to doing these exercises because of the variation in length; they are not long and I feel as if I worked out for an hour and the fact that you are there sweating it out with me. They truly rock. I can't wait to to show off my new body at the end of the 12 weeks. Thanks Craig, you are a life saver."
– Annmarie from Trinidad.
Great stuff – love hearing feedback about this. And as promised, I have one of my favorite workouts from the HWR called the "16-Minute Total Body Revolution".
Do the following circuit as shown one time.
"20 on" means 20 seconds of work and "10 off" means 10 seconds of rest.
Jumping Jacks – 20 on, 10 off x 4 rounds Bodyweight Squats – 20 on, 10 off x 8 rounds Pushups – 20 on, 10 off x 4 rounds Switch Lunge – 20 on, 10 off (alternate legs with each round), x 6 rounds Spiderman Climb – 20 on, 10 off x 4 rounds Run in Place – 20 on, 10 off x 6 rounds
Get all 51 Home Workouts here <= do them anywhere, anytime.
Once you do, let me know what you think of the Ladder Workouts (particularly the Metabolic Duet). That one smoked Brian.
Also, do the 14-Minute Bodyweight Punisher. Craig took me through that one and my shirt was soaked as if I was in the gym for an hour.
Get all 51 NEW workout videos here
Boom goes the "No excuses" dynamite. You can do these workouts ANYWHERE as they don't require ANY equipment.
Mikey, CTT
PS – Yes, the HWR System comes with…
…a Nutrition system.
You'll get Craig's Diet Revolution manual as a free bonus.
Save money and get your workout and diet plan here:
Yes! I want to work out with Mikey!
Tags: bodyweight circuits, bodyweight routines, bodyweight workouts