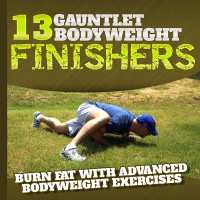 Here's the thing…
You CAN drop a ton of weight in record time.
But should you? Is it safe?
A long term approach to diet and training is obviously your best choice. But let's face it, there are LEGITIMATE times in your life when you need to make rapid body changes:
an upcoming special occasion when to want to look your best
to kick off a fat loss goal
to put the finishing touches on a transformation
to bust through a stubborn plateau
Maybe you and your spouse just booked a romantic last minute vacation deal, and you want to look your best for the beach. Or maybe you've got a high school reunion on the horizon, and you want the entire room to watch with envy when you walk in the door.
Whatever your personal situation may be, those "special moments" call for more aggressive fatloss methods.
But it has to be SAFE, effective, and without the risk of "inevitable" rebound weight gain.
And that's exactly what I've found. My buddy and international fatloss expert Adam Steer just put the finishing touches on a brand new diet that'll strip 10 lbs from your body in the next 12 days.
It contains the most powerful fatloss diet tactics Adam has learned in his 20 years as a coach, trainer and instructor. And today he's GIVING AWAY his brand new 10-in-12 Diet  for free.
Yeah, you read that right. It's 100% *free* for anyone who grabs his groundbreaking new Bodyweight Burn program at $50 OFF the regular price:
==> The 10-in-12 Diet FREE today with Bodyweight Burn ($50 OFF) PLUS, I'll tell you how you can get your hands on my ENTIRE Bodyweight Finishers System for FREE, too. But first…
Adam has pulled off miracles of rapid fatloss for his clients. And he's had to pull out all the stops for his own rapid transformation on more than one occasion.
I asked him to share his top tips for losing fat quickly, safely and without the risk of rebound weight gain.
Here's what he had to say…
The 4 Secrets Of Safe and Effective Rapid Fat Loss by Adam Steer
In my experience, any safe and effective short term rapid fat loss diet plan has three necessary ingredients.
1. Massive but safe calorie reduction
This one probably seems self evident. But a lot of "gurus" will try to convince you there are ways around it. There aren't.
If you want to see the fastest fat loss results, then you have to dramatically reduce the amount of calories you're eating.
One pound of fat contains approximately 3,500 calories. To get rid of that unwanted fat, you have to tap into those calories and convince your body to use them as fuel.
Translation: you're going to have to eat a lot less than normal.  But don't worry, it's only for a short time.
2. Protect calorie burning metabolic muscle mass
The other thing you must be concerned with when dieting is protecting your lean muscle mass. We care about maintaining lean muscle for a couple important reasons.
Muscle is metabolically active and helps you burn more calories.  But that?s only part of the equation. Muscle also provides a number of other important benefits, foremost of which is better management of insulin.
Insulin is your "storage" hormone. The better your body is at using it, the more you'll store the energy from your food in lean tissues instead of fat cells. And the less insulin your body is pumping out, the more stored fat you'll be able to free up and burn off.
If you're doing a period of hard dieting, you want to maintain that lean muscle at all costs. Ignoring this rule is one of the main causes of useless rebound weight gain.
That's why resistance training is a must. But you also need to include sufficient protein in your diet to prevent your body from breaking down muscle tissue to make glucose in the absence of carbs.
3. Ensure essential nutrients
Reducing the number of calories you take in each day means you're at greater than normal risk of missing essential nutrients.
Careful supplementation will help you avoid this. Eating whole foods is a great start. But it isn't always enough.
The foods we eat nowadays from conventional farming just don't have the same nutritional value as they did in the past. Many crucial "micro-nutrients"–things like vitamins and minerals–have been depleted from the soil due to chemically-dependent farming practices.
Livestock are also fed diets that they didn't evolve to eat. And that can cause a host of problems, such as a less than optimal nutritional profile in the product that makes it to the shelves.
This is where supplements can help. Taking a multi-vitamin, fish oil and a couple other strategic supplements will provide you with all the nutritional insurance you need.
4. Provide sufficient fuel for daily life / activities
You won't stay on the program for long if your diet leaves you barely functional, unable to make it through your day.
The final thing to take into account when dieting hard is that your diet must provide sufficient fuel for your daily activities–without slowing down your fat loss results.
When it comes to fuel, your body uses two main sources:  carbohydrates and fat.
The problem with carbs is that they increase your body's insulin response.
When you eat carbs, your body converts them to glucose. As your blood glucose levels climb, your pancreas secretes insulin to mop up the excess and deliver it to your cells.
Insulin reacts with fat cells to ensure that no fatty acids are released into the blood stream. That means your fat is locked in!
If you're living in an insulin resistant state, even small amounts of the wrong foods can spike your insulin and lock in fat–and that's true even if you're NOT overeating.
Your goal is to focus on fats for fuel. When you shift your body to using fat for fuel, you actually enjoy changes at the cellular level that make it EASIER to burn fat on an ongoing basis.
Once you become "fat adapted", you can get your body to burn even more fat for fuel by removing fat from your diet on alternate days.
Cool as the other side of the pillow Adam – thank you sir.
There you go. Weave Adam's 4 secrets into your rapid fat loss plan and you'll be amazed at how quickly the pounds drop away.
Don't want to reinvent the wheel on your own? That's cool too.
If you'd rather have the exact roadmap set out for you, you can get Adam's 12-day rapid fat loss blueprint right now, absolutely FREE.
=> *FREE" 10-in-12 Diet  with the Bodyweight Burn program ($50 off today)
The 10-in-12 Diet delivers BIG time. We're talking a massive drop of 10 lbs or more in only 12 days!
Adam nails these kinds of results by using an intelligent nutrition strategy for optimizing your hormones and turning on your "get-lean" genes for rapid and sustainable fat loss — even without workouts.
And for everyone who picks up the brand new Bodyweight Burn program today at $50 off, Adam is giving you the 10-in-12 Diet for FREE.
After this celebratory launch sale, Adam's 10-in-12 Diet will never be made available again, not even for purchase. The ONLY way you can own it is by picking up Bodyweight Burn during this special launch event.
=> $50 OFF Bodyweight Burn + the 10-in-12 Diet FREE
(PLUS my ENTIRE Bodyweight Finishers System)
Whether you choose the do-it-yourself approach Adam outlined in his article or decide to let him guide you, I can't wait to see you looking your best at your next special event.
Alright, as you know, my entire Bodyweight Finishers has not even been on the market yet, but you can get your hands on it. In fact, in case you missed it, I showed you one of the 39 ZERO equipment finishers yesterday.
It's from the 20-10 Bodyweight Finishers manual
Get all 5 Zero Equipment Finisher Manuals through this link
(just forward your receipt to us at cranktraininghelp@gmail.com).
Do the following circuit ONE time, resting only as shown:
1A) Lateral Jumps (10/side), rest 10 seconds 1B) Triple Stop Pushup (20), rest 10 seconds 1C) Skater Hops (10/side), rest 10 seconds 1D) Spiderman Climb (10/side), rest 10 seconds 1E) 1-Leg Romanian Deadlift (10/side), rest 10 seconds 1F) Prisoner Squat (20)
Perhaps tomorrow, we'll do one from the Density Bodyweight Finishers manual. It should be good times.
Here is how to get all 5 of these NEW Bodyweight Finisher manuals including:
13 Bodyweight Gauntlet Finishers 13 Bodyweight Density Finishers 13 Bodyweight 20-10 Finishers Bodyweight Dirty 30 (30-minute MRT Bodyweight Workouts) Bodyweight Switch (Strength/Finisher Superset Workouts)
Step 1: – grab Adam's program through this link:
==> Bodyweight Burn + BW Finishers System + 10 in 12 Diet
Step 2: Forward your receipt to us at cranktraininghelp@gmail.com
Step 3: Be sure to tell Cole "I heard you're the coolest chick in all the land by giving me these these awesome bodyweight finisher manuals".  This is optional.
Step 4: Use Adam's program and diet, and then plug any of my bodyweight finishers in and shed more fat than ever before in the comfort of your own home (or even Grandma's kitchen… no reason other than that would be awesome).
Boom,
Mikey, CTT
P.S.  Here is the link to get your bonuses one more time
Tags: bodyweight circuits, bodyweight workouts, fat loss workouts