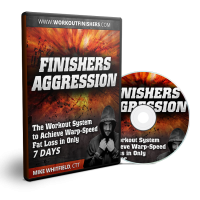 How much fat do you think you can burn off in 7 days? One, two, maybe even four?
How about NINE?
That's exactly what a private client of mine burned off using an advanced 7-day workout system called, "Finishers Aggression".
Here was the plan:
Day 1 – Metabolic Resistance Training (MRT)
Day 2– Metabolic Conditioning (MCT)
Day 3 – Interval Training (yes, I like finishers better, too… but I'm throwing everything at you.
Day 4 – MRT (different from day 1)
Day 5 – MCT (different from day 2)
Day 6 – Intervals (different from day 3)
Day 7 – Sprints <= You mind as well end the jumpstart week with a bang
Let's get started… Brian Kalakay and I will coach you through it right here, along with 51 follow-along finishers:
Expires this weekend => 51 Workout Finishers + Finishers Aggression 65% off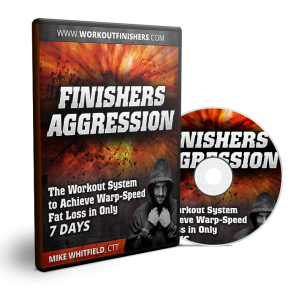 And here are 9 more reasons you need this Workout Finishers 2.0 system…
# 9 – You Can Plug these Finishers with ANY Workout
Whether you're on a full body workout plan or a bodybuilding program or even working out at home, you can plug ANY of these finishers in with your favorite workouts to lose fat faster than ANY kind of boring cardio program… including intervals.
They take 10 minutes or less!
# 8 – Metabolic Chaos?
Not only do you get 51 Workout Finisher videos and Finishers Aggression 7-Day System, but you'll also get "Metabolic Chaos". This full 4-week program is a 3-day a week system with an optional 4th day dedicated to conditioning.
Check out this feedback:
"Metabolic Chaos is awesome! I'm 53 and feeling it, but love it!"  => Karyn Flues
"I just wanted to say that I started your Metabolic Chaos plan this week and it's awesome! The workouts are efficient, fun, challenging and boy, do I sweat! Thanks!"  => Denise Green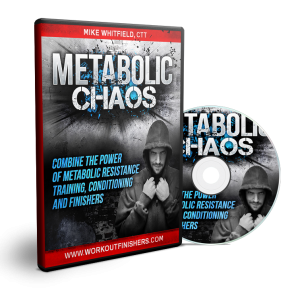 # 7 – Say Goodbye to Treadmills and Ellipticals FOREVER
With 51 done-for-you finishers you can plug in on any day, you'll never have to step on a treadmill ever again.
Plus, "30 seconds on, 30 seconds off" gets boring. With a variety of density circuits, ladders, gauntlets, metabolic circuits and crazy challenges, you'll get BETTER RESULTS than boring cardio and intervals in 10 minutes or less.
Last chance => Say goodbye to cardio and intervals FOREVER for 65% off
# 6 – You Get Done-for-You Meal Plans and a Nutrition Guide 
Take it from somebody who has lost 105 pounds. You'll get my no-nonsense approach to nutrition that helped me lose AND keep off the weight, plus how I got 6 of my private clients to place or win in the Turbulence Training Transformation Contest, even with thousands voting!
You'll love my sneaky trick on how you can cheat all weekend (yes, all weekend, not just one day) and still lose fat week after week.
Plus, done-for-you meal plans for men and women!
# 5 – Instant Access to all the Follow-Along Videos including ALL 51 Finishers and the Full Workouts
Sure, you'll get exercise photos and descriptions, but you'll want to take advantage of my coaching while Brian Kalakay and I and Brian Kalakay take you through every single fat-burning rep with over 119 exercises.
You can download these videos on your computer, your phone or your tablet or Ipad. Of course, you can even watch them online, too.
Are there bloopers? You bet! 😉
Last Chance at 65% off => 51 Workout Finishers and Bonuses
# 4 – You Can Create Your Own Workout (if you want)
That's right, if you want to create your own metabolic workout, you can combine any of the finishers inside the manual.
The best formula based on client and reader feedback:
1) Density Finisher
2) Lower Body Finisher
3) Upper Body Finisher
 But let us know what you come up with… there's plenty to choose from including ladders, gauntlets and superset finishers.
65% off expires tonight => Choose your own finisher "adventure" here
# 3 – The Most Unique Set and Rep Schemes You've Ever Seen So You Get Insane Results
This isn't the "3 sets of 10" approach with 30 seconds of rest. That's boring and too close to your normal routine. No way… instead, you'll shock your body with set and rep schemes including just 1-2 reps with dozens of rounds, timed sets, 20-10 circuits, supersets, ladders and more.
This is the change your body will respond to, but more importantly, put new life into your boring workouts.
Mikey no likey you being bored with workouts. 🙁
# 2 – You'll Burn 33% MORE Fat – Here's PROOF…
Thousands of people have already used my NEW finishers with great success. But why will this program even be better? Because it has videos so you'll be working out with me and Brian. This is important because…
A study from the University of Pittsburgh showed that those who work out with a partner lose 33% MORE weight than those who go it alone.
So hit play on your phone, computer or tablet and burn 33% MORE fat…
… all without any fancy equipment. Plus, Brian and Mikey will show you modifications with every exercise, too!
# 1 – The 65% Discount Sale Ends Today
You'll get all 51 addictive Workout Finishers, Metabolic Chaos, Finishers Aggression, Meal Plans, and the Simple Nutrition Lifestyle for less than the price of a dinner out for two.
So if you want the hottest, NEW way to end ANY workout and a ridiculous amount of exclusive bonuses while saving 65% off the regular price, go to this site now:
65% off ends this weekend => The BEST Finishers Ever + 6 Bonuses 
This stuff works, and at 65% off, it's the best complete system to eliminate all excuses… full metabolic workouts, 51 finishers, meal plans and more…
"I've been using the finishers and have lost 7 pounds in two weeks and my endurance has gone through the roof. Thanks for the great finishers and the motivation to keep pushing!"  => Gregg Willett
Click here to get the best finishers on planet Earth (plus Jupiter)
Mikey, CTT
PS – Just remember, the HUGE 65% discount expires TONIGHT at midnight
65% off sale ends this weekend => The BEST finishers of all time
See you in the videos,
Mikey, CTT
Tags: finisher programs, train with finishers, workout finishers